A Tradition Continues
By Joseph Montebello
The white clapboard structure with the white picket fence suggests a typical New England house. In truth it is a historical building, which has been in existence since the 1900s, and for a time operated as a pharmacy and small grocery. With its proximity to the Frederick Gunn School, it then became a place for students and faculty to meet and share a meal at its old-fashioned lunch counter replete with soda fountain. These items have remained all these years and even served as a backdrop in recent years for fans of Gilmore Girls, who visit Washington as part of a local fanfest and who claim that The Po was the inspiration for Luke's Diner. Celebrity aside, everybody loves that The Po is back in business with the talented Maggie Colangelo and her husband Frank in charge.
Colangelo is well known in the area as baker/owner of Food for Thought in New Milford. The Colangelos also own Flirtation Farms where they produce fresh vegetables and eggs and sponsor farm-to-table events. The Po offers Colangelo's specialties from her fresh-baked tarts, muffins, pastries, cheddar chive biscuits, smoothies, acai bowls, vegan chili, salads, and her southern fried chicken winner sandwich.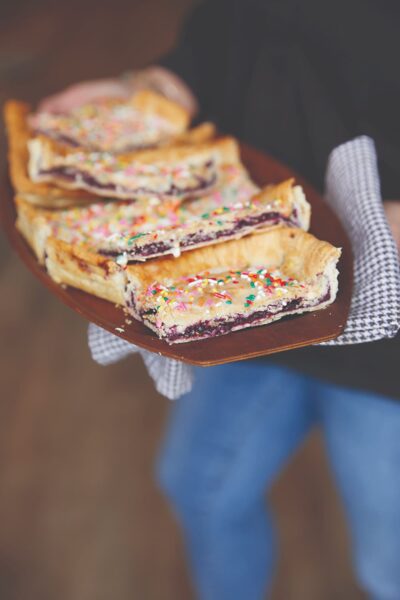 "This beautiful location has stolen my heart," says Colangelo, "and I love how many people come in and tell us The Po is perfect! Our family and team are so grateful for the support and encouragement."
The restaurant is even more poignant for those who remember the space in its heyday. Laura Eanes Martin, whose father was head of school at what was then known as The Gunnery, has been a patron of The Po in all its incarnations. "I have childhood memories of the soda fountain and the pharmacy. The Po became my lifeline when I had three children under the age of six and needed to eat on the run. It was a saving grace and they have always preferred Po food to mine. We are beyond thrilled that it's open again." Congratulations to The Po for being voted first place by our readers in the Best New Restaurant category.
The Po Café
5 Kirby Rd
Washington
860-868-1879