With Artistic Director Christine Gevert at the helm, award-winning Crescendo brings innovative choral and instrumental performances—some rarely heard— to our community.
Crescendo is a national award-winning music performance organization that has presented concerts year-round in northwestern Connecticut, the Berkshires, and the mid-Hudson Valley of New York. for thirteen years. Its choral singers include highly-trained amateurs and local professionals, and many of its soloists and instrumentalists are internationally-known musicians.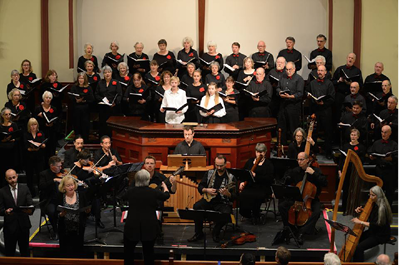 Crescendo was founded by Christine Gevert in Lakeville in 2004. As Founder and Artistic Director, Ms. Gevert is known for her innovative approach to programming and performance. Crescendo's audiences are often rewarded with programs of rarely-heard and newly discovered works. Often Ms. Gevert uses original manuscripts to make her own performing editions for chorus, soloists and orchestra because there are no existing published editions. Crescendo has presented ten U.S. premieres and in 2014, it won the prestigious Chorus America/ASCAP/Alice Parker Award for Adventurous Programming.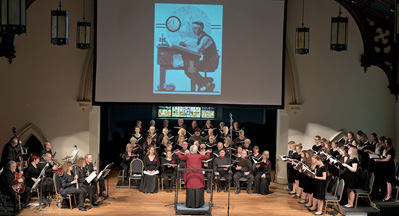 This past April, Crescendo's concerts featured all-American music and a collaboration with the Norman Rockwell Museum entitled "Norman Rockwell and Alice Parker: Visions of America in Art and Song". In May, Crescendo turns its focus to early European vocal music. In the 16th and 17th centuries, influential churches such as the northern German church, St. Mary's in Lübeck, kept a large number of scores of many composers' music for use by their choirs. Two centuries later, in 1814, the church gave its choir library to the Society of Friends of Music in Vienna. Much of this repertoire was forgotten, "sitting in drawers gathering dust" until, a few years ago, the distinguished music scholar, Dr. Kerala Snyder, involved in researching a book, found this collection.  She cataloged the scores for performance use, and published the catalog in 2015. Dr. Snyder then collaborated with Christine Gevert in the design of this year's May concert program.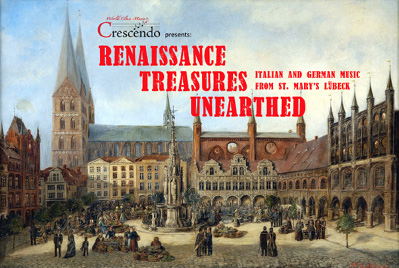 A few prints existed here and there, scattered around Europe in cultural centers such as large churches like St. Mary's. However, the print of a work by the early Baroque Italian composer Paolo Quagliati, Ave Sanctissima Maria, appears not to have survived anywhere but in the forgotten St. Mary's Choir Library collection in Vienna, making its Crescendo performance the first time it has been heard publicly in many centuries.
Crescendo's Vocal Ensemble, soprano Jennifer Tyo, tenor Christopher Sokolowski and period instrument specialists, including the highly-regarded Boston-based viola da gamba player Jane Hershey and baroque violinist Yi-Li Chang, performed works by early Italian and German composers such as Giovanni Rovetta, Paolo Quagliati, Giovanni Pierluigi da Palestrina, Heinrich Schütz, Jacobus Handl, and Dietrich Buxtehude. Artistic Director Christine Gevert conducted and accompanied from the organ. The spectacular concerts "Renaissance Treasures Unearthed—Italian and German Music from Lubeck" were held at Saint James Place in Great Barrington and at Trinity Church Lime Rock in Lakeville.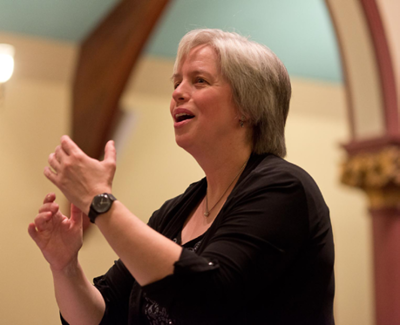 Artistic Director Christine Gevert is an extraordinary musician who performs internationally. Originally from Chile, she moved to Berlin at 23 to study at the renowned East Berlin School of Sacred Music. When she was 26, she began playing the harpsichord and performed in concerts all over Europe. Eventually, she made her way to the United States, to Lenox, Massachusetts through a spiritual community called EnlightenNex .
Ms. Gevert has conducted and performed in Europe, South America and the U.S. Her education, performance, and teaching work in Chile and Germany focused on early music, organ, harpsichord, choral and orchestral conducting, Baroque vocal technique and composition. In recent years, she has appeared at Early Music Festivals throughout the Eastern U.S. and was invited to give solo recitals in France, Poland, Chile and Bolivia. She also performed in Boston, New York City and Washington DC, including appearances at the Brooklyn Beat Festival, the Metropolitan Museum of Art and St. Bartholomew's Church.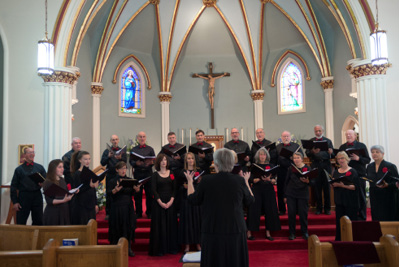 Concerts feature primarily Crescendo's own ensembles: the Crescendo Chorus, a group of 25 to 50 auditioned amateur and professional singers; the Crescendo Vocal Ensemble, a select group of singers from the chorus; the Crescendo Period Instrument Orchestra of professional musicians, mostly from the East Coast; and the Crescendo Ensemble of Andean Instruments. These are joined on a regular basis by distinguished internationally-acclaimed soloists such as soprano Julianne Baird and countertenor Nicholas Tamagna.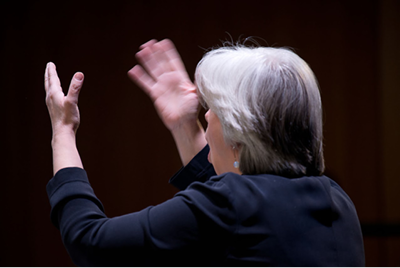 The core of Crescendo's repertoire is early music from the Renaissance and Baroque eras that extends far beyond the standard repertoire, including historically informed productions of large-scale choral works. Most of these are rarely performed works by German, Polish, Czech, Italian, Spanish and Argentinian composers, such as members of the Bach family and their German contemporaries, and Pekiel, Biber, Zelenka, Torri, Torrejón y Velasco and Zipoli, whose works Crescendo premiered in the U.S.
Crescendo's commitment to Latin American music also stands out from other regional music ensembles. Ms. Gevert has introduced audiences to Baroque and Colonial Era Latin American music, to Incan chant, and to combining Andean folk instruments with classical period instruments. Contemporary works by young composers from Chile, Brazil, and Argentina, as well as her own arrangements and compositions are also programmed. Crescendo presented the U.S. premiere of a folk mass by contemporary Chilean composer, Jaime Soto León.
Crossing all musical genres, Crescendo's programs have included a jazz mass by Dave Brubeck and, innovative—and even challenging—experimental productions that merge jazz and early music styles. A multimedia production of Totentanz by Hugo Distler, which combined music, dance, narration, and projected animation, received international recognition when a film of the performance was shown at a conference in Florence, Italy in 2008. Composers such as the Norwegian-American Ola Gjeilo, the Chilean Javier Farías and the American Eric Whitacre have been featured in their programs.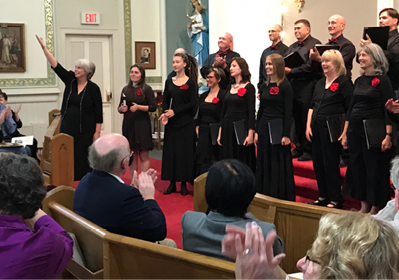 Crescendo's mission is to give listeners and performers experiences with classical music that are emotionally alive and personally meaningful. In part, this is achieved by cultivating a repertoire that is not usually heard in this region: musical gems of Early Music, as well as 20th century and contemporary works. As its name indicates, Crescendo serves the growth and intensification of the musical experience. Interactive performances, lectures and workshops and a historically informed approach to music make Crescendo into a unique organization, one in which instruction and inspiration go hand-in-hand. A non-profit organization, Crescendo brings fine sacred and secular choral and instrumental music to the Northwest corner communities of Connecticut, Massachusetts and New York.
Crescendo places a high value on its close relationship to the local community. An essential part of its mission is to offer skilled amateur singers opportunities to participate in performances of professional quality and to perform music in a wide variety of musical genres, periods, and cultural origins. Crescendo also gives young professionals from our local region the chance to work with internationally-recognized artists and to perform as soloists, thus giving them career-building opportunities they would otherwise have only in Boston or New York.
Education is a core part of Crescendo's mission and its programming. Rehearsals include detailed analysis of the works and their historical context. The Artistic Director and guest speakers give pre-concert talks on choral music and early music. The illustrated program books help place the music within the context of art and social history, and include the complete text of vocal music in both English and original language. The Artistic Director and members of Crescendo visit high schools to introduce them to new musical formats and traditions. Talented local teenagers have coached individually with the Artistic Director and have joined the Crescendo Chorus and Vocal Ensemble concerts.
With sell-out concerts and standing ovations, Crescendo continues to enrich our musical experiences with originality and quality performances that break boundaries. Check back with us as we post future concerts in our Goings On section.