By Charles Dubow
"Just don't order the Brussels sprouts," said my 20-year-old daughter as we sat down for dinner at @ The Corner in Litchfield. I'm glad I didn't listen to her. That's because chef Carlos Perez's Hawaiian Truffle Brussels Sprouts might just be one of the best things I have ever eaten. A combination of crispy sprouts, pineapple, bacon lardons, local honey, black garlic, and truffle parmesan with a maraschino cherry glaze—the intense flavors pop and mingle in your mouth, the combination of warm layers of sweetness and salt overwhelm your taste buds, leaving you almost weeping with pleasure.
"I love experimenting with food," says Perez. "I just knew it would work." The slender, heavily-tattooed chef has been at @ The Corner since May of 2020 and has led a remarkable turnaround at what had once been a local burger joint.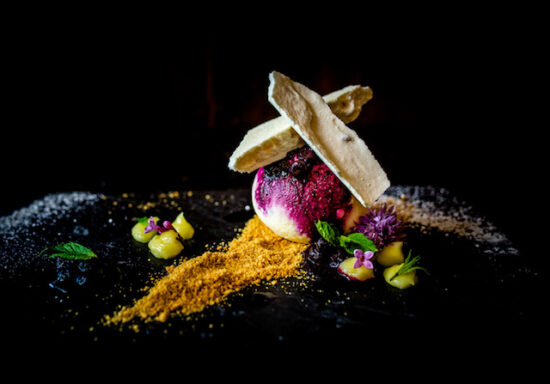 A graduate of the International Culinary Center, Perez, 34, is not new to Litchfield. Born and raised in Woodbury, he was executive chef at the venerable West Street Grill, and worked at Bobby Flay's ground-breaking Mesa Grill in Manhattan. In addition to revitalizing the menu, Perez is active on social media and has introduced pop-up dining events, including a Korean evening and one dedicated to the late Anthony Bourdain.
Like many passionate young chefs he has embraced farm-to-table, adapting his menu to the change of seasons, but his special quality is that he actually trained as a pastry chef; a fact that, once known, immediately explains his ability to bring complex tastes together while also focusing intensely on the textures and mouthfeel of his ingredients. For example, his unbelievably light sea scallops paired with spinach and artichoke risotto was the savory equivalent of a creamy lemon meringue pie served with macaroons. Sublime. Equally delicious are his flank steak with ramp chimichurri, insanely good truffle asiago fries and, well, pretty much everything else.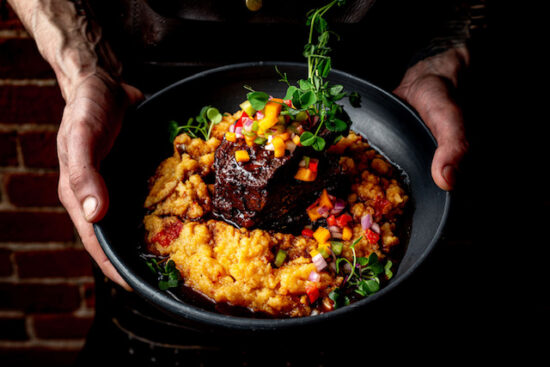 Anyone who can make Brussels sprouts in such a way that my daughter will eat them is a good cook. The fact that she practically fought me to finish off what was left in the bowl proves he is a great talent.
Closed Mondays.
@ The Corner
3 West St, Litchfield
860-567-8882