CFK Interiors is a local interior design firm that combines designer Claudia Kalur's love of interiors with her experience in architecture, resulting in fabulous spaces.
When Claudia Kalur was 13 years old, she bought an interior design magazine in Spain and fell in love. This was a turning point for her, but the journey to becoming an interior designer was not a direct one. Claudia was born in Lisbon, Portugal, where she earned a degree in Art History. From there, she moved to London where she received a MA in Egyptology from University College London while working at the British Museum, and then landed a job as a researcher for the Metropolitan Museum of Art in New York. While there, she realized that her real passion had always been interior design, so during her last year at the Met she started a Diploma in Interior Design. The school was based in London and it was a long distance program, but not only internet-based— all boards, drawings, and sketches were physically mailed to London, graded there and then mailed back to her. It was a circuitous route, but she finally was doing what she loved to do—designing interiors.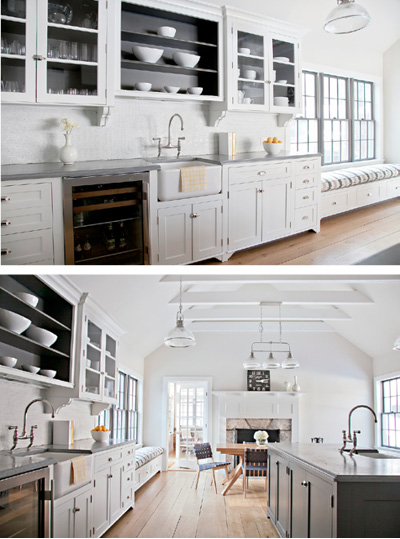 In 2006, Claudia's husband, Steven Kalur, was interning at an architect's firm in NYC and they needed an office manager. She applied and got the job. Within a month, she was going to client meetings, drawing elevations in CAD, and specifying interior appointments for all projects. Leaving Egyptology was a very hard decision, but this job was a dream-come-true and it made the transition much easier.
A year later, Steven was offered a job at an architect's office here in the Northwest Corner of Connecticut, and they moved to the area. Claudia started by working as an interior design assistant at a local shop and then went on to work at Privet House—the fabulous home goods and antiques shop in New Preston—where she stayed for 5 years. It was while working there that she started her own company. CFK Interiors started as A Room for Frances Interiors (named after Russell Hoban's children stories) and specialized in children's spaces. As the business evolved, more and more clients began to ask for help with other rooms and eventually entire homes.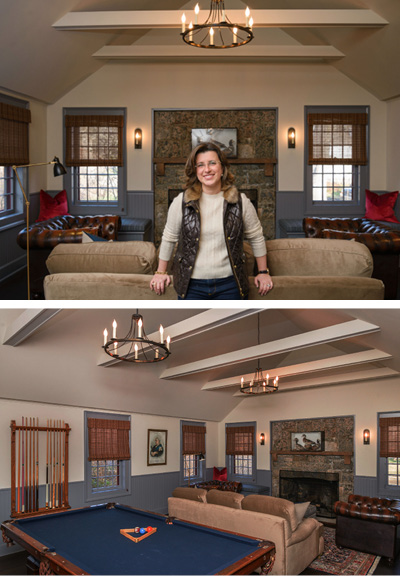 CFK Interiors strives to give clients a home that is stylish and timeless; that reflects their way of life, personality, and needs. Claudia's work is influenced by a mid-century modern aesthetic mixed with a traditional style, but she doesn't try to make the spaces her own—she is able to work within a wide spectrum of styles. Her belief is that the spaces should truly reflect the client's life. She observes and listens to who lives there, and doesn't impose colors or styles. Claudia offers full interior design services, from the concept phase through project management, construction, purchasing, and final installation. "Our scope of work ranges from simple space planning and furniture layout, colour and paint schemes, to full decorating of a single room, or an entire house," says Claudia. The focus is mostly on residential projects, but they have also worked on corporate offices in New York City.
With a background in art history, Claudia brings an awareness and sensitivity into her work—her eye is trained toward aesthetic detail. And because she has always worked with architects, she has the perspective of understanding traffic flows, functionality, and structural considerations. Colonial architecture is her personal favorite, whether it is traditional or a more modernized version. She enjoys integrating details like modern crown molding, without losing the integrity of the house.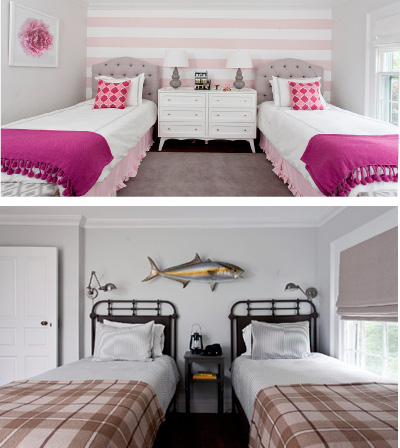 When choosing furniture, fabrics, and accessories for clients, Claudia has sources in the city, as well as in the country. "I go into the city almost every week to go to the D&D or 200 Lex or other showrooms. But I also use local showrooms, like DesignSourceCT in Hartford or Appletree Design in the Depot. I source vintage pieces and accessories online, but mostly locally—we have amazing shops like Privet House, Pergola, and RT Facts, among many others."
Claudia has also worked with many local craftspeople and artisans. "We are very lucky to live in an area filled with talented artisans – DbO Home, Bantam Tileworks, Ian Ingersoll, just to name a few that I've worked with—I also work with a great group of local,  reliable and talented trades, from my painter, tiler, electrician to my amazing millworker and fabulous workroom."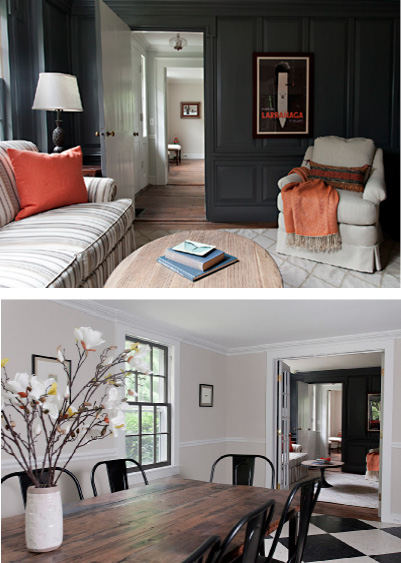 When we asked Claudia if her clients prefer a "country" look here in Litchfield County, she replied, "Ninety-five percent of my clients are either weekenders from NYC or are now full-timers who once were weekenders. Usually, they have a more modern aesthetic that translates into a more relaxed style than in the city, a 'modern country' in their houses here. I wouldn't exactly describe it as country, this word usually conjures up images of Americana furniture or traditional country style, which is not what my clients look for. I work within a spectrum of more traditional (not stuffy, but for instance, modern English style-influenced— think stripes and plaids, not florals or chintzes) to more modern (for instance, mid-century or rustic modern)."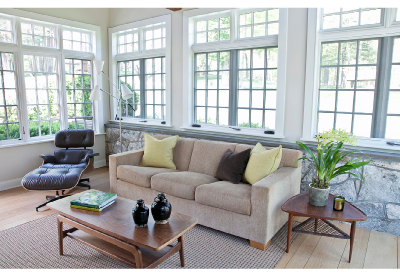 Claudia's color palette consists of mostly neutrals. " I usually say 'Go neutral or go deep'," she explains. " In general, I work with neutrals—there are no two whites alike (really!) and I love to work with colour palettes within the greys and taupes. And I love deep colours, usually greys or blues. My home office is a deep blue—and so will be my new studio, which will open in late spring in New Preston."
Often interior designers end up creating their own line of furniture or home accessories, but Claudia prefers to concentrate on interiors and on collaborating with local artists. "I know it's a trend these days, almost every designer now has a line of something. I think that at this point, I'd rather focus on designing interiors and on creating unique pieces with local artisans for each project—designing a bed, a sofa, or a coffee table. Having said that, it has crossed my mind, every now and then, to create a line of pillows and handmade lampshades (like Melodi Horne's, or Penny Morrison's) but with vintage or found fabrics, with only a handful of a kind."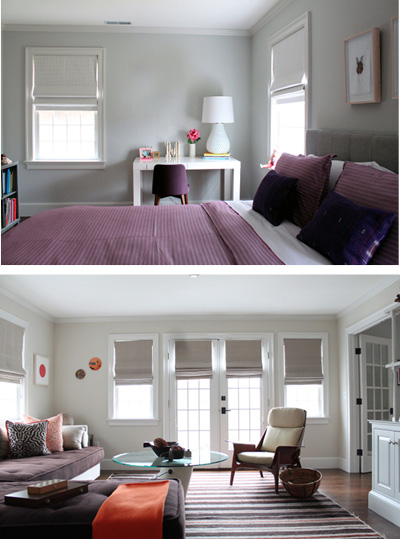 For almost a year now, Claudia and Steven have been independent professionals working from their home offices— Steven also has his own architectural firm, F+H Architectural Design and Consulting. Claudia and Steven have worked on many projects over the years, and really enjoy working together, and so they have decided it was time to find a joint workspace outside of their home. Each will have their own clients and business and, when it seems appropriate, they will collaborate. They found a small building on Route 202 in New Preston and are in the process of renovating, so it won't be ready until spring. (Check back with Happening in the Hills in late spring for an update on their new space and an article on architect Steven Kalur.)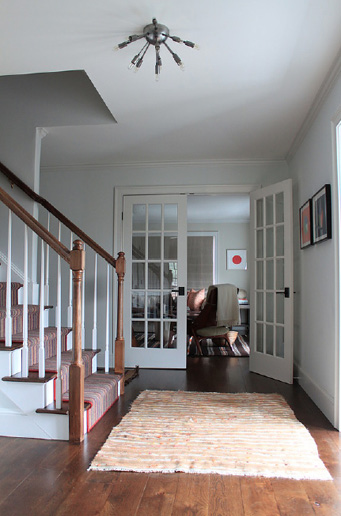 With a new building as headquarters, the future of CFK Interiors is looking good. Asked if she has any other goals for the firm, Claudia replies, "The truth is that I love what I do! I feel very lucky that I get to do it for a living, that I have trustworthy and talented trades working with me, and that I have wonderful clients. My hope and goal is for more of the same!"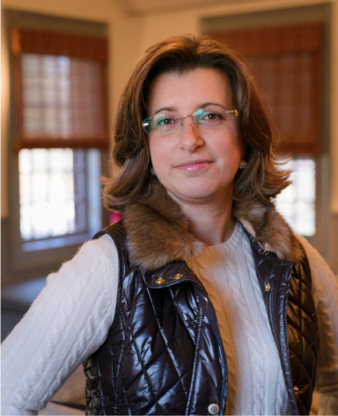 With clients in New York City, Florida, and Litchfield County, there is one more location that Claudia has her eyes on, "I would also love to expand to England and work on projects in London. As an anglophile, and having lived there for 6 years, I keep up with resources and trends, and I know the market well. I've had a few small projects at friends' houses but would love more work on that side of the pond."
To see more of Claudia's work, go to: www.cfkinteriors.com 
Contact Claudia for more information on residential or corporate projects and pricing: claudia@cfkinteriors.com
Long distance decorating and in-home consultations are also available.