At Waldingfield Farm, the Horan Brothers are passionate about growing organic vegetables. Patrick (P) is the marketing mastermind and Quincy (Q) presides over those precious fields.
On a beautiful, quiet Saturday afternoon in mid-summer, the farmstand at Waldingfield Farm in Washington has just been stocked with freshly-picked tomatoes, eggplant, kale and other delectable produce. One by one, cars pull up and folks appear to pick up their CSA shares or to purchase some fruit and vegetables for dinner. Owner Quincy Horan and operations manager Jed Borken are there to greet the familiar faces, pointing to newly harvested vegetables like an unusual looking tomato called The Hillbilly. The scene at the farmstand has a good vibe and a communal feeling.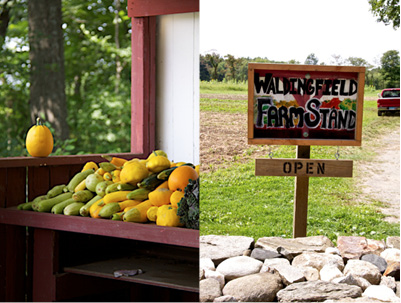 Jeff Coploff, a local resident and business attorney, drops by and joins the conversation. He has been a member of the CSA for seven years. "I'm happy to see the tomatoes," he says. "And I'm happy to support something like this in our community." When asked what he will cook tonight, Jeff replies, "What I cook depends on what I get here. I plan around it." He picks up a bunch of kale and says he might make a kale pesto. "I like to learn about new vegetables, too. Such as this patty pan," he adds (which is a variety of yellow squash). The blueberries have sold out but Quincy's lovely fiancée Alexis Alire runs back to the homestead to get a carton of fresh blueberries for a customer—an example of the kind of commitment and quality of service the farm is known for. It's no surprise that membership in the farm's CSA Program (running for 25 years now) has grown by nearly twenty percent this past year.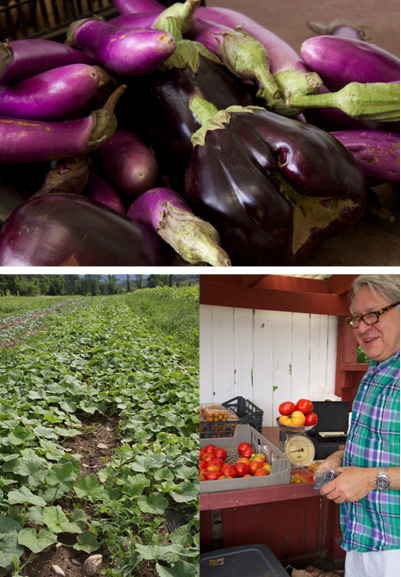 Waldingfield Farm, one of the largest certified organic operations in Connecticut, is an organic vegetable farm with over 20 acres currently being cultivated. In addition to the traditional garden staples, the farm is known for its many exotic heirloom varieties. They have numerous restaurant clients, participate in seven farmer's markets (2 in the winter, 5 in the summer), have a wholesale distribition, run the CSA Program, and the farmstand. Thanks to federal grants, the farm has a new field tunnel (and two more on the way) which serves as a greenhouse, allowing them to prolong the season, both in spring and fall.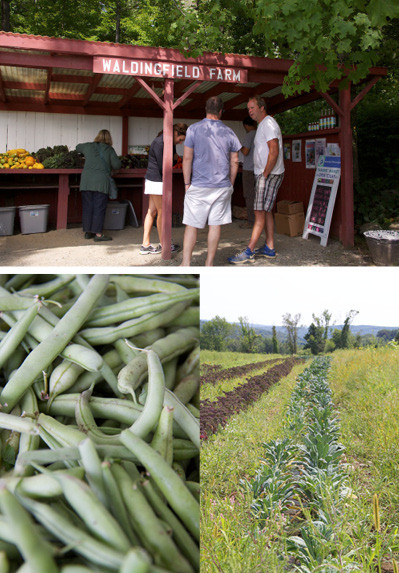 Twin brothers Quincy and Patrick manage the daily workings of the farm while their older brother Dan and their parents are members of the farm's board, helping with strategy and land management. Patrick is responsible for marketing, sales, and operations, and runs the farmers' market operation in New Haven. Quincy oversees field management, crop planning, and machinery. Operations manager  Jed Borken runs the greenhouse seeding program, serves as the employee liaison, and also maintains farm machinery, among other things.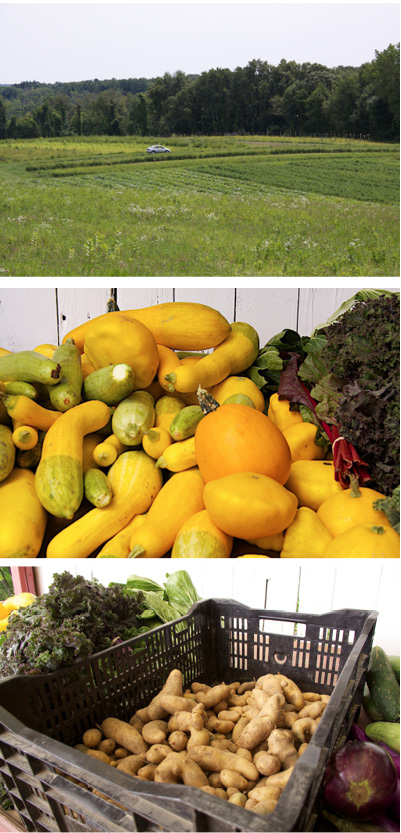 Asian greens, large volumes of sugar snap peas, beets, squash, sweet broccoli, collards, swiss chard, and 40 varieties of heirloom tomatoes—this is what it's all about. For a complete list of what they grow, check out the Waldingfield Farm web site.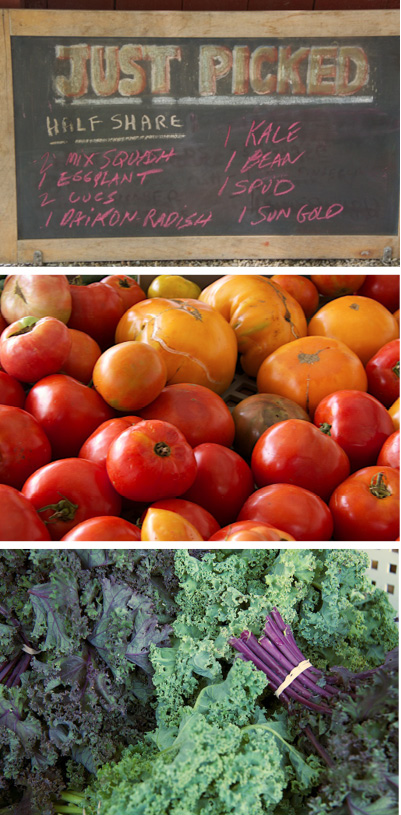 The family-run business is also very involved in the community, especially in collaborations with local businesses and institutions such as the Taft School program which offers support in getting the early seedlings planted. They also host Yale's Harvest Orientation, where students camp around the pond and work in the fields for a week.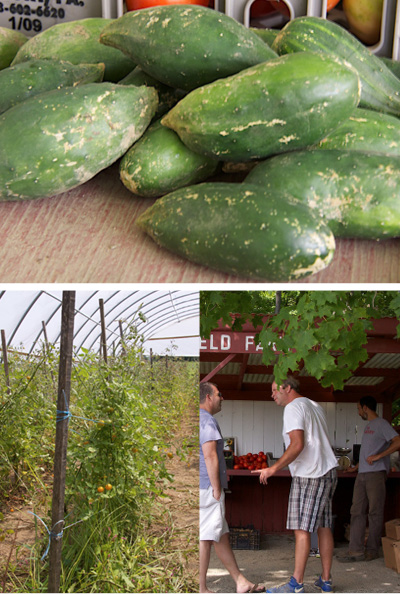 Last September, Waldingfield Farm participated in a farm-to-table dinner organized by Outstanding in the Field, a national organization that pairs local chefs with farmers. The event, held at the farm, was sold out as soon as tickets became available. There were over 160 guests and the evening was a huge success, still being talked about a year later.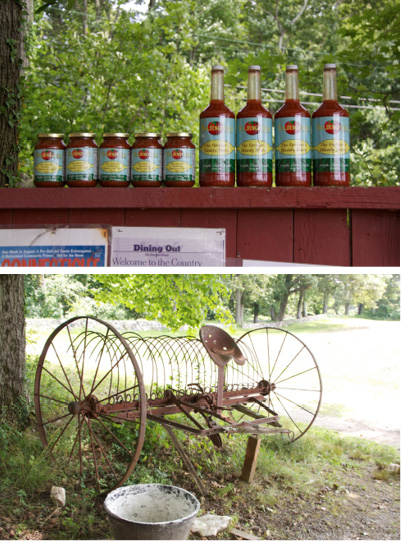 In addition to selling the farm's produce, the brothers also carry an artisanal line of products which are sold online or at the farmstand and markets. Products include Heirloom Tomato and Basil Pasta Sauce, The Farmer's Marinara Sauce, a Waldingfield Gift Basket (comprised of a selection of their products such as sauce, chutney, honey, and maple syrup), and The Farmer's Bloody Mary, a popular mix "with its killer blend of heat and awesome tomatoes."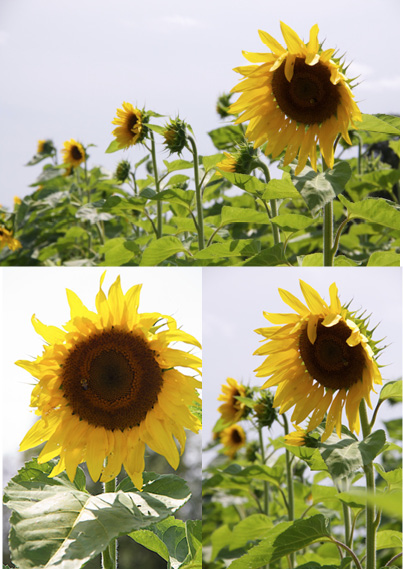 Going back to the turn of the last century, where it all began with their great-grandfather, it is interesting to see how the farm has evolved. "P" and "Q" have taken the farm to a whole new level with their vision, knowledge, and good old-fashioned hard work. The future looks good from the fields at Waldingfield Farm.
Waldingfield Farm participates in the following Farmers' Markets: Wooster Square in New Haven, Sandy Hook in Newtown, Kent, Weston, and Brooklyn. For information on becoming a CSA member, go to the web site, below. The farmstand is open Thursdays and Fridays from 3pm to 6pm; Saturdays from 1pm to 5pm; and is closed from Sunday to Wednesday. 
Waldingfield Farm
24 East Street
Washington
860.868.7270
waldingfieldfarm.com