With today's interest in home gardening, Peter Montgomery believes that "home orchards" are the next logical step. He is on a mission to help home owners in reviving old apple trees, planting new orchards, and maintaining them.
Many older Litchfield County properties have ancient, neglected apple trees that were once the source of libations and sweetners for the table. Some are still capable of producing a crop, but need remedial pruning to begin the process. Peter Montgomery helps home owners revive old fruit trees on their properties. "Every orchard has three unique attributes: location, soil and nutrients. Amending the soil improves nutrient uptake by the tree, which is key to the production of growing healthier trees and better fruit," he explains.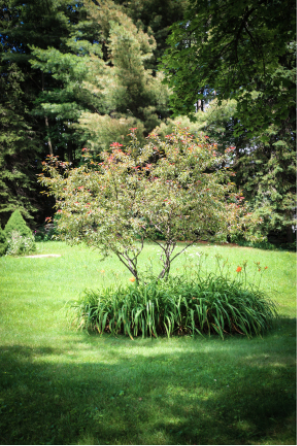 Peter is passionate not only in reviving old trees but also about planting new fruit trees. Why should we grow fruit trees? His response is simple: For the aesthetics – the spring bloom;  for the yield – fruit for the table; for landscaping – improving curb appeal; for the satisfaction of growing a food crop; permaculture – returning the land to productivity; air quality – reducing the carbon footprint; and to shorten the grocery supply chain. He says the goal is to grow better fruit, not perfect fruit, responsibly. Perfect fruit is the providence of commercial growers. "My permaculture experiment now yields rhubarb and raspberries in July, then Asian pears in later October. When mature, the new trees will produce July through September.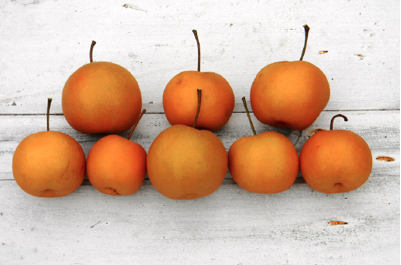 With a 16 fruit tree orchard on half an acre, Peter grows Asian pears, plums, cherries, peaches, nectarines, and apricots. "I am specializing in Asian pears because I could not find a good one—a tree ripened piece of fruit—in Connecticut the way I did when I lived in Silicon Valley. All the farmer's markets there had fresh picked Asian pears. They are the best fruit I have ever eaten. As they ripen on my trees, I check sugar content for ripeness with a Brix meter. When the meter reads "12", the pears are at their peak. Late October picking is the highlight of the growing season here."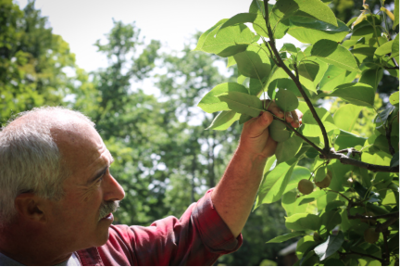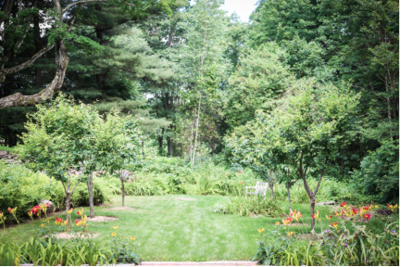 Peter Montgomery is also working with Peter Moritz, of Acorn Tree Care. They both attended the same prep school, Suffield Academy, graduating in 1972. In 2005, Peter Montgomery moved to Warren not knowing that his friend was also in the area and stumbled across his name in an alumni magazine. Soon, they were approached by a homeowner to plant an orchard in Rhode Island, so they decided to pool their resources together.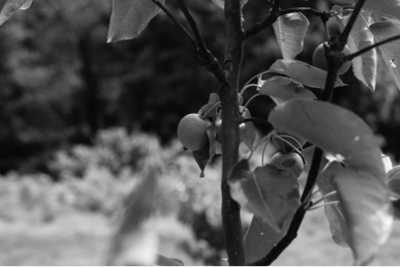 There is a great sense of pride and accomplishment in growing your own fruit. Most families think they don't have the space or time to tend an orchard, but you don't have to plant a huge orchard. You can plant a few trees close together in a small space, and it wouldn't require much maintenance. If you've already delved into a vegetable garden, this is the next step!
To find out more, contact Peter Montgomery at:
petersgardens@optonline.net.
If you are interested in taking one of his Home Orcharding Seminars, Peter will be presenting in Litchfield on November 12 and in Danbury on December 11.