Sadly, our team and community lost a shining star this week.
If you've read Litchfield Magazine for any point of time, you have undoubtedly read many stories written by Joseph Montebello. Joseph was our senior writer, in both senses of the word.
You would never have guessed it, but he had just turned 80 this past July. Fit, healthy, vibrant, and always well dressed, you'd think he was at least a decade younger. He'd been writing for Litchfield Magazine since its inception—about seven years before my time began with the magazine.
This time last month Joseph and I were discussing the stories he would write for our upcoming issues. He was making new friends with those he interviewed. I would receive emails from him and his subjects grateful for my part in coordinating the connections.
Joseph was kind, gracious, professional, interesting, intelligent, compassionate, and funny. A prolific and talented writer. Wonderful at making connections with others. I depended on him to bring story ideas and to get the best interviews. I respected his opinion and sought his approval when I took on new initiatives or projects. He was one of my biggest supporters.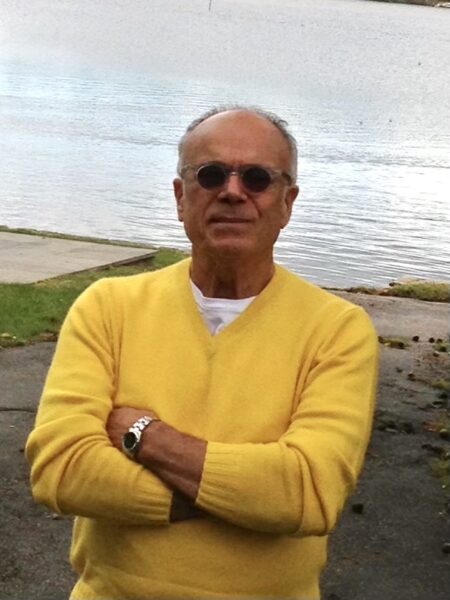 Dana Kraus had met him a couple months ago when he wrote the feature on her home in our Sept/October issue. This was the email I received from Dana the day after their initial meeting. "Dear Mary Beth, Sometimes magic happens in the world of magazines. You have that amazing talent of both keeping your finger on the pulse of the communities you cover, and of connecting people who should know each other. Thanks for connecting me with Rana and Joseph. Joseph and I met again yesterday and had the most wonderful afternoon. Kindred spirits, all, and just FUN people. Magic!" "He was a fascinating man with great talent, a big heart, and an appetite for living. The last thing he said to me from the hospital was, "We had such a great honeymoon you and I…just too short," shares Kraus.
Today I was emailing with Theo Coulombe, owner of
Standard Space Gallery
in
Sharon
, who Joseph had interviewed for our upcoming design issue. Theo shared, "We only spoke face to face for about three hours and in that brief period of time I felt, 'here is a fellow I can relate to, a gentleman traveler, and maker of his own world.' I'm grateful to have met him."
I think Joseph had that effect on many people.
Montebello attended Syracuse University. He had a career as Creative Director at
HarperCollins
in NYC. For many years he wrote for Litchfield Magazine (famous for his annual 50 Most pieces that he worked on and talked about all year). He loved interviewing actors, artists, and especially authors about their work. He wrote for the
Litchfield County Times
,
Berkshire Style
, community portrait pieces for
Litchfield.bz
., and in the new premier issue of
Millbrook Magazine
.
His favorite thing was to interview authors in front of an audience at the Gunn and the Oliver Wolcott libraries. He was a gifted host who forged many longtime friendships around his dining table surrounded by books.
Montebello was a longtime leader of the Litchfield Historic District Commission helping to maintain the character of the town as it is today. He served on the boards of the Oliver Wolcott Library, Litchfield Historical Society, and ASAP!
For 49 years he was the loving husband and best friend to Ron Leal, and the father to Boo (the rescue dog) and over the years, many, many Westhighland Terriers.
It was my true pleasure to work with him on the magazine. RIP Mr. Joseph Montebello. We all adored you. You will be missed by many. You were one of a kind.
Editor-in-Chief
Mary Beth Lawlor