Since 2008, Fran Adams and Ron Pinto of Winding Drive Gourmet Specialties have produced a delicious line of jams, jellies, marmalades, barbecue sauces, and pickles.
Fran Adams always loved to cook and her husband Ron Pinto was great at sales. In 2007, when Ron lost his job in sales and marketing in the automotive industry, they put their two skills together by creating a line of jams, jellies, marmalades, and condiments and called it Winding Drive Gourmet Specialties. They hit the ground running when they sold out in their first hour at the Woodbury Farmers Market.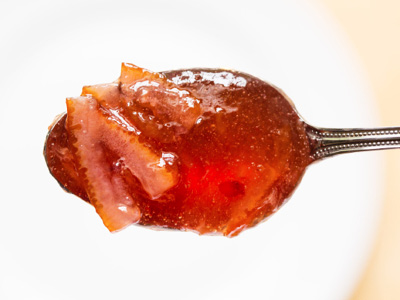 A self-taught cook, who drew inspiration from Gourmet, Food & Wine, and Bon Appetit magazines, Fran is the recipe developer and cook for Winding Drive. She was always interested in food and nutrition—as she fed her family in the 1980s, Fran cooked her way through every volume of The Grand Diplome, a series of 20 cookbooks.
During the time that she was honing her cooking skills in her home kitchen and working full time, Fran also acquired two degrees by going to night school for 12 years—a degree in Business Administration and an MBA. With past positions as an accounts payable clerk, an insurance underwriter, and as an I. T. business analyst under her belt, this is Fran's fourth career change. All of this experience has helped in the back room of Winding Drive Gourmet Specialties.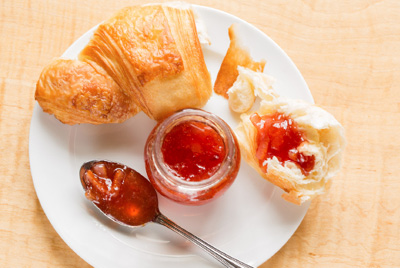 Fran grew up in Southbury and later lived in Middlebury. Ron grew up in Prospect, between Waterbury and Cheshire. They now live in Woodbury and operate Winding Drive out of a commercial kitchen on Main Street.
While Fran's focus is on the cooking, Ron's strength is selling the products. After years of working in the automotive industry selling replacement parts, he mastered his skills as a salesperson. His friendly, outgoing personality along with a good sense of humor brings an upbeat energy to the business. He knows the products so well, he can talk up a storm about the business, from the growers to the flavor combinations. Other members of their small staff include a bookkeeper, a cook, and a part-time prep assistant.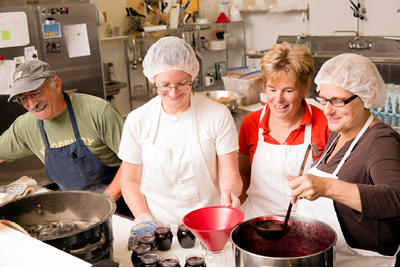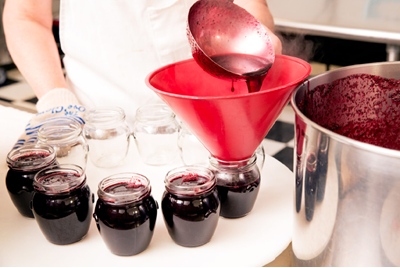 The products are made by hand in small batches with seasonal, local ingredients. Many of their products are gluten-free and others are low-sugar. In addition to the traditional fruit flavors  such as English Style Orange Marmalade and the Black Raspberry Jam which was awarded Best Jam in 2015 by the Connecticut Specialty Food Association, they also have some unique flavor combinations, such as Mint Rosemary Chardonnay Jelly or Black Cherry with Pinot Noir. The alcohol in the wine brings forward the fruit flavor and pushes the sugars to the back. It doesn't taste as sweet but has the same sugar content.
Their most popular products are the Blueberry Limoncello Jam (a 2013 Connecticut Specialty Food Award Winner) and the Habanero Gold Jelly. And there are customers who can't wait when they run out of the Rasberry Chocolate jam and show up at their commercial kitchen to get their fix. Some eat it by the spoonful. There have been stories of wives hiding it from their husbands.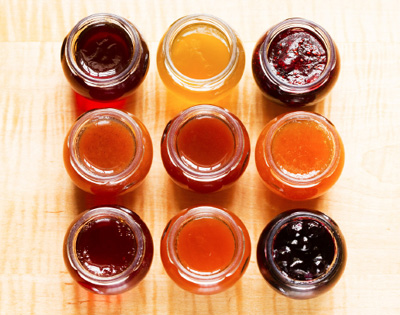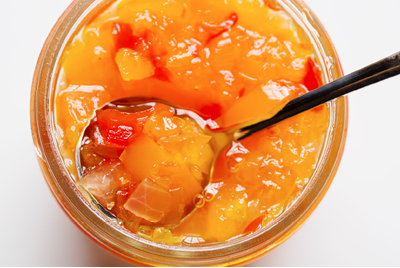 Fran and Ron only buy their produce from growers who use no chemicals. Their fruit and other ingredients are sourced first in Connecticut, then the Carolinas, and California. Their sour oranges are from a grower in the Dominican Republic, the blood oranges and apricots are from California. "Many of the fruits people buy in large grocery chains have been pulled from the tree before they have ripened, which results in a hard and flavorless fruit. The fruit we use in our products is freshly-picked and has fully ripened on the tree which guarantees the utmost flavor," says Fran. The vanilla beans used in the Peach Vanilla and Strawberry Champagne jams are Grade A, fully-ripened and freshly picked Madagascar Vanilla beans, a much better product than the vanilla we get at grocery stores. The honey and the horse radish are both sourced locally.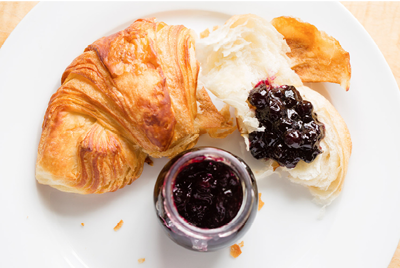 The only fruit they pick themselves is blueberries when they are in season. Since July tends to be a quieter month for them as many of their clients go away on vacation, Fran and Ron can take the time to go to a local farm and pick the blueberries. Because blueberries are found at ground level, you don't have to get on your knees nor climb tree ladders. They both enjoy it and find it to be therapeutic.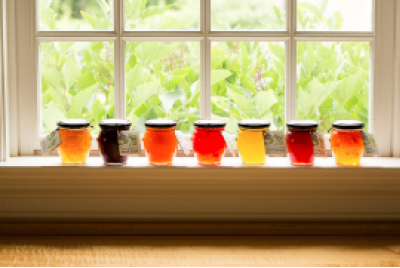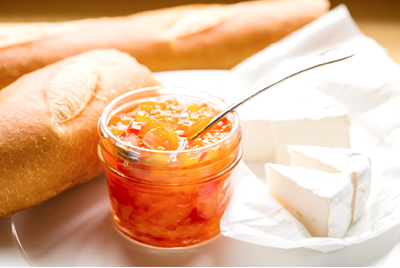 On Winding Drive's web site are helpful facts like the difference between jam, jelly and marmalade. Jam is a fruit preserve consisting of fruit pieces and pulp. Jelly is the juice of the fruit, combined with sugar, and cooked until set. Marmalade is a jelly with clearly defined pieces of fruit, usually citrus, suspended in it. Over the years, they have learned about pairings and have had a chef working on and off making suggestions. One example is their Pear Chestnut jam which pairs well with blue cheese. A tip from Fran: Make a pound cake and slice it. Mix their Raspberry Chocolate Spread with whipped cream and use it as a filling between the slices. Stack the layers and top with more whipped cream and fresh raspberries, and serve.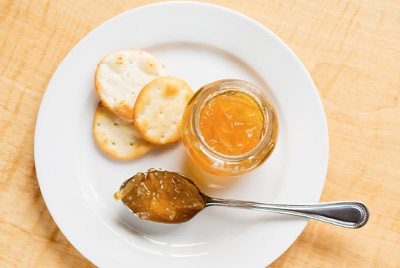 The jams and jellies can last up to 2 years unopened. Once they are opened and refrigerated, they can last up to 3 to 4 months, depending on the temperature in the fridge. An 8-ounce jar costs $8.50 to $11.00, depending on the ingredients. Gift Boxes and Baskets are also available. They sell their gourmet specialties online and deliver only in the USA for now. They also sell at food fairs and festivals, farmers markets, and in local shops. Check out the website (see below) for a list of retailers.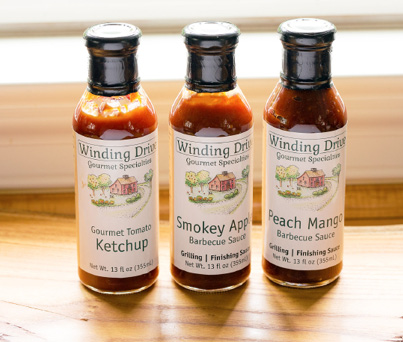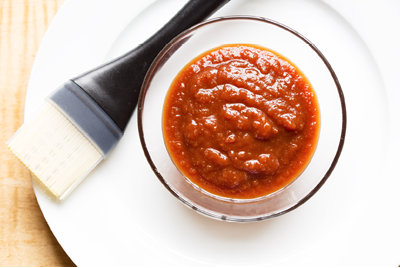 Winding Drive also makes condiments such as ketchup, a sweet pepper relish, pickles, and dry mixes for scones and buttermilk biscuits. Recently, they launched two barbecue sauces which have become a huge hit. The Peach Mango Grilling Sauce has horse radish, chipotle pepper, lime juice, and a touch of Bourbon, which gives it a flavorful mix of sweet and spicy. The Smokey Apple Grilling Sauce is made with apples, tomato, and liquid smoke. Both go very well with chicken and pork. The Smokey Apple also goes well with seafood, such as salmon and shrimp because of the lime juice in it.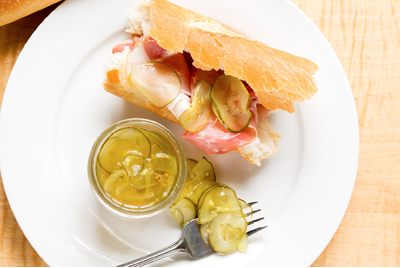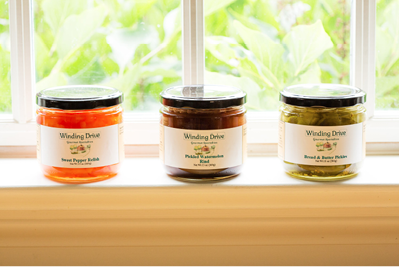 The Old Fashioned Bread & Butter Pickles are cut in very thin slices — great for stacking on hamburgers or sandwiches. Another flavor from the past, the Watermelon Rind Pickles are sweet with lots of cinnamon and are a perfect condiment with chicken, pork, or fish.
Looking forward, Fran and Ron would like to expand the line and are exploring the idea of fruit-flavored vinaigrettes and chutneys. They also would like to one day get their products into New York City and Boston, but there are so many competitors, it is a challenge to break into those markets.
Meanwhile, back in Litchfield County, we continue to be thankful to have such fresh and flavorful homemade products close at hand. Whether it's a picnic by the lake with crackers, cheese, jams and jellies, and a nice bottle of wine; or breakfast on the patio with a warm croissant, marmalade, and a hot cup of coffee, Winding Drive makes our lives better.
Winding Drive Gourmet Specialties
744 Main Street South
Woodbury
203.263.6961
info@windingdrive.com
windingdrive.com