New Milford's Harts Gallery is hosting a series of outdoor installations by Roxbury artist Lauren Booth, who draws inspiration from nature's beauty. 
A native of Northern California, Lauren Booth lived and worked in London and Australia before moving to northwest Connecticut with her family. Much of her work is about turning inward, paying attention to the dreams and thoughts that arise in meditation.
In 2015, Booth transformed The Lab at the Mattatuck Museum into an immersive, reflective space for the installation of The Illumination Show, a series of neon sculptures created in collaboration with His Holiness the Dalai Lama, Thich Nhat Hanh, Bono, Bill Clinton and Oprah Winfrey, among other celebrities and world leaders. Solo exhibitions of her work have been presented at the Mattatauk Museum, Waterbury; Westbourne Studios Courtyard, London; and Etienne Ozeki, London; group shows include the harts gallery, New Milford; Bedales Gallery, London; and Hortensia Gallery, London. Booth's work is featured in the Rothschild Collection at Windmill Hill and the Mattatuck Museum, as well as distinguished collections around the world.
The harts gallery of New Milford is hosting a series of site-specific outdoor installations by Lauren Booth at the Great Hollow Nature Preserve, an 825-acre land preserve on the borders of Sherman and New Fairfield, containing 6 miles of hiking trails, wetlands, streams and forest, open to the public from dawn until dusk. Lauren Booth's works will be on exhibit at Great Hollow from July 31 through September 10.
For her work at Great Hollow, Booth draws inspiration from the beauty and magic of nature, pagan rites, as well as the multiple relationships, both real and imagined, brought forth from interactions with her work, between humans, animals and non-physical beings.
Carmen Elsa Lopez Abramson, Founder & Director of the harts gallery interviewed Lauren Booth about her work at Great Hollow.
What brought you from California, London, and Australia to the Northwest Corner of Connecticut? How did you end up living in this area?
Travel has always been an important part of my life. I enjoy experiencing  different cultures and have been fortunate to live in many great places. My husband's work brought us to both Australia and London. After several years of contemplating leaving London for a rural setting, we discovered this beautiful place and decided to go for it. In 2010, we moved to Roxbury for a lifestyle change.
Tell us about your background and your education. Where did you go to school?
I did my undergraduate studies at USC. In London, I took a 2-year sculpture course at Kensington and Chelsea College.
Did you always know that you would be an artist? What were you interested in as a young child?
I have always been interested in the arts. I took art classes as a child and in my teens. However, when I was at university and in my early 20's I was working as an actress and singer/songwriter. When I moved to Australia in 1994, I switched my creative focus to the visual arts. In 2001, I got my first studio, in London, and began working and selling as an artist.
Was there anyone in your family who was an artist or had an interest in art, and who might have influenced your path towards the arts?
Yes. My parents are both artists, and my brother and aunt are successful also in creative fields. My mom is a photographer and my dad works with glass and mixed media. They have done many things, including business and music in their lives, but the arts have always been important in my life. I was also very close to my grandparents and my grandfather used to whittle little sculptures out of soap and my grandma would say, "he should have been a sculpture". I think about him sometimes when I'm working and how lucky I am to get to do what I love.
How has your work changed and evolved over the years?
I have worked consistently with certain materials like neon and resin and metal at times. The bulk of my work has come through commissions, so I am often responding to what a client wants or likes. This collaborative spirit has moved my work forward over the years. I like to look at a space and be inspired by that place and time. For example, creating work for  Great Hollow Nature Preserve meant  considering the landscape and how my work could interact with that place in a new and fresh way. The piece, "Drops of Light", along the stream and "Queequeg" near the house were both created using new materials in a new way in response to the trees and the sound of water. My way of working has not changed much however. I always start from a quiet place of contemplation and let the ideas come. Then I grab my sketch book and get to work.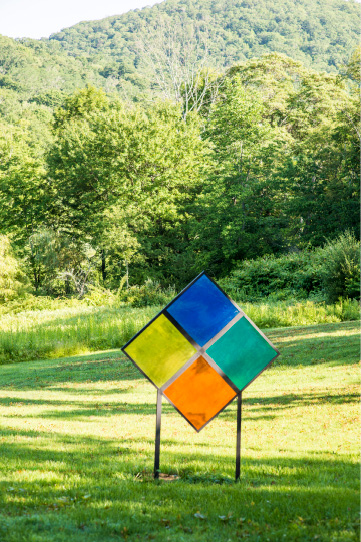 Your work is made for human interaction; in Queequeg our own reflections in the mirrors separate us from the surrounding landscape, and in 4 Square Diamond the landscape morphs as seen through the resin. How does the concept of interactive art or experiential art dominate the design of your work?
Just as "no man is an island", artwork also exists as part of a network. The connection that occurs between the person or people viewing the work is vital. Art exists in space and time and requires interaction with people. In your example of Queequeg the work is activated by both the movement of a person within the space of the sculpture as well as the reflections of oneself within the landscape. In the example of 4 Square Diamond, the different colored resin squares create a filter so it's like looking at the world through colored glasses as well as playing with the idea of trail blazing.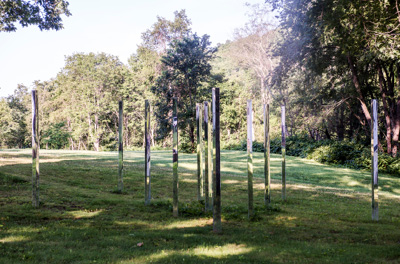 Queequeg follows the structure of a five-pointed star. What is the meaning of this symbol to you?  An homage to our pagan ancestors?
I really like 5 pointed stars. They are strong, fun to draw and have both magical and celestial connotations. And yes, I am referencing paganism with this piece, although I hadn't purposefully used a star for that reason. Queequeg is a character in Moby Dick. He is repeatedly called "savage" but he turns peoples preconceived ideas upside down as he proves to be actually a very connected and enlightened character.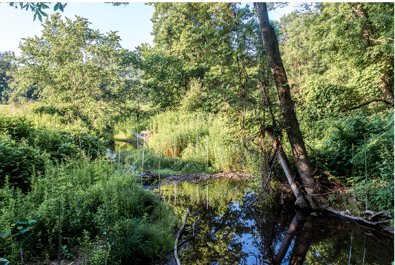 The Greeks believed that mythology came from the Gods and the muses; inspiration meant the artist would go into ecstasy and would be transported beyond her own mind and given the gods' or goddesses' own thoughts to embody. Interestingly, Drops of Light was inspired by the unseen beings that visit the stream the piece is installed along. Do you go through a process of meditation before conceptualizing any of your work?
I love that idea of inspiration coming from a higher place. The Greeks thought big. This piece began at the end of a wonderful hike discovering some of Great Hollows' trails. Towards the end of the hike we came upon this bridge and it was such a beautiful spot we all stopped to take it in. Evan Abramson [of the harts gallery] had the idea to place a sculpture relating to the stream and after he mentioned it I couldn't get it out of my head. I went back to the stream with 21 six-foot tall triangular Lucite rods that had been embedded in logs. I wanted something to draw your eye down stream to make you want to stop and look at the river and listen to the sound a little bit longer. As we were installing the work and I sat contemplating the stream, the idea came to me that there may be other things that we can not see here in the same way that many people walking across this bridge may not see these little beams of light.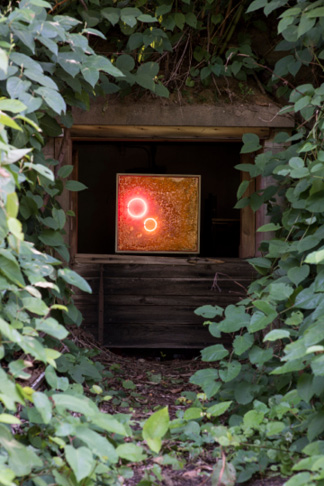 Do you design your work based on the environment where it's going to reside?  Can you tell us about the process of conception and realization of your sculptures?
I am very influenced by the place in which a piece will live or be exhibited. In this case, we began by walking the trails and meditating on the nature at Great Hollow. I returned time and again to the preserve to consider the space.  I was obsessed with putting a neon in the apple cave from the first time I saw it. Five of the sculptures were created for this show and they highlight different aspects of the nature preserve. I made all of the new work from my studio in Roxbury in late spring of this year.
How do you describe your work for someone who has not seen it?
Not very well.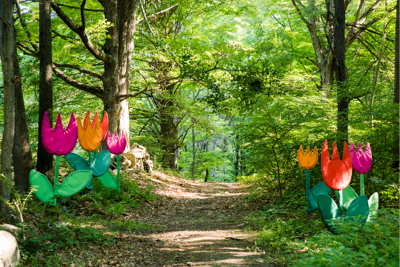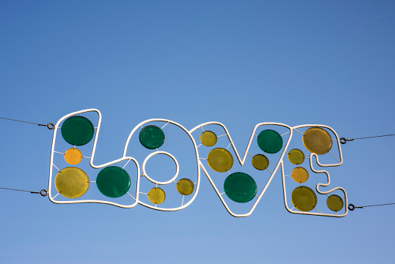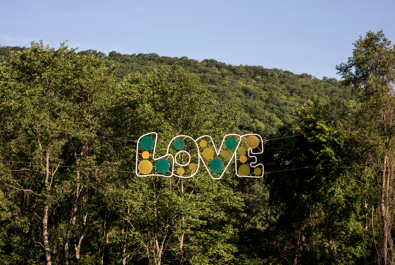 How does the natural environment where the art piece will reside communicate with the sculpture during the conception phase?
We touched on this earlier when I was describing discovering Great Hollow and considering this space. I wanted to put the tulips on a forested path for example as a way to have an unexpected pop of color through the dappled light. For Love is in the Air, I added the resin colored discs to the steel outline as I imagined it hanging high above the ground within the old zip line structure. Or in the case of Drops of Light, the work was created along the stream specifically with that space in mind. This is not to say the work can't exist in a different environment, in fact I think it's important that it can and does.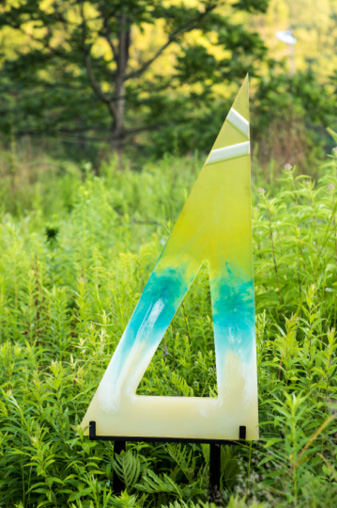 And when creating a sculpture for a home, how do the design elements of the home affect the art piece?
I have had a steady stream of commissions for nearly 15 years. I really enjoy the process of co-creating with a client. It is not just the environment of their home which is considered when we are creating a piece, it's the personalities of the people, their likes and dislikes, the dynamics of the house hold, color choices, and dimensions. A neon commission often includes handwriting. So, all of these things need to come into play whether the work is being created for a home or an outdoor space such as Great Hollow Nature Preserve.
You have an exceptional collection of contemporary art including the work by Sol Lewitt and Richard Serra.  How has living with this caliber of art made by these Masters influenced your own work?
My husband and I both enjoy contemporary art. He has an excellent eye. It is my ambition that my work, whether its being shown in my own home or that of a collectors or a public collection, I aspire for my work to hold its own amongst these great artists. In the case of Great Hollow, nature is the master. So, the work there aspires to hold its own amongst that grandeur and potentially enhance that experience and connection.
From a gallerist perspective, the most interesting artists and collectors I meet are the bold ones with confidence and courage to look at art from within, rather than listening to the nays and nods from the art world.  I would definitely put you in that category! How does the criteria you use as a collector compare with your criteria as an artist?
My experience as a collector is very much connected to Mark and our journey together. Art is something that we share, enjoy and are moved by.  My work is influenced by the work that I am fortunate to live with. I work daily from my studio and it is a practice which requires spaced repetition and contemplation. I think the experiences are different. One is looking out and the other is looking in.
Headed by filmmakers, photographers and activists Carmen Elsa Lopez and Evan Abramson, the harts gallery is an artist-run space focused on building community and inspiring transformation through a robust amalgamation of contemporary art exhibitions, workshops and cultural programming. Finding inspiration in Joseph Beuys' concept of Social Sculpture, the gallery functions as a gathering space where community can form around the common values of creativity, vision, sustainability and collaboration.
For more information about Booth's work, contact: thehartsgallery@gmail.com
Exhibit: July 31 – September 10, 2016

Great Hollow Nature Preserve
225 Connecticut 37
New Fairfield
greathollowct.org
the harts gallery
20 Bank Street
New Milford
director@thehartsgallery.com
917.913.4641
thehartsgallery.com