Say Eye Do to Bespoke Glasses 
By Clementina Verge
Passion, tenacity, and resilience fuel everything Brigitte Paulick does, whether she's completing triathlons, overcoming a near-fatal accident, or spearheading a longstanding company. 
At Friedrich's Optik in Washington Depot, Paulick is continuing her father's eyewear legacy because "a pair of luxury glasses will change not only how you see, but how you see yourself." 
Best known for its handmade buffalo-horn frames, Friedrich's Optik is anchored in a 200-year tradition of German craftsmanship. Founded in Hamburg by renowned London optician William Campbell, the store was purchased in 1977 by Paulick's father, Friedrich, who opened another location in Berlin.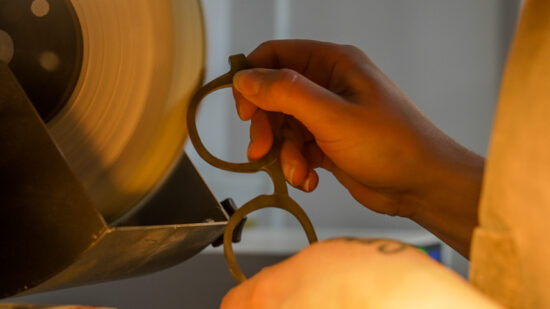 Paulick was four years old when her family moved to the United States. Seizing the opportunity to bring customized eyewear overseas, her father launched a third store in Palm Beach since 1981. 
At 18, she returned to Germany to attend the same optometry school as her father. Upon his retirement, she assumed company leadership from New York, where in 1995, Friedrich established a store still thriving on Park Avenue.
"We're unlike any other eyewear retailer in the region," notes Paulick, who expanded into Connecticut in 2020 and can be found working in the atelier where frames undergo a meticulous process of carving, filing, polishing, and engraving. 
"Glasses are an undervalued accessory, but transform your look and mood," she reflects. "Our lenses are cut in-house by experienced opticians and handcrafted to fit each face and personality. Every pair is like a fingerprint: one of a kind."
After balancing time between New York, Florida, and Germany, Paulick made Litchfield County home; its trails, preserves, and waters became a training ground as she transformed from novice athlete into seasoned competitor.
In her early 30s, a transatlantic crossing provided opportunities for introspection and…spin classes. Biking progressed from hobby to passion, and in 2009, Paulick signed up for the Harriman Sprint Triathlon, despite a lack of swimming or running experience.
"I was never an athlete in high school nor participated in college sports. I didn't even own running shoes; never ran a mile. But I didn't just survive. I thrived," she recalls about finishing second in her age group. 
Desiring "to get better, faster, and stronger," she trained harder. After completing her first Ironman event in 2012, seven more followed, including three world championships. 
From Hawaii to Lake Placid, Mont-Blanc, and her native Hamburg where family cheered on, competition left her "hungry to find new limits, push beyond them, and watch herself grow."
Then, on a fateful day in June 2019—three weeks before a scheduled return to Ironman Hamburg—Paulick was airlifted to a trauma facility after a vehicle collision gravely injured her while biking along Lake Waramaug. 
Recovered, her athletic pursuits now focus on philanthropy, raising awareness, and funds for causes including disease research.
Passion. Tenacity. Resilience. It's what Paulick embodies, whether she's defying personal limits, expanding the family business, or handcrafting eyewear for clients who have watched her grow up or are just discovering Friedrich's.
"What we do is unique," she reflects. "It's a beautiful investment in yourself." —friedrichsoptik.com