A Rescued 250 Year Old Farmhouse
By Wendy Carlson
Michael Quadland is big into heavy metal—not the jarring music of Metallica or Iron Maiden, but battered, bent, warped, patina-flecked, rusty metal. An artist, Quadland draws inspiration for his abstract paintings and sculpture from the Works Progress Administration and Ashcan schools that found beauty in the industrial landscapes of early 20th-century. But he also has a soft spot for vintage houses. So, in 2016, when he stumbled upon a 250-year-old farmhouse in Morris, he saw an opportunity to create a home, studio, and gallery wrapped into one.
Quadland first spotted the white clapboard farmhouse when he was exploring Litchfield County one day. He noticed the "For Sale" sign stuck on the front lawn, and knew immediately that he wanted to buy it.
"I'm a sucker for houses that really need rescuing, and this one really needed rescuing," said Quadland, who renovated several century-old apartments in New York before moving to Litchfield County.
He envisioned using the farmhouse, with its simple lines and plain interior, as a space to illustrate how abstract modern art can complement even the most traditional of homes. "People look at my art and say it won't go in my antique home, but it does," he insists.
Quadland returned to creating art ten years ago. As an undergrad at Dartmouth, he majored in art, but his parents discouraged him from pursuing it as a career. Instead, he earned his Ph.D. in psychology from New York University and a Master of Public Health degree from Yale. After demanding New York City careers as a clinical psychologist, assistant professor of psychiatry at Mt Sinai Medical School, AIDS researcher, and eventually as a novelist––penning two books,
That was Then, in 2007, and Offspring, in 2012, he came full circle and returned to the studio.
He and his partner, Rod Oneglia, live in a contemporary home just a stone's throw away in Litchfield. But Quadland felt he needed his own work space. At first, buying another home that badly needed updating didn't go over well. "When Rod, who is in the construction business, saw the place he just rolled his eyes and said it was going to cost a fortune to restore. That was when he started calling it Pretty Penny Farm. But as the construction proceeded, he saw that I was accomplishing a great deal at far less expense than he thought possible. That was when he changed the name to Pinch Penny Farm. We call it "the Pinch" for short," says Quadland.
Restoring the antique farmhouse, which took two years, became Quadland's own project.
He worked alongside the contractors, pulling nails, filling the dumpster, and making decisions on the fly. "Perhaps the hardest part physically was that the house was not heated and we worked January through into spring. Emotionally, there was the tension of making the house livable without losing or spoiling its many original features," he said.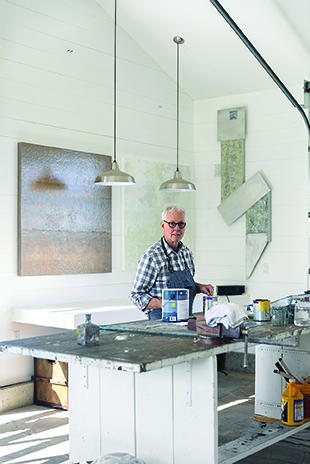 Structurally, the house had good bones, but there were surprises—like when he pulled up the hallway carpet and could see collapsed floorboards right down into the cellar.
Quadland is only the home's third owner since it was built by the Benton family in 1767. His goal was to keep the architectural integrity of the house intact by preserving its historic features, including the wide-board pine and chestnut flooring, a cook fireplace with bake oven and two smaller fireplaces around a center chimney, original doors with original hardware, plaster walls and wainscoting, and the two original staircases.
The original portion of the main house is approximately 3,200 square feet, but in the 1960s an attached barn was converted to an apartment. Quadland gutted the addition, adding a vaulted- beamed ceiling.
At first, the space functioned as his studio. Then, he decided he needed more room so he built a 2,200-square-foot studio behind an existing three-bay garage, which houses a 1957 pink Thunderbird convertible, and a 1966 Ford pickup. Vintage cars are another one of his interests.
"I come from a long line of car men," he explains. "My grandfather with his 1941 Packard touring car. My father with his 1949 Ford convertible. My brother races cars. I have always loved cars too. Now my passion is for 1950s and 60s—the cars I grew up admiring."
Quadland painted most of the farmhouse's walls white, creating a gallery-like atmosphere for displaying his large-format, three-dimensional paintings, and sculptures by him and by other artists, including his partner Rod, who is also a sculptor.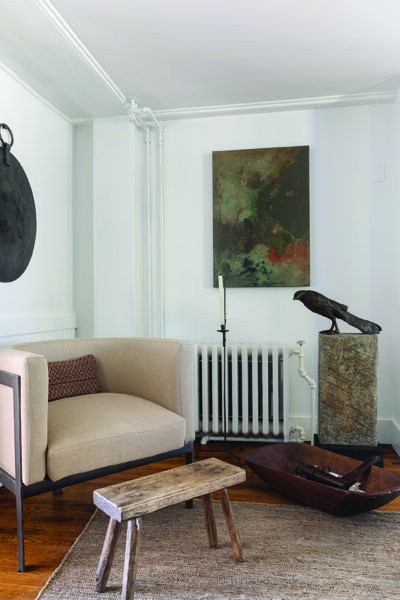 These days, Quadland spends most of his time at the farm; its long history inspires him. Originally, the farm included several hundred acres of land, which is now held in conservancy. The house now sits on three acres and is framed by stonewalls, mature trees, fields, and is punctuated by two Bulls, colossal cast-bronze sculptures by artist Peter Woytuck.
"In whatever direction you look, both inside and out, there is such a strong sense of history. I often imagine someone cooking at the big fireplace, or climbing the narrow twisting staircase, or storing jars of vegetables in the cellar," he says. Now, his artwork adds another aesthetic dimension to this old house, and another chapter in its long history.