Blue Gate Farm in Warren Thrives on Three Acres
By Hannah Van Sickle
Bruce Young's little slice of heaven is a scant three acres in Warren called Blue Gate Farm—and he's far from bashful about the diminutive size. The land on Curtiss Road (named for Young's paternal grandmother), is a micro-farm that has blossomed in the decade since he returned to the area to farm with his partner, Yobana Garcia. "Start where you are with what you have" was the couple's guiding philosophy, one that has remained through numerous growing seasons as neighbors increasingly lean on the local food economy to sustain them through the growing season and beyond.
"Each year, we narrow and refine what we are doing," Young explains of his commitment to growing Blue Gate Farm in a focused way. From the first tender leaves of spinach come spring to the last butternut squash harvested before it freezes, the pair strive to be as varied and resilient as possible—which translates to honing their niche. On the day I toured Blue Gate, Young had 150 pounds of onions in the back of his truck bound for the Warren farmers' market––a hearty crop that grows beautifully with little effort and will keep over the winter. With time and space in short supply, every decision on a micro-farm is particularly important. At present, Young and Garcia are raising a trio of American Aberdeen beef cattle, prized for their efficiency in turning pasture to protein. Young's foray into raising animals began with chickens—of which he processed 150 last spring—and he has an affinity for American Guinea hogs as well. Turns out, so do his neighbors.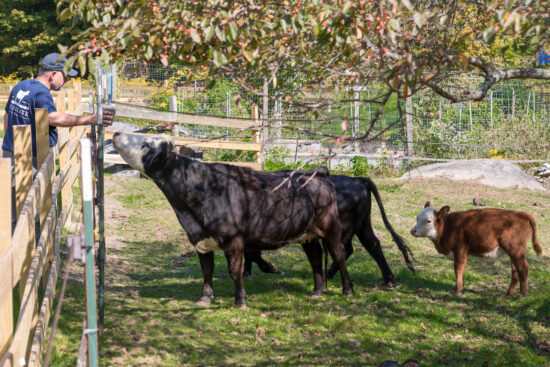 "It's been very satisfying, very rewarding, to help so many people access local food," says Garcia who hails from the city of Chiquimula in Guatemala. Knowing where their food comes from and how it was raised is a huge part of what fuels the pair in their work. "It would be impossible to overstate the feeling of  'going off the grid' food wise," Young says. Not to mention "the food we raise tastes amazing," Garcia adds in a nod to what keeps her and Young focused on farming. To complement their harvests from the field and pasture, Young cites his passion for baking as a lucrative cottage industry. He sells upwards of 35 loaves of bread a week, with customers flocking for squares of his nearly famous garlic and rosemary focaccia—flavored with the very fruits of his labor. Blue Gate also participates in the Warren Grown CSA, in conjunction with Earth's Palate Farm and Warren Valley Farm, where their pork, chicken, and bacon round out the locally grown produce and pasture raised eggs that fill patrons' weekly boxes.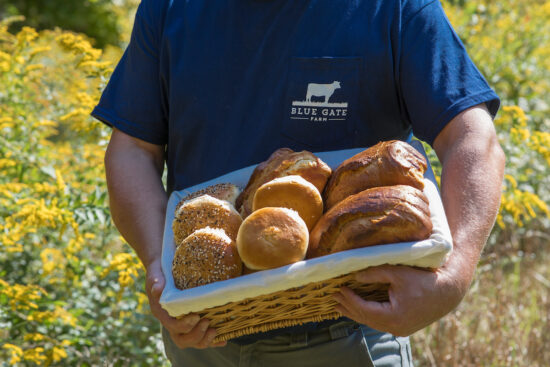 Along with the pride of planting each seed by hand come challenges. "Many underestimate the time and effort it takes to farm on a small scale," says Young in a nod to the nonstop weeding and harvesting––all of which he and Garcia do themselves while working off-farm jobs. The ultimate goal is to replace one of their incomes with revenue from the farm. As to what keeps the pair farming? The work is simple but necessary, and very satisfying. The small parcel of land harnesses huge potential from the fruit trees and berry bushes that abound to the maple trees they tap come spring. Young sees it as a small-scale responsibility, one that simply starts with doing something—which is the biggest tip he hopes to be able to pass on to other would-be small acreage farmers. "We are doing our part, stepping outside of a flawed system and making solutions for ourselves and our family."
Blue Gate Farm
14 Curtiss Road, Warren
860-898-0742