Earth's Palate Farm in Warren is part of a new movement of young farmers who are dedicated to providing natural and delicious organic food to their community.
Renée Giroux and Kevin MacPherson are local farmers. They began their farm business two years ago in Warren on 40 acres of land and named it Earth's Palate Farm. The farm is small and sustainable and keeps the young couple very busy. In the hydroponic greenhouse, they grow 500 heads of lettuce per week. They can't keep up with the demand and will be adding three more hydroponic greenhouses to their farm this year.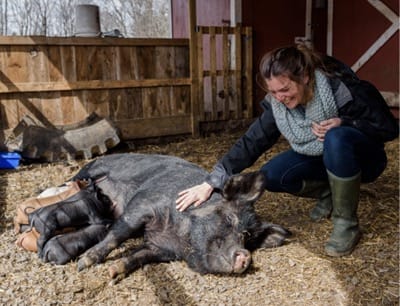 Renée and Kevin took much care in selecting the types of animals they would have on the farm, putting quality above all else. Their Heritage pork is Berkshire Durock Cross; the Cheviot sheep are from Scotland for meat and fiber (meaning the wool is used for yarn); the Bresse chickens from Bresse, France; the Kosher King chickens for meat and the Auracana chickens for egg laying; and Mulard duck, known for its use in foi gras. Finally, they keep Italian bees for their much-prized honey.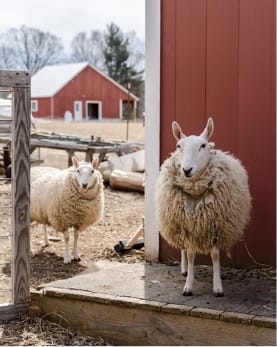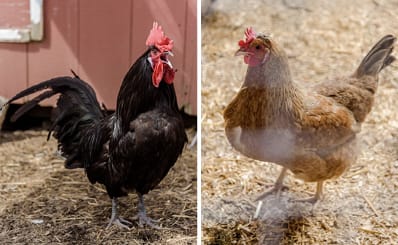 Paying a lot of attention to detail in their farm work, they use holistic approaches with their animals, such as feeding only the purest ingredients and raising them on pasture. They give them herbs and tinctures to boost the animals' immunity and they follow homeopathic guidelines for treating any ailments that may occur, including herbs in their everyday diet.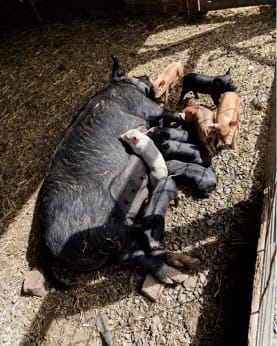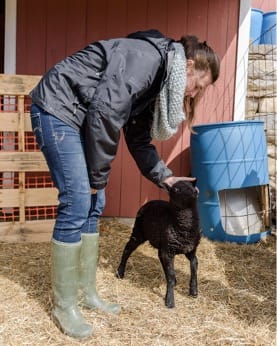 On the farm, they have several types of gardens: a Market Garden (for growing vegetables to bring to the Farmers' Market), a Backyard Kitchen Garden, an ornate Herb Garden, a Flower Garden,  and long fields of produce.Tending to vegetable processing (such as washing and storage) is an important part of their work in providing produce to local restaurants, farmers' markets, and grocery stores, such as Ct restaurant, Swift, The Smithy, New Morning, The Northville Market, The Litchfield Winter Farmers Market and others outside Litchfield County.

They provide local vegetables all year round from their hydroponic greenhouse, including four different types of lettuce: oak leaf, red bib, red oak leaf, and green bib—all are of the Salanova variety. During the summer, they grow and sell heirloom tomatoes, sweet peas, heritage onions, shallots, Japanese eggplant, Japanese asparagus, heirloom beans and peas, potatoes, peas, heritage leeks, musk melons, Japanese greens and other specialty produce.Fruit is also in the mix, with a small orchard of apples and pears and a few tart cherry trees.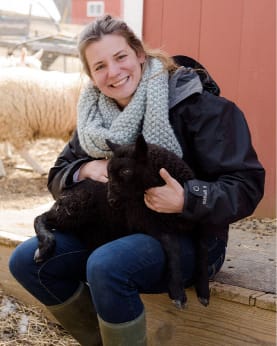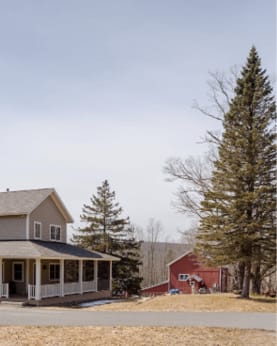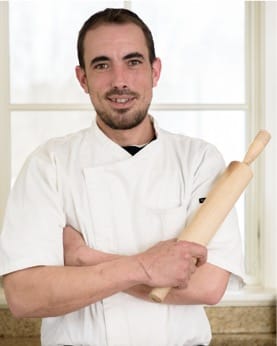 Having grown up in Watertown, Renée's family has been in this area for three generations. She received a degree in horticulture from Naugatuck Valley College (at the time there was no such thing as Organic Horticulture). She then worked on organic farms in New Mexico to learn about true organic growing and sustainable living, returning to Connecticut to combine Organic Ag with Horticulture. Shortly thereafter, Renée joined the lecture circuit on organic greenhouse growing and herb production throughout NYC and CT.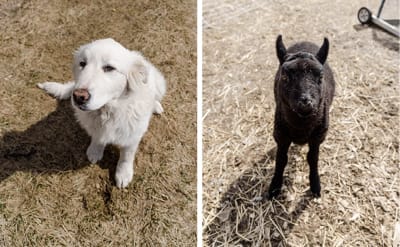 The philosophy of living off the earth's palate was instilled in both partners from an early age. It's all in the family. Combining the French influence from her family (her parents from French descent and her husband Kevin was born and raised France) with the Japanese influence passed on by Chef David Bouley, Renée understands food trends. While growing up, her parents introduced their children to pâtés and other interesting recipes—her mom was a great home cook. Her sister Alison Berlin is a second level wine sommelier and the wine director at Balantyre Relais & Châteaux in Lenox Massachusetts where Renée's brother-in-law Chef Jeremy Berlin also works as the Executive Chef.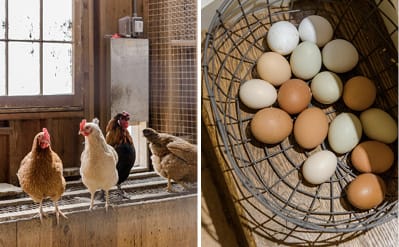 Both Kevin and Renée have other jobs as the farm is not yet bringing in enough income to sustain their family. Kevin is a French pastry chef and makes baked goods such as breads, croissants (ham and cheese, chocolate, and plain), and desserts for various shops and restaurants in the area. He sells his croissants at the Litchfield Farmers' Market on Saturdays and at the Smithy in New Preston on Saturdays and Sundays. He also is a consultant for Vine Restaurant in Middlebury.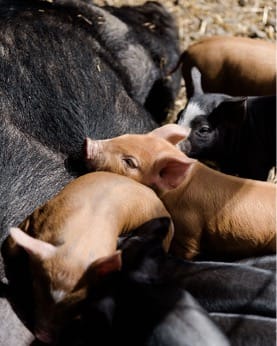 In addition to running the farm with Kevin, Renée is the manager for the North Western Connecticut Food Hub (NWCTFOODHUB), a service that supports farmers by connecting them with larger and more consistent wholesale and niche markets for their farm products. Currently, the Hub aggregates locally grown food from 20 farms in our region and has the capacity to both pick up and deliver the produce. The Hub also has an online ordering and billing system. The Hub is operated by the local non-profit organization called Partners for Sustainable Healthy Communities. "We are working with strengthening our commitment to farm-to-school by bringing fresh, locally-grown produce to our local public and private schools in the Northwest corner," explains Renée. They are in the process of being approved to bring locally-grown produce to Region 6, in the Torrington area.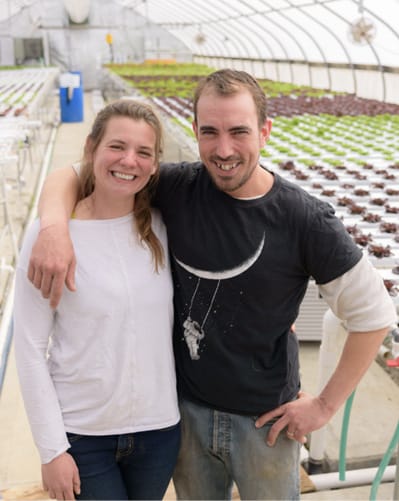 Renée Giroux is passionate about horticulture. She has worked as an organic horticulturist for 18 years. She was the head grower for Gilberties in Easton for 7 of those years. She worked in New York City for chef and restaurateur David Bouley—she was his farmer. It was on a trip to Japan with David Bouley that she learned about traditional Japanese produce. During that time, she gave many lectures and talks on produce in NYC and CT. Renée designed the Chef's Garden at Artisan in West Hartford, which offered their customers a high-end, outdoor eating experience amidst the Chef's Garden. She was instrumental in getting Gilberties their organic certification and it became the second largest organic greenhouse system in the country. She also started a Cut Herbs line for Gilbertes, Petit Edibles.
Together, Kevin and Renée are part of a new generation of farmers who value natural and organic foods and are willing to put in the hard work to provide healthy products for their neighbors. They give back to their community and feel satisfaction and pride in what they do. Earth's Palate Farm is a valuable resource to the area—one that we are grateful for.