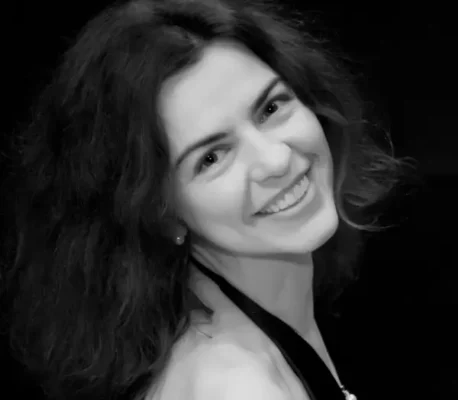 March 19, 2023
WBCMF Chamber Concert
Konstantza Chernov will perform in the Woodbury-Bethlehem Community Music Foundation (WBCMF) Chamber Concert Series on Sunday, March 19, 2023. The concert will take place at 3:00 P.M., at the First Congregational Church, 214 Main Street South, in Woodbury, CT. Tickets are available at
www.wbcmusicfoundation.org
, or at the door the day of the concert. There will be a reception with the performer immediately following the concert.
An active soloist and chamber musician, pianist Konstantza Chernov has performed extensively throughout the United States and Europe. She is a member of jouvence, a duo with violinist Jenny Grégoire, and the Chernov‐ Podgurski Duo with pianist Barbara Podgurski. An advocate of contemporary music, Konstantza Chernov has given premiere performances of works by Michael Capobianco, Eric B. Chernov, Leo Kraft, Martín Kutnowski, and Douglas O'Grady, among many others. With the Chernov‐Podgurski Duo she gave the world premiere of Daniel Plante's two‐piano version of Irving Fine's Toccata concertante at Steinway Hall. Additionally, for several consecutive years, she was the pianist for the Long Island Composers' Alliance's annual concerts in New York City, performing solo and chamber works by Richard Brooks, Herbert Deutsch, Martin Halpern, Leo Kraft, Joel Mandelbaum, Dana Richardson, David Schober, and Edward Smaldone.
Dr. Chernov is currently on the faculty at Queens College, where she teaches piano, class piano, and coaches chamber music. She is also on the faculty of QC's Center for Preparatory Studies in Music. She previously served on the faculties of the United Nations International School, The University of Alabama, The Piano School of New York City, and the Music Conservatory of Westchester. Additionally, she has served as a staff pianist at the Mannes College of Music, Queens College, the 92nd Street Y, and the CPSM. She was an adjudicator at the Young Artist Piano Competition and the Senior Piano Competition of the Georgia Music Teachers Association. She also adjudicated at the Music Teachers National Association competition in 2013 and 2014, as well as the concerto competition at the Larry Eisman Center for Preparatory Studies in 2015 and 2016.
Recent performances include the solo Piano Fantasy at the Leo Kraft Memorial Concert, a Merkin Hall appearance with Harold Rosenbaum's New York Virtuoso Singers, and the world premiere of Eric B. Chernov's 18 amuse‐bouches for solo piano. As an active supporter of her local community, she has also recently given a solo piano benefit concert in support of the Newtown Meeting House (Newtown, CT), and several public solo concerts at the Silas Bronson Library (Waterbury, CT).
For more information concerning the purchase of individual tickets to the Chamber Concert Series, or to seek further information about our performing artists, please visit the WBCMF website, at
www.wbcmusicfoundation.org
. You may also find them on Facebook, or email them at
[email protected]
.
3:00 PM, on March 19, 2023.
First Congregational Church
214 Main Street South
Woodbury, CT