Written by Tovah Martin
Photos by Rana Faure
In this Warren garden, the landscape is a very personal expressive tapestry.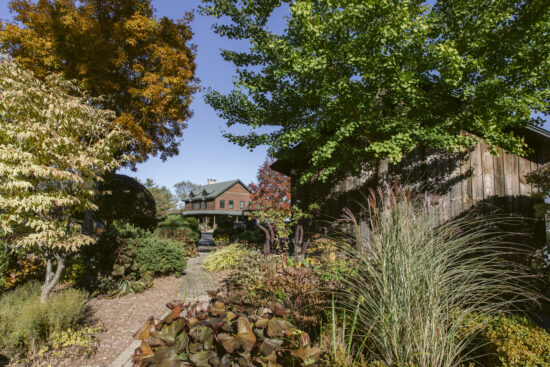 "Walking into your garden should feel like walking into yourself," is the advice Zarinna Mulla shares when clients ask for a consultation. And that approach is exactly how she designed her own Warren landscape. Flowing elegantly around the house Adil and Zarinna Mulla built on 230 acres overlooking the Shepaug Reservoir, every inch of the garden is personal. Walk the land, and you know Zarinna. 
Growing up in Bombay, interaction with nature was a vicarious experience for Zarinna. To appease her growing fascination for botany, she spent as much time as possible on the balcony of her family's urban home. Infinitely impressionable, when she came to the U.S. in 1978, the novel plants in the New World fascinated her. "Everything was different here and I wanted to learn all about it."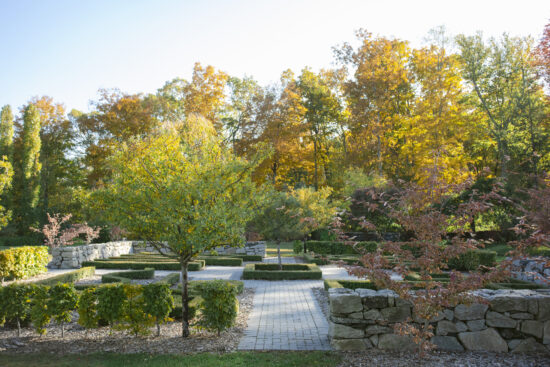 When the Mullas moved to Redding, she frequented a nursery in town and eventually applied for a job and was hired. Curiosity led to research and experimentation, "I would grow the perennials at home to learn what each plant required." That philosophy has shaped her entire horticultural career. Zarinna loves to collect, but that said, her garden is deftly designed. The landscape flows from space to space with meticulously clipped hedges and rare, reverentially sculpted shrubs and trees serving as accents.
Although Zarinna undoubtedly has an innate talent for design, she perfected that penchant by studying landscape design at the New York Botanical Garden. By the time she came to the Warren property in the early 2000s, she was confident in her ability to express her inner self horticulturally. 
"It was only a forest," she says of the acreage, "and it sort of fell into our lap." Dedicated to serious stewardship, the Mullas consulted with a forester from Yale who urged them to thin the trees to focus on the health of those left standing. He also suggested the creation of paths throughout the land to explore its inner secrets. That's when they discovered the dramatic Shepaug Reservoir view.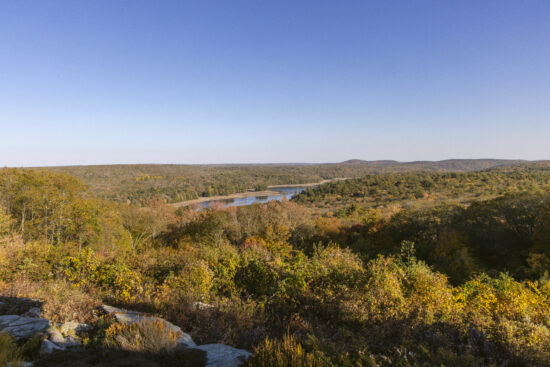 In 2005, the Mullas finished their house overlooking the reservoir, leaving the boulders blasted to create the foundation in place to frame the panorama. Zarinna had opened a nursery in Redding, and she moved that nursery to Warren. She also redirected her focus. "We didn't have ornamental grasses in India," she explained of her fascination for anything with plumes. "I love their movement and how the light filters through their blades." She also had practical reasons for choosing ornamental grasses as a specialty. "They're easy. You don't have to deadhead grasses and the deer don't eat them." Before long, she forged a reputation as the local specialist in ornamental grasses. If you wanted someone with their finger on the pulse of how to select grasses as well as new introductions to the trade, she was that person. She remains incredibly well-versed in all aspects of gardening, but Zarinna no longer runs a nursery and her focus has expanded to include woody plants, especially unusual trees grown in containers. She continues to consult with landscape design clients, but she now generously donates her fees to Literacy Volunteers.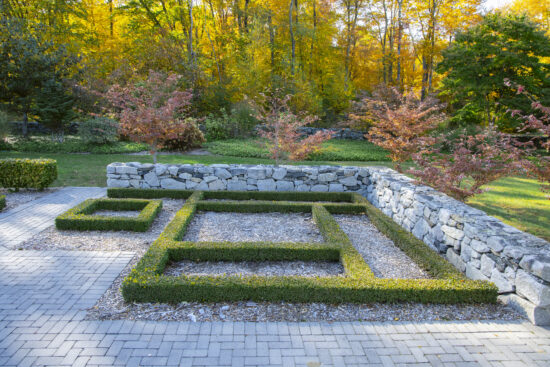 One of the highlights in her own landscape is a Persian garden with low-growing shrubs clipped into quadrants. "The grid pattern of shrubs came out of necessity to guide water into the fields for irrigation. If you went back to the 12th Century, my ancestors came from Persia," Zarinna says of the design's roots. Elsewhere, the landscape retains its strong emphasis on grasses, juxtaposed against textural woody elements with generous space between bedfellows, "I want the trees and shrubs to show themselves in their full glory." Thoughtfully crafted flowing lines are everywhere, while autumn is a particularly glowing moment when the grass plumes play against the raging color in surrounding trees and shrubs. It's all carefully composed and all highly personal. To experience the Mulla garden is to know Zarinna.