New Milford's Newest Mexican Restaurant
BY: Charles Dubow
Photographs by Jim Henkens
As a transplanted Manhattanite living in Litchfield County for the past nine years, I sometimes miss the rich diversity of cuisine that once had been so readily available to me in my past life. That is why I am always so happy when a new restaurant appears on the local horizon—and doubly so when it is as good as Vegas Mexican Kitchen and Bar.
Opened just this past Memorial Day in New Milford, Vegas is the kind of Mexican restaurant no town should be without. Walk into this friendly, boisterous space for the first time and you can immediately sense that the margaritas will be top-notch (I highly recommend bartender Dennis Daly's skinny margarita), the nachos will be piled high, and the enchiladas will be thick and cheesy.
But what I wasn't prepared for was that, in addition to making delicious versions of more traditional Mexican fare, chef Roberto Peña has juiced his menu with a few dishes you won't find everywhere, many of which are family recipes. For example, an absolute must-order is his Cochinita Pibil, a dish from the Yucatán made with pork marinated in citrus juice, spices and achiote leaves, then wrapped in banana leaves and slowly baked until the shredded meat is fall-off-the-bone moist and juicy. Stuff the meat into one of their own corn tortillas and let your mouth go wild.
Two other distinctive entrées worth trying are the rich Alambre, a popular Mexico City dish of pan-seared chicken and sirloin strips with bacon, bell peppers, onions and melted Oaxaca cheese; and the zesty Ceviche de Pescado Sinaloa style, made with white fish cooked in fresh lime juice, with tomato, red onion, cilantro, cucumber, jalapeño and avocado.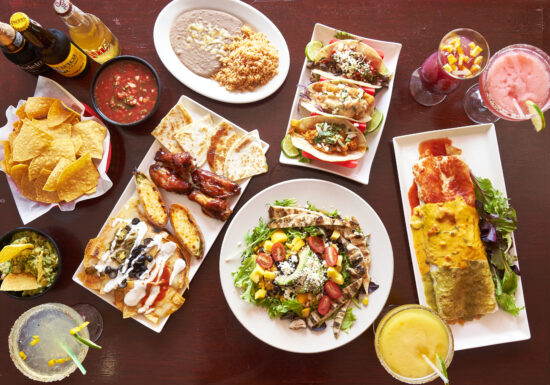 However, if what you are craving are burritos, tacos or chimichangas, you won't be disappointed. All servings are generous and tasty. Can't make up your mind? Simply order the Big Papi, which offers one of each—as well as a cheese enchilada. Needless to say, everything comes with sides of bean and rice, and, of course, both the guacamole and the tortillas are hand-made and excellent.
One of the things that may be most impressive about Vegas is that this is owner Ricardo Vega's first restaurant. The Mexico City-native has lived in the U.S. for years and worked in nearly every other capacity in the restaurant industry. "My father's done it all," says his son Richard. "He's been a busser, a waiter, a manager. Before the pandemic he was banquet supervisor at a hotel." Vega had been looking for years to open his own place and finally found a location on Railroad Street. "We've been incredibly lucky," says Richard, who is taking time off from college to help his parents get the restaurant up and running. "New Milford's a beautiful community. Everybody knows everybody else. A party will come in and they'll know the people at the table across from them. We haven't been open long but we have already attracted a lot of regulars."
24 Railroad Street, New Milford, vegasmexican.com