Designer Debra Blair Creates Christmas Magic
By Joseph Montebello
Linden Hill Farm in Lakeville is the perfect setting and owner Debra Blair is a master of creating a magical Christmas celebration. An expansive circular driveway leads up to the main entrance of this Georgian Revival house built in 1929. The 75 acres that accompany it were once part of a 2000-acre land grant given to a local farmer by King George III. Blair, principal of Debra Blair Design, began her career in the design department at Bloomingdale's and started her own business in 1979. She has worked on both residential and commercial projects and is known for her ability to create elegant, luxurious, and livable interiors. Blair shares with us some tips she recently learned on how to create a lush holiday mantel display.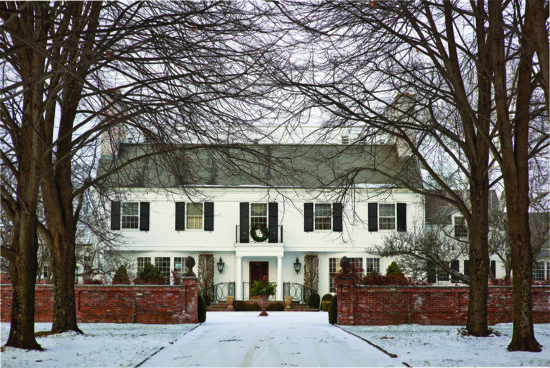 "I really don't start putting things together until the week before Christmas," she explains. "I usually start with the Christmas tree. It's a long process and happens in stages over a three-day period. First, the lights, then the ornaments, lastly, the garlands, tartan bows, and crystal icicles. Blair has an extraordinary collection of ornaments garnered over time.
"I love old ornaments and whenever and wherever I find them, I buy them," she says. "I also inherited collections from my mother, my aunt, and my grandmother, so I have amassed quite an assortment."
Blair's favorite room to decorate, however, is the dining room. This season it has a silver and white theme. "The tree is easy to put together," she explains. "But the dining room is fun and I try to do it differently every time and decide how elaborate I want to get. We have a big holiday meal on Christmas evening since many of our guests arrive late Christmas Eve. I usually serve prime rib, Yorkshire pudding, salad, scalloped potatoes, and assorted vegetables. My sons think I should do this every week!"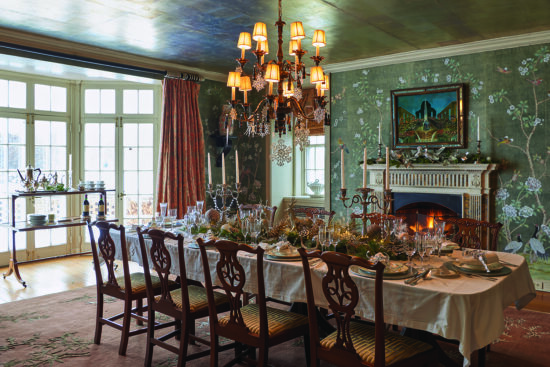 Blair and her guests take advantage of the magnificent surroundings and appreciate what country life has to offer. "We cross country ski and snowshoe on the back field, take long walks on Christmas Day and enjoy our son's fire pit in the woods behind the barn, toasting with cider we make in the fall."
There are Christmas vignettes throughout the house, including the kitchen. Strolling through the rooms one feels the warmth and holiday spirit that the house exudes.
Blair added something new to her repertoire this season—the mantel decoration in the living room. Last December she had the honor of being invited to help decorate the White House.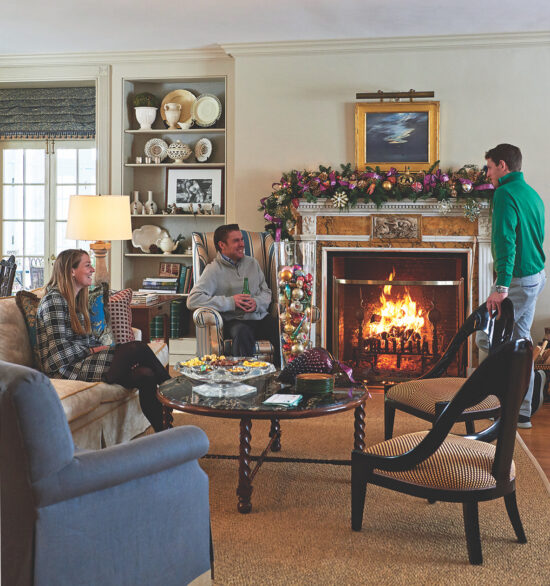 "It was an amazing experience to be working in this historic building on such a huge project. The man in charge of mantels showed me some tricks to creating its décor."
Here is the simplified version:
1. Start with a long and very full garland of pine—fresh or artificial. If you use lights, add them at this point. Use plastic stocking hooks to attach the greens to the mantel.
2. Slip fresh evergreen cuttings into the garland to create fullness. I like a garland that drops to approximately ⅓ the height of the mantel. Don't be afraid to use a lot of pine cuttings—the more you have, the better.
3. Usually the center of the mantel should have a centerpiece or focal ornament. Have more ornaments than you think you will need. You want the mantel to look very full. When you are happy with your design, weave ribbon in and around the ornaments. Use wired green wood picks to attach the ornaments and the ribbon.
4. Remember, you want to make a big statement, so don't skimp on materials.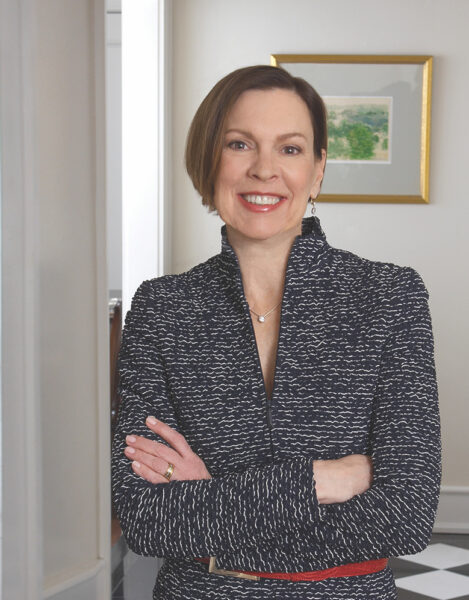 The last line is Blair's mantra and the reason for her spectacular Christmas house.