A student from South Kent School has just won first prize in one of the world's most prestigious music competitions. Taek Gi Lee says he just likes the feeling when he's playing piano.
Last month, 100 contestants from 30 different nationalities converged in London to compete in the 10th Annual Hastings International Piano Concerto Competition. Out of the 44 young pianists who were chosen, one of them was Taek Gi Lee, a student at South Kent School, and a resident of Litchfield County. He became 1 of only 7 to advance to the semi-finals. MaryAnn Haverstock, a math teacher at South Kent School, and the Director of Sustainability at the Center for Innovation went with Taek Gi to London. For the second round of the competition, Taek Gi played a solo recital of Bach and Liszt. From there, he was selected by the judges as 1 of 3 pianists to play a full concerto with the Royal Philharmonic Concert Orchestra. In the final round, he chose to play  Rachmaninov's piano Concerto No. 3. His performance was so amazing that he received the prestigious first prize, winning the Hastings International Piano Concerto Trophy, a £5,000 10th-Anniversary Prize, and a concert with the Royal Philharmonic Orchestra.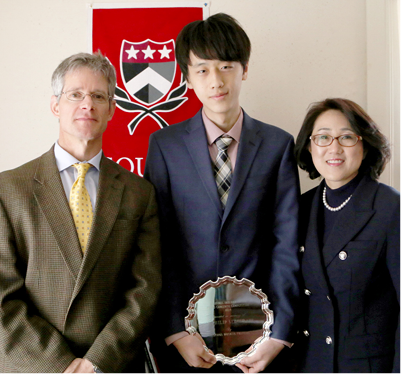 Taek Gi Lee began playing piano at the age of 6 in Seoul, Korea, where he was born. No one else in his family was a musician. The only reason he started playing piano was that he really loved the feeling. "I just liked it," he said. "Although I have heard that my mother enjoyed listening to classical music while she was pregnant with me."
A few years ago, Taek Gi Lee had moved to the United States with his mother and was attending Julliard on weekends. He had a very tough time at the public high school in New York, so he dropped out and practiced his music at home. Dr. Sarah Sung Lee, a concert pianist and music educator, an Artist in Residence at South Kent School, who lives in Kent, was introduced to Taek Gi at the Julliard School. She explains, "I tried hard to convince him how important it is to attend a regular high school and to gain knowledge of subjects, other than music, in order to grow as a great musician." With Dr. Lee's recommendation, the South Kent School offered Taek a full scholarship.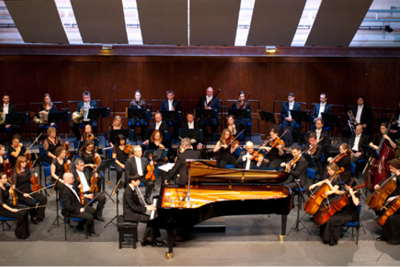 Taek Gi Lee, who is now 17, has been a student at South Kent School for one year, and is in the Classical Music Program there. He also takes classes at the prep division of the Juilliard School in New York. Dr. Sarah Sung Lee found a home for Taek Gi and his mother in a guest cottage owned by the Brodhead family in Warren. "I am sincerely thankful to my instructor Dr. Sarah Sung Lee, who found my potential and gave me the wonderful opportunity to be at this great school, and also to the Brodhead family who have supported  me in many ways."
A few years ago, when he was listening to Professor Choong-Mo Kang at Juilliard, Taek Gi realized how beautiful the piano is. "It just made me cry because it was very stunning and impressive. From that moment on, I strongly decided to become a pianist. Now, I'm so lucky that I'm studying with him at the Juilliard pre-college division every Saturday."
"I always try to practice for at least 5 hours per day. However, because I have a lot of homework from school, it's quite difficult to find enough time for practice." When he is not practicing, Taek Gi loves to watch movies. "Movies inspire me a lot! It's also very beneficial to the music I play. I can experience many new things that I was not able to experience in real life. It's very exciting for me."
Asked what other interests he has, Taek Gi replies, "My hobby is to travel to different places and countries. The great thing is I have had a number of chances to travel to many different countries because of the piano! So, I'm very happy to live as a musician."
Some of Taek Gi's performances as a soloist have included:
Kumho Prodigy Concert Performance (Seoul, Korea)
Kumho Prodigy Trio Concert Performance (Seoul, Korea)
The 26th Young Musicians Performance (Seoul, Korea)
Winners' concert of the 3rd International Franz Liszt Competition for Young Pianists 2011 (Weimar-Sondershausen-Bayreuth, Germany)
Juilliard Pre-College Student Recital (New York, USA)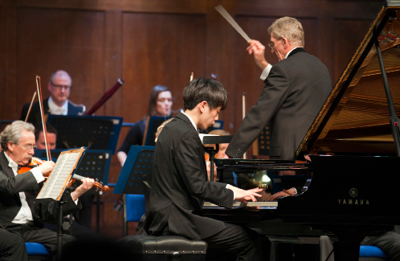 Performing at a high-level competition such as the Hastings International Piano Concerto Competition in London requires intense concentration and we wondered if Taek Gi experienced stage fright. "Let me tell you about my final performance with the Royal Philharmonic Orchestra at the competition. I was so nervous. Especially because the piece that I played is known as one of the most difficult concertos, which is Rachmaninoff's 3rd Concerto. It's crucially important to have a peaceful mind on the stage. Therefore, I just prayed to God every moment, also during the performance. That was not something that could be done by myself. Everything was possible because I believed that God was with me. After the performance, I heard lots of applause from the audience. It was one of the happiest moments of my life to see and listen to the amazing reaction from the audience. Also, it inspired me to perform a better concert next time! Playing in front of a number of people is very hard and makes me nervous most times, but when I successfully finish the performance, I always feel a very big sense of accomplishment. And I think that feeling motivates me to continue the musician's journey."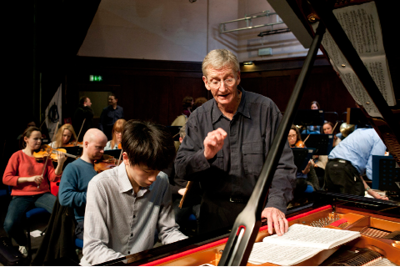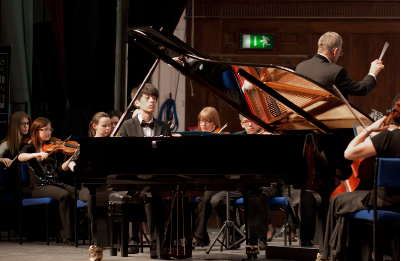 At South Kent School, Dr. Lee is Taek's music instructor. "She helps with my piano studies. She is very passionate and a great music teacher. She always inspires me and shows me how to make a beautiful sound, and to play with soul."
Did Dr. Lee expect her student to win the competition? "I believed that he would be a rising star sooner and later. However, my concern was that last year's winner was also a Korean pianist.
Generally speaking, it would be hard to have a winner of the same nationality for two years in a row. But Taek Gi proved my worries to be wrong." In order to prepare her student for the competition, Dr. Lee arranged school concerts several times so that he would have a chance to try out the pieces. She wanted him to practice concentration while communicating with the audience. Each time, they discussed the progress he made in a particular performance. "Because he had prepared for these repertoires a long time ago, I did not need to work with him in the details, but I helped him to be inspired with the music, not in a micro-detailed work way, but rather in keeping a big picture—how to create drama in music and how to express the climax of the music."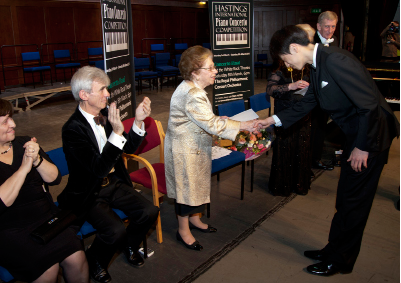 The music program at South Kent School is relatively new. There are three different levels for music students. One is for gifted students who aspire to become professional musicians in the future. Another is for those who are doing music as an extra curricular activity. The last group is for students just beginning to exploring music. "I am happy and having a great time teaching at SKS," says Dr. Lee. She believes that to become a great musician, a student must attain 3 important elements: 1. To be gifted and smart; 2. To be disciplined; and 3. To be motivated for higher achievements.  "Taek Gi has all three qualifications and is mature for his age," she stated emphatically. "Our school motto is: A Hero's Journey. With his accomplishment, Taek Gi made another excellent example of a student who is searching for a Hero's path in music."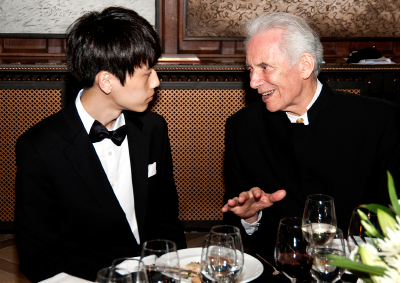 South Kent School is located at 40 Bulls Bridge Road, in South Kent. For information, call 860.927.3539 or visit their web site:  www.southkentschool.org