Local real estate expert Stacey Matthews goes shopping for the holidays in Litchfield County and brings back stylish gift ideas for men and women.
"Presents are made for the pleasure of who gives them, not the merits of who receives them."
 – Carlos Ruiz Zafón, The Shadow of the Wind
Before the holiday season, when I am compiling my gift lists for my family and friends, I am thankful that I live in a county with unique boutiques, artisanal gourmet stores and galleries. Instead of malls and big box stores, I try to find those destinations where I can find personal gifts that are perfectly suited to the receiver's lifestyle and passions.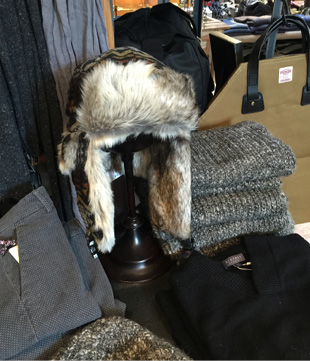 Men can sometimes prove to be more difficult to make purchases for and I always search out unusual gifts that he can use during a favorite activity. Try to avoid the tie, wallet and socks route! For example, if your husband, father or brother loves the outdoors, this Aztec patterned, faux fur-lined hat from J. Seitz is practical yet has style and is well-priced at $74. He will certainly think of you every time he wears it.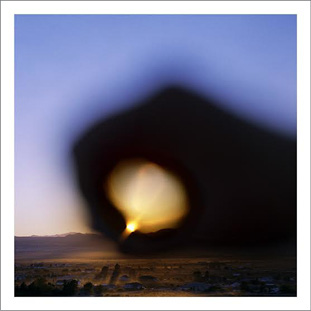 Fine art photography is also a wonderful gift for the man who is creative and is a collector. This photograph comes from KMR Arts Gallery in Washington Depot and is by artist Lilly McElroy. The image, measuring 40 x 40 inches, is from a series called 'I Control the Sun' and is an archival pigment print which is signed, dated and numbered. Gallery owner Kathy McCarver Root made an interesting comment about photography as a gift "This photograph is a gorgeous gift for a man because it is a smart, modern take on the classic subject of landscape." Price is $8,000.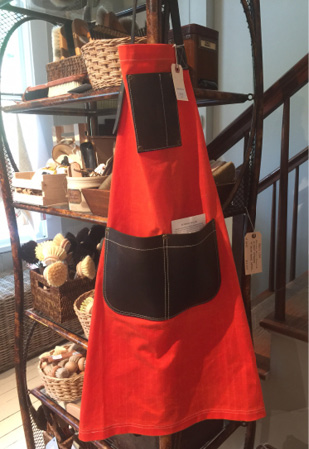 For the male chef in your life, a chic blaze orange apron from Privet House in New Preston will have him looking his best in the kitchen. Made in New York City, this waxed heavy-duty cotton duck apron, priced at $175, has saddle utility pockets and adjustable straps.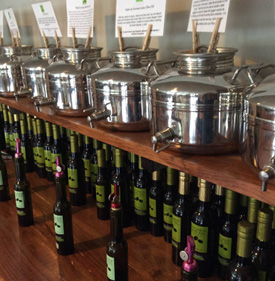 A real treat to his senses would be a selection of olive oils from Nutmeg Oil in New Milford. Flavors perfect for the holiday include: Mushroom Sage, Blood Orange, Cranberry Pear, and Fig Dark Balsamic Olive Oils. This will certainly add to his creative choices for sauces, dressings and glazes. Single bottles start at $9 and gift sets come in 4-to-6- pack sizes starting at $18. They can customize any gift set with oils as well as a mix of vinegars. Before you purchase, you can taste and try each of their products in the store.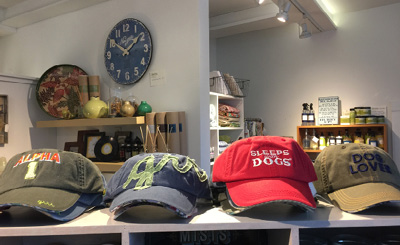 If you have a dog lover on your list, Terston in Kent has a variety of 100 % cotton or corduroy hats with fun dog sayings, all priced at $34. Choose from Grr, Dog Lover, Alpha 1,Woof and Sleeps with Dogs!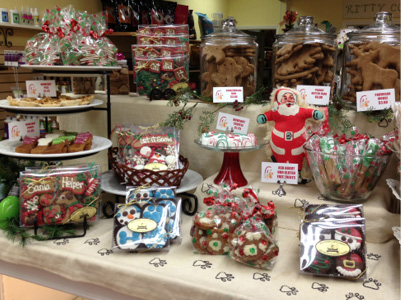 Why not pair it with all natural organic dog cookies from Barkery Boo'tique in New Milford. They come in pumpkin, blueberry, banana and strawberry flavors and are available in large packages for $9.95. They also have a variety of toys, collars and Fur Repelz-it dog beds starting at $75 for smaller breeds.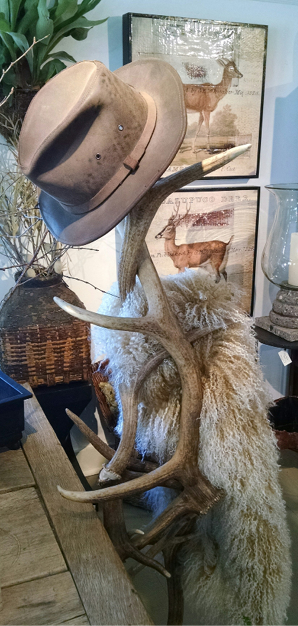 Another great item for the man in your life is the natural elk antler sculptural hat stand from Pergola Home in New Preston. What a masculine cool statement piece for an entryway or to display his hat in his office! Why not include the Tibetan lamb throw for a luxurious touch! Antler stand $1,650, Tibetan lamb throw $345.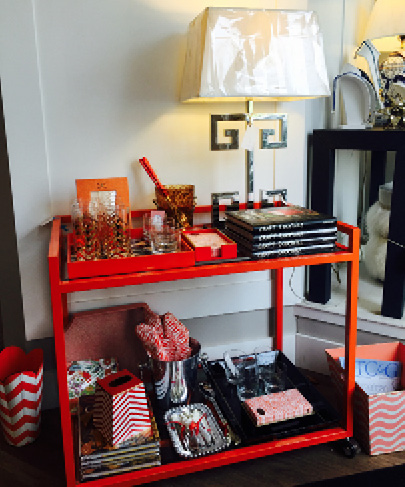 For women, unique luxurious materials for clothes, jewelry and the home make each gift memorable. At Oliphant in Litchfield, gifts for design enthusiasts include an array of design accents including an orange bar cart in indoor, outdoor metal at $1,150, a chrome Greek key lamp at $375, a lacquered horse tray at $55, a tortoise ice bucket at $68, and gold chevron glasses, $150 for 6. You cannot go wrong with a gift from this design emporium.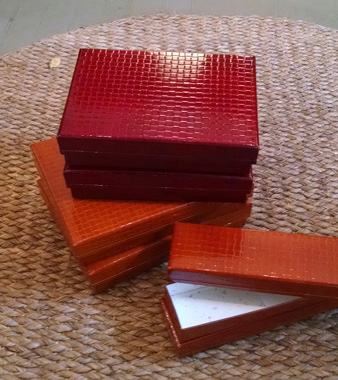 Pergola Home also has these amazing Hermes-like orange and red lacquer boxes, priced from $58 to $78, that make a great tabletop arrangement and can also be used for unique gift wrapping.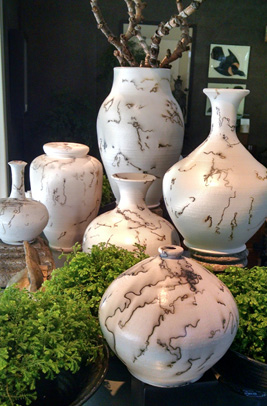 For the garden lover or the indoor plant enthusiast, Raku-fired ceramics from Robert Ellis feature black tracing lines that are the result of the carbonization of horse hair and sprinkled sugar during the firing in a Raku kiln. They are priced from $95 – $275, at Pergola Home.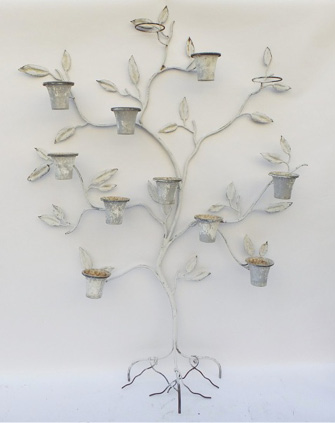 At Scott and Bowne in Kent, antique collectors on your list will adore this American 1930's wrought iron flower pot tree priced at $975. Such fun to keep little plants in them as pots and the owner uses one like this in his kitchen for utensils.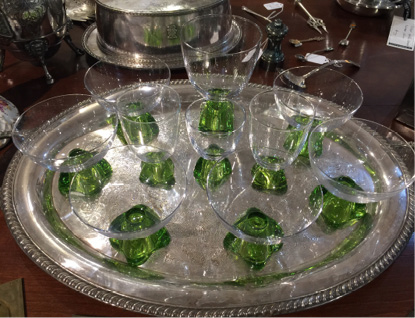 I also love these assorted Mid Century American stemware by Fostoria featuring 6 low coupes perfect for dessert and priced at $90 for the grouping, from Scott and Bowne in Kent.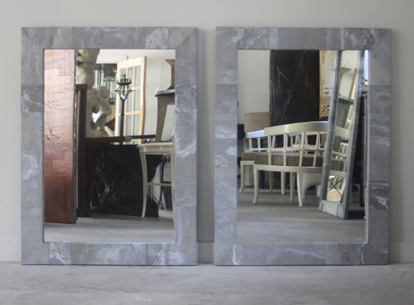 Another gift idea for women who love one-of-a-kind items for the home are these naturally patinated, zinc frame-wrapped mirrors from RT Facts in Kent. The mirrors are truly unique and special gifts, as RT Facts custom-makes each one. They are priced at $800 each.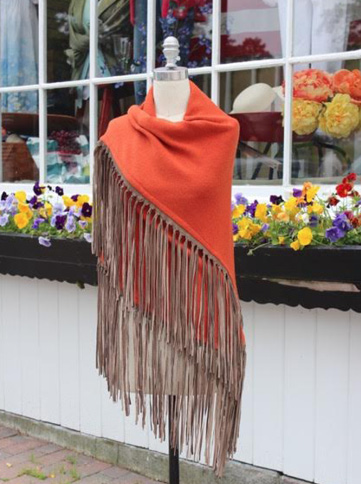 Who does not love cashmere? …. these luxurious triangle shawls from R. Derwin Clothiers in Litchfield are perfect for winter parties in the country. The shawls, priced at $1,195 are made with Loro Piana cashmere yarns, fringed with leather and are a signature statement piece for the fashionista!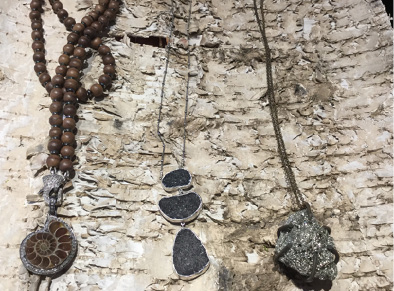 For unique artisanal jewelry by talented designers, J. Seitz is the place to go. These necklaces are ideal for a fresh, modern look pairing perfectly with jeans or a cocktail dress. There is an ammonite necklace with pave diamonds at $895, a purple agate necklace at $350 and a pyrite chunk necklace at $148.
As I start to choose the gifts for all the important people in my life, I keep the focus on unique items made with quality materials. I also try to shop as much as I can in the county. We have such wonderful, creative small business owners who curate their offerings with such a great eye. As you embark on your holiday shopping, please consider a visit to these towns to peruse these stores (see list below) as well as other neighboring boutiques.
Happy Holidays!
Stacey
Stacey Matthews, is the founder and co-principal of The Matthews Group, a luxury real estate agency based in Washington Depot.