Sabin Viehland Bring 1970 Tom Babbitt House Swingingly into the Present
By ML Ball
Photos by Rebecca Pollak Jones
"We just want somewhere really cool and colorful for our artist friends to stay."
That was the directive given by a Washington couple to Michelle Sabin and Audra Viehland, founders of Sabin Viehland, a full-service interior design studio based in Litchfield County. The couple wanted their mid-century Tom Babbitt-designed guest house renovated and updated, but with the original layout and sensibility retained. As they embarked on this nine-month project with Sabin and Viehland in the spring of 2020, they probably assumed they would get something pretty great. What they got is off-the-charts genius.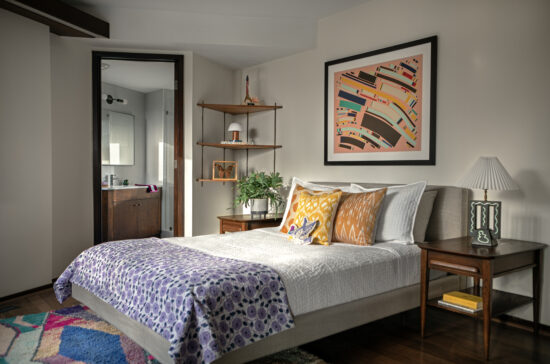 "We tried to keep as much of Babbitt's original details and architecture as we could," says Viehland. "There's hardly a right angle throughout the house and yet it's very angular. It's modern and quirky, with a lot of wood and windows and stone."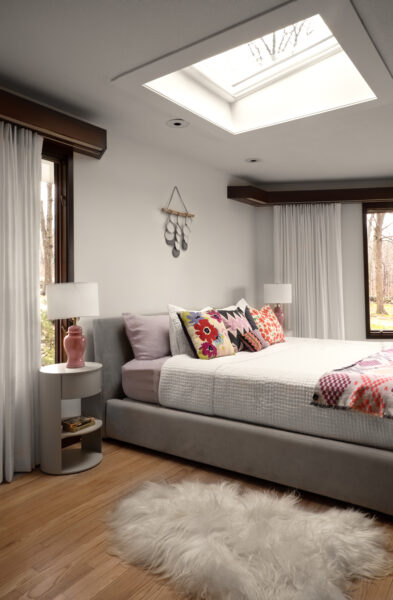 Babbitt, who died in 2011 at the age of 84, was well-known in the Litchfield area, considering himself a "family architect" to whom "people in the community could bring their problems," according to The Register Citizen. "Architecture is an art, but it's never an art you do yourself," he is quoted as saying in a 1979 article in The Torrington Register, reflecting his admiration for the expertise and involvement of other craftsmen in the building process.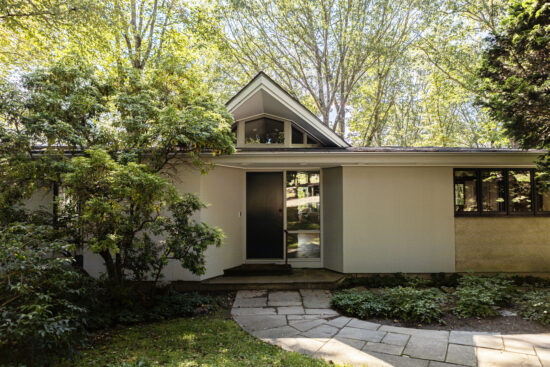 Built in 1970, the 2,939-square-foot, four-bedroom home was designed to seamlessly blend in with the woods and rolling hills surrounding it. The fireplace is made from fieldstone harvested onsite, and the open, airy living room is bordered by a striking wall of windows with jaw-dropping views of the hills beyond.
During the renovation, when Sabin and Viehland couldn't find original period pieces from the '60s and '70s, they sourced contemporary ones which echo the house's mid-century style, like the Turkish goat hair flat-weave rug in the living room (new), and the Milton Glaser poster (old) and Louis Poulsen ceiling lamp (new) in the dining room.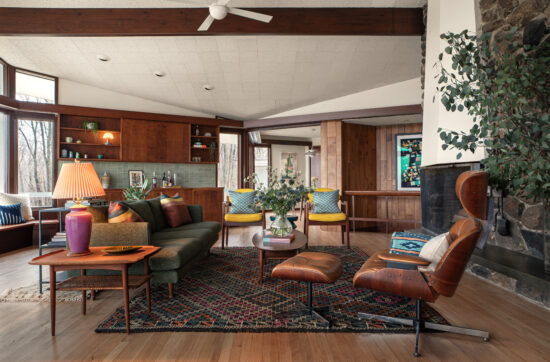 "We like to say that we're full-service interior design, which means that we can do renovations and work with a builder and present construction drawings and manage construction," says Viehland. "But then we also do the other side, where we have a resale certificate and we purchase for the client and sell them furnishings."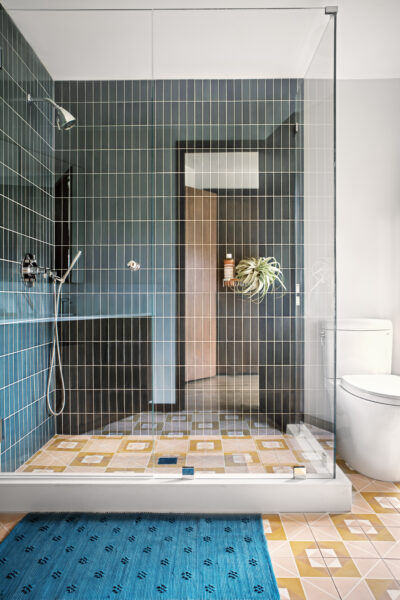 Sabin echoes this assessment: "We offer this layer of personally-curated objects and furnishings—the pillows on the sofas, the plates, napkins and silverware on the dining table, the linens on the beds, the decorative pieces on the shelves. [There's even shampoo and soap in the bathrooms.] We design the whole house, then we set it up, and they can pick and choose which items they want to keep. By the end of the project, we've really gotten to know the client and have a good idea of how they would like to express their ideas, so they typically end up keeping 99 percent of the accessories we choose for them."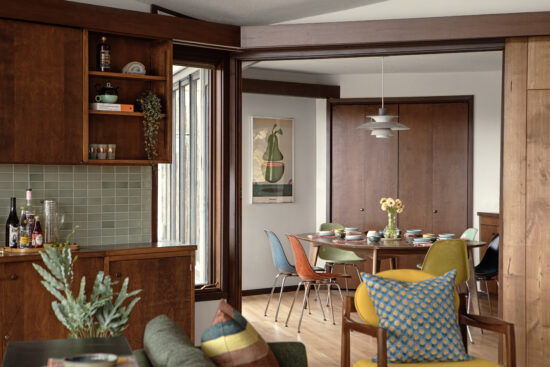 Says Viehland, "I think if someone else had worked on this house, they would have gutted most of the rooms, ripped out the lights and cabinetry, and lost all of the originality and character that Babbitt put into it. We don't try to do that. We've created a whole composition of the best way for the house to look and to work, as it used to be when it was first built but carried into today."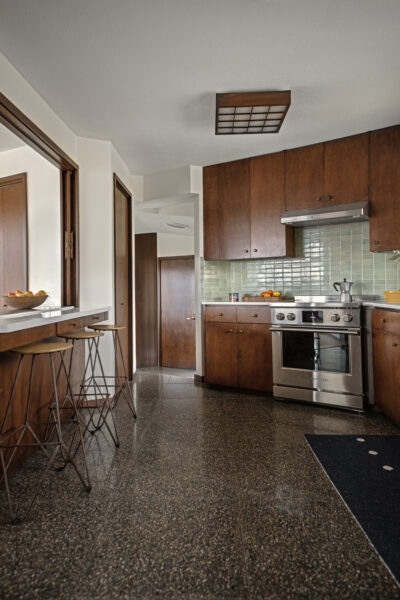 Which is precisely why Sabin and Viehland are so good at what they do. —sabinviehland.com