Stonybrook Golf Welcomes Guests Back to an Environmentally Friendly Redesign and Restaurant 
By Zachary Schwartz 
When Jill and Jon Philips took over Litchfield's Stonybrook Golf in 2021, their vision was an energetic, refined, and welcoming haven for the community. Following a 2022 revitalization, they achieved that vision. Stonybrook Golf now welcomes guests to an environmentally green clubhouse, an accessible and modern destination for dining, a pro shop, and a nine-hole game.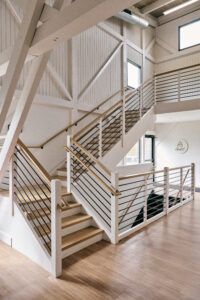 No stranger to the green, Jill Philips grew up on Stonybrook Golf Course. She is the former owner's daughter and now serves as the newest co-owner and PGA professional golf pro. Her husband Jon is the other co-owner and the executive chef. During the pandemic, the couple sold their Cape Cod restaurants and moved to Litchfield to breathe new life into Stonybrook Golf. 
Previously a farm, Stonybrook Golf was landscaped into a public golf course in the 1950s. The farm's chicken coop was refashioned into a simple clubhouse, later enlarged in the 1970s, then remained largely unchanged since.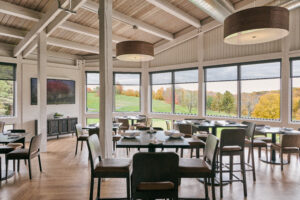 In collaboration with Litchfield-based MUECKE Design & Construction, the 2022 clubhouse upgrades included a commercial kitchen, contemporary restaurant and bar, refurbished pro shop, and a wheelchair platform lift. "When working with Danielle and Patrick Muecke, we wanted clean lines, and we wanted everything to feel fresh and modern. It mattered that we had a builder and designer because they really helped us maximize the space," says Jill Philips.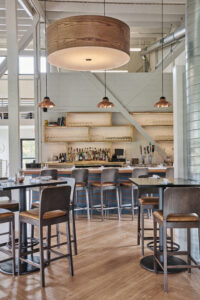 The clubhouse is now visually striking, with design support from Wes Quigley and Danielle Muecke. "Jill and Jon had a real vision for wanting to turn it into something fantastic for the community. We were really excited to be a part of that. It's a real reimagination of the space," says Danielle Muecke. The clubhouse's exposed beams, angled shiplap, dramatic lighting pendants, and stylized chippendale panel bar lend aesthetic flare to the panoramic view of the golf course's undulating hills. One level down, the airy pro shop exhibits shelves of golf gear and tartan plaid carpeting, a nod to Scottish golf culture.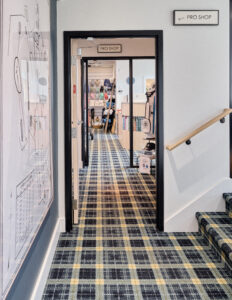 Modernizing the clubhouse as an eco-friendly and accessible community space was crucial to the new owners. Green improvements included a fuel-efficient shift from oil to propane, solar shades, motion-sensing light switches, and usage of low-impact and recycled materials. "The idea is that anything that we're designing and building, we're doing it with permanence so that it doesn't have to be redone in the near future, and also that it's using environmentally friendly materials," says Patrick Muecke.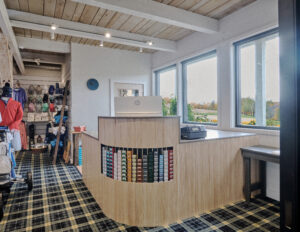 Stonybrook Golf's new eatery, Clubhouse Provisions, offers a full-service restaurant, bar, and event space open to golfers and non-players alike. "My personal style is modern American with Korean influences. I'm trying to have something for everyone, where they can feel welcome here," says Jon Philips. The restaurant menu changes regularly, and sources ingredients from farms such as Chanticleer Acres in Litchfield. Garnishes like homemade kimchi and pickles add piquant flavor to sandwiches, salads, and tacos.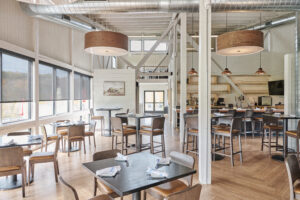 Under new ownership, the reimagined Stonybrook Golf is anything but par for the course. With the clubhouse's new restaurant and eco-friendly renovation, it is not just a golf course, but a green community mainstay.