Luna Garcia, a vintage home decor buyer, shares some of her favorite things about living in Litchfield County.
My heart lies in Litchfield County! I grew up in Morris and Roxbury and after years on the West Coast and in NYC I found myself back in Washington along with my husband and our young daughter. When I began furnishing our home, I used many one of a kind, vintage pieces sourced from the wonderful local estate sales in our area. These pieces felt so much more satisfying than mass produced items, both design-wise and environmentally. It got me thinking—what if I could make vintage more accessible to others so they could experience the same? From that idea, my business Winston Drive was born. Using Instagram, I ship vintage home decor items and jewelry coast to coast and help local buyers source specific vintage furniture for their homes. Next year I am excited to be opening a showroom so customers can shop in person.
Luna's Yard Sale Tips
Go during the first hours on the first day to get the best finds. Go during the last hours on the last day to get the best deals.
To find local weekend sales check Facebook Marketplace, Craigslist, the local newspapers, and drive by busy intersections that often post yard sale signs.
If you think you'll regret not buying an item, buy it! Nothing haunts you like the vintage you didn't buy.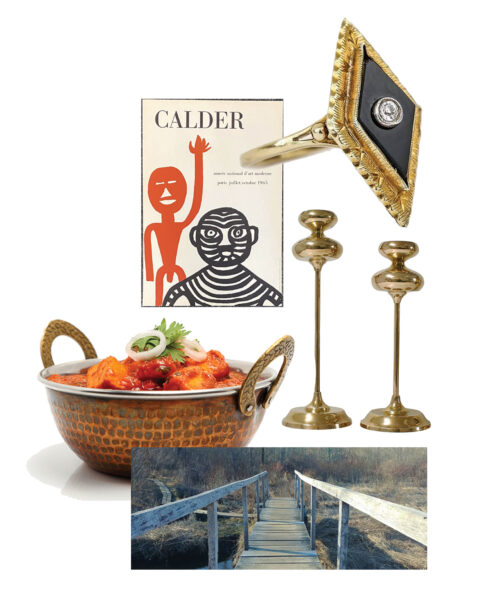 Favorite designers: Isabel Marant, Mara Hoffman, and Liberty London.
Recent coveted purchase: A floating opal teardrop pendant necklace from the 1930s.
Fave purchase of all time: My Alexander Calder Gallery Posters from Paris, 1960s and 70s.
Cherished Litchfield County activity: A walk on East St. in Washington ending at Waldingfield Farm's produce stand.
Never leaves home without: My Koziol Tasche XL Tote, perfect for hauling found treasures!
Beloved music: Stevie Wonder, Marvin Gaye, and Maggie Rogers.
Favorite place to hike: Macricostas Preserve in Washington.
Favorite holiday tradition: Cutting down our own Christmas Trees at Averill Farm in Washington and driving through the roadside luminaries in the center of Roxbury on Christmas Eve.
Now reading: "Followers" by Megan Angelo.
Signature drink: I make my own "Santagria" every holiday! It's delicious and dangerous.
On her wish list: An onyx and diamond gold navette ring from 1880.
Go to hostess gift: Always vintage! I grab teak coasters or brass candlesticks from my shop.
Fave Litchfield County restaurant: Tandoori Flames for Indian in New Milford!