Written by Tovah Martin
Photos by Antoine Bootz
A meticulously directed landscape in Roxbury deserves a standing ovation.
Few landscapes have been loved for as long as John Tillinger has tended his 20 acres in Roxbury. When he bought the scenic parcel in 1981, it was cleared and already boasted the pond which became the focal point and touchstone for the whole scene. But besides those attributes, there was originally absolutely nothing. Every year since, Tillinger has worked to make it more dramatic.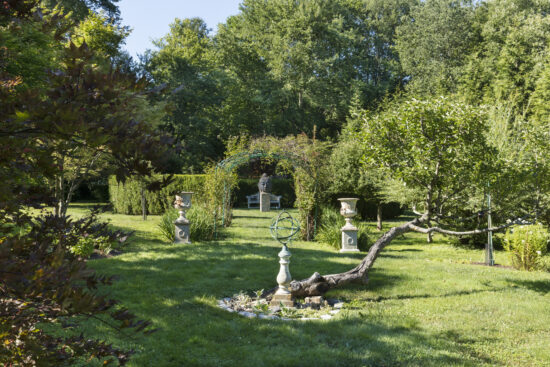 John Tillinger is all about drama. If you recognize the name, that's because he is featured on so many playbills. His career began as a Broadway actor but flipped to the role of director from 1982 onward with stellar Broadway plays such as Love Letters; The Price; Lips Together, Teeth Apart; Lisbon Traviata; The Sunshine Boys; Inherit the Wind; Night Must Fall; The Last Yankee; Say Goodnight, Gracie; and Sylvia to his credit, among others. Additionally, he served as literary consultant and director at Long Wharf Theatre for decades. Inevitably, that indefatigable work ethic followed Tillinger home and was translated into his Roxbury landscape.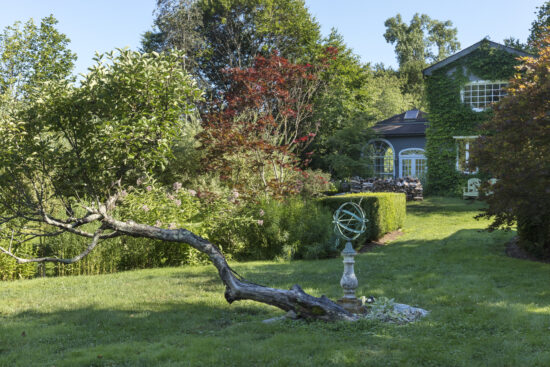 Tillinger always has a new project in the wings. Doddering Hall is the tongue-in-cheek name that Tillinger selected for his home 12-plus years ago even though he has always been glowingly spry. The place is phenomenal, but still, he invariably has improvements planned. Whether he's installing a pair of almost-ferocious lions or positioning an antique urn with a beautiful patina, Tillinger goes for high drama layered on further thrilling theatrics. Born in Iran, he has an innate love for exotic romance. Educated in Britain, he received early exposure to rambling English country estates. All this is translated into the house he built with its Iranian-influenced central atrium spilling with plants beside manor-motif bedrooms. At one point, he found a set of remarkable Palladian windows at Michael Trapp's shop and felt compelled to design a dining room equaling their glory. Those arching windows frame a garden that is now a four season attraction.
Not only is the director dramatic, he is also infinitely impressionable. When Tillinger went to Sissinghurst Castle in Britain, he saw a way to transform his front garden into a vision with brick walls and keyhole windows creating a hide/reveal seduction. Similarly, after visiting Claude Monet's garden at Giverny, Tillinger brought that concept home. Literally, he did a replica of the precise bridge, painted the same unique color. Originally, swans were meant to glide in the pond, but he couldn't convince his pair to remain in residence. Instead, he floats a pair of faux swans in the swimming pool footsteps from a terrace pergola draped (dramatically) in vines.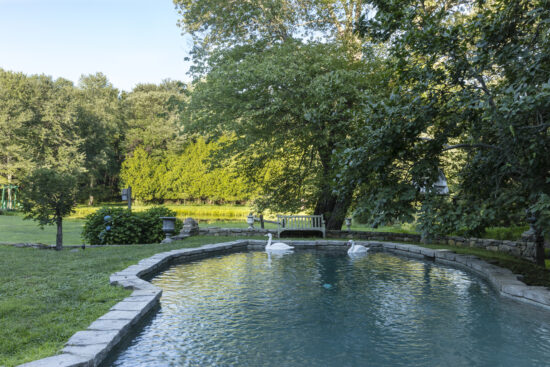 Further toward sending your heart racing, stone maidens are nearly buried in perennials, angel wings crown an archway reflected in a water feature, and a long, hedge-lined promenade culminates in a moody urn. There's an armillary sundial and a Bacchus presiding over a sunken rose garden of deftly trimmed boxwood scrollwork. There's seating in a vine-enclosed space where a memorable clandestine rendezvous might take place. Not far away, the pair of lions—softened in ornamental grasses—give you the slight shivers.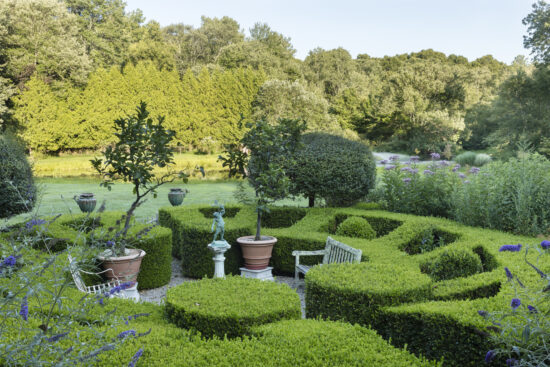 One of the most dramatic moments in John Tillinger's landscape is a space that he left to Mother Nature's devises. A vast meadow of Joe Pye weed bursts into blossom in late summer and early autumn for a truly long performance run. Pollinators go crazy. People also love it. That bit of brilliance alone should earn John Tillinger accolades, but there's so much more to warrant rave reviews.