This year's CultureMAX awards were given to four individuals and two organizations for their contributions to the cultural community of Northwest Connecticut. 
With impressive attendance for a Tuesday evening in late November, the gallery space at the Morrison Gallery in Kent was packed with over 150 guests for the second annual CultureMAX award ceremony. Artists, regional professionals, NCAC members, and awardees mingled at the beginning of the evening, enjoying Morrison's current exhibit and hors d'ouevres from Gifford's restaurant. Kristina Newman-Scott, Director of Culture for Connecticut's Department of Economic Development, gave the opening speech for the ceremony. Then a series of one-of-a-kind brass sculptures, created by artist Dennis Bialek of Torrington, were presented to this year's six awardees.
Beside a large projector screen displaying award categories and images of the honorees, each recipient gave a short talk about their field of work. The professionalism and dedication exhibited by these individuals was a testament to the diversity of cultural activity in the region, which the NCAC works hard to support and make more visible within the Council's 25-town service area. Before 2014, there was no regional recognition event for those involved in the cultural community in northwest Connecticut.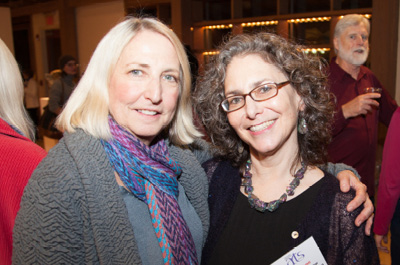 The CultureMAX Awards were created by the Northwest Counnecticut Arts Council to recognize artists of all disciplines, heritage workers, cultural organizations, volunteers, philanthropists, and businesses that have elevated the stature of the arts and/or heritage in the region and in Northwest Connecticut. Established in 2003, the NCAC is a nonprofit organization serving both the public and the cultural community.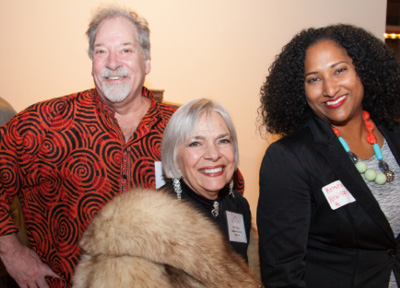 This year's ceremony was held on Tuesday, November 17 at the Morrison Gallery in Kent. Sponsors of the 2015 CultureMAX Awards are 22 Main Street, Litchfield Bancorp, The Community Foundation of NW CT, VLC Images, Aquarion Water Company, and Morrison Gallery. "There was an overwhelming response to last year's ceremony. People clearly desired a celebration in the region to honor those who make northwest Connecticut such a culturally exciting place to live," explained Amy Wynn, executive director of the Northwest Connecticut Arts Council.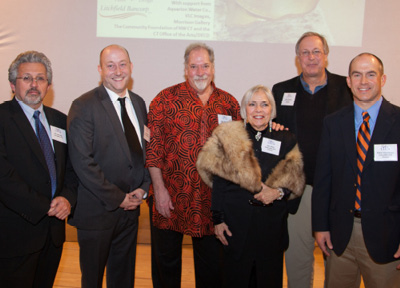 This year's six honorees were: Vita Muir, founder and executive director of Litchfield Performing Arts/Litchfield Jazz Festival in the lifetime achievement category (new); John Marshall, internationally renowned percussionist and founder of Rhythmic Integration Center in the Artist category; Peter Vermilyea, teacher, public historian and author of Hidden History of Litchfield Hills in the Heritage Professional category; Edward Cannata of Torrington in the Volunteer category; TriArts Sharon Playhouse in the Cultural Organization category; and Infinity Hall in Norfolk for the culture-loving Business category.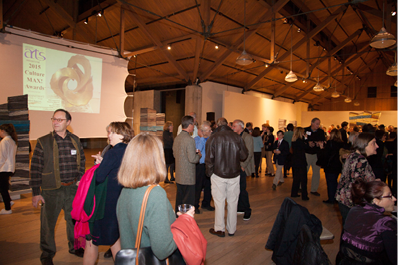 Lifetime Achievement awardee Vita Muir expressed the sentiment of the eventing best: "One day I said to to my friend and dedicated Jazzfest co-worker Irving Northfeld, 'You know, Irving, I think you're going to do this work until you die.' There was a pause, then he said, 'Well Vita, maybe I won't die.'" Following ripples of laughter from the audience, Muir continued, "So I've discovered the secret of life everlasting, which is to hook your star to the wagon of all the wonderful young people — it's the most rewarding thing ever."
Jessica Jane Russell is a roving curator here in the Hills. In addition to having a guest blog (link) on this site, her most recent curatorial project, WONDERMENT, is currently on exhibit through the new year at The Silo at Hunt Hill Farm Trust in New Milford. For more on Jessica Jane, please visit: www.jess-jane.com
CultureMAX
Northwest Connecticut Arts Council
(NCAC)
40 Main Street
Suite 1
Torrington
860.618.0075
artsnwct.org
[email protected]