For the past seven years, Books & Blooms, a two-day garden event and benefit for The Cornwall Library in Cornwall, Connecticut, has been one of the most popular and enjoyable highlights on the calendar of Litchfield County garden lovers.
This year, on Friday June 16 at 6 p.m., renowned horticulturist and botanist Peter Del Tredici, senior scientist emeritus of the Arnold Arboretum of Harvard University, kicks off the festivities in the UCC Cornwall Village Meetinghouse, 8 Bolton Hill Road, with a talk entitled The History of Lawns: From Pasture to Plastic. He will present a brief history of the lawn and the techniques used to create and maintain it, and will explore the social and ecological issues surrounding its use in modern landscapes as well as the pros and cons of various alternatives to lawns, concluding with a discussion of the alarming trend to replace real grass with plastic turf. Following his talk, ticket holders are invited to a cocktail reception at a nearby private garden. See ticket information below.
At 10 a.m. on Saturday, the fun continues with self-guided tours of four gardens, three of them new to the event—a bucolic farmland garden with glorious views, the gardens of a historic Cornwall estate, a formally planted but surprisingly unconventional garden in North Cornwall, and a beautifully maintained meandering family garden in West Cornwall.
Garden 1 – A Country Estate
Cobble Hill Farm is one of Cornwall's hidden treasures—a farm established in 1860 with the later addition of an elegant brick Georgians-style manor house. A traditional flower garden surrounds the house and a charming tree-covered path leads from the patio to an artist's studio. The 187 acre property has lush shrubbery and hedging, specimen trees, an extensive orchard, and many outbuildings, including two huge barns and an antique sugar maple distillery.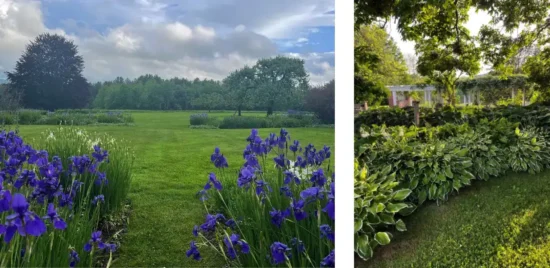 Garden 2 – An Idyllic Farmscape
In 2011, when the current owners purchased Whitcomb Hill Farm, they decided to think less about creating a garden and more about maintaining and preserving their 200 acres of farmland. While they have updated and added to the perennial beds around the house and planted new trees, their primary focus is to preserve the old-fashioned quality of a traditional Connecticut farm and let nothing distract from the magnificent views of this unspoilt pastoral landscape.

Garden 3 – Formal But Not Traditional
A North Cornwall garden that surrounds an 1827 house and is shielded from the road by a row of 250-year-old sugar maples. Features include a boxwood parterre, two long flowerbeds planted for drama and height with perennials and annuals, a small enclosed kitchen garden, a rill and fountain bordered by a hornbeam wall, a birdhouse village, and a large number of container plantings staged on a brick pathway.

Garden 4 – A Bucolic Cottage Garden
This West Cornwall garden is bordered by old stone walls and mature trees including a large magnolia along with several crab apples. Flowerbeds are home to a mixture of native specimens and shrubs as well as perennials, biennials, and woody perennials. A small vegetable/cutting garden gives free rein to the foxgloves that are allowed to volunteer wherever they choose, while buddleia and several varieties of echinacea give the garden a cottage feel and offer beautiful mid-summer color.

Ticket Information
Tickets are $30 for the talk and cocktail reception. $30 for the garden tours, or $50 for both. Please register and purchase tickets at: https://cornwalllibrary.org/books-blooms-2023
Tickets and maps for the garden tour may be picked up at the Library on Friday, June 16 between noon and 6 p.m., or on Saturday, June 17, from 10 a.m., where there will also be the opportunity to purchase cut flower arrangements, donated by members of the Cornwall Garden Club, and a sale of new and out-of-print garden books. #SPONSORED