By Clementina Verge
Photos by Ryan Lavine
Darin Ronning and Travis Messinger are unafraid of fire. Contrarily, they have used it in the pursuit of beauty for more than a decade, transforming ordinary clay into extraordinary ceramics that enhance aesthetic and ambiance.
Growing up outside Minneapolis, Ronning and Messinger had no industry aspirations or imagined that hobby ceramics classes would culminate in their work gracing celebrity homes and New York restaurants. But somehow, like individual tiles coalescing into a beautiful mosaic, fragments of their lives morphed into Bantam Tileworks.
It began in 1992, when they relocated to New York and opened Pepper Jones, a cafe and shop that sold artisan-crafted ceramics in Lower Manhattan. In 2000, they visited Connecticut for the first time, fell in love with a midcentury house in Morris, and began spending weekends in the Litchfield Hills. Five years later, they became permanent residents, sold the New York business, bought a kiln, and acquired space at the former Switch Factory in Bantam.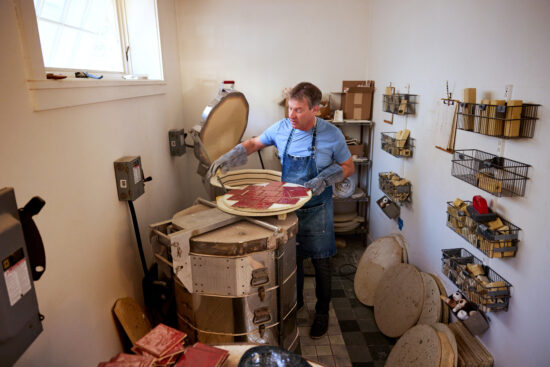 Inspired by the captivating colorations of Tiffany Studios glass tiles, they experimented with up to 10,000 shades, combining them to generate multi-layered depth to glazes. It's how Bantam Tileworks and its exclusive, ever-evolving 120-color palette were born.
Seeking more space, in 2007 they moved to 816 Bantam Road and restored an old pharmaceutical building into their studio-showroom. From here, in April 2020, they packaged and shipped 15,000 pounds of handmade tile to London. Floor-to-ceiling tiles radiating elegance in the soaring conservatory of NoMad Hotel mark one of their grandest projects to date.
"Honored and thrilled," they visited the hotel last spring, acknowledging that seeing their work installed rarely happens because requests from designers often travel to undisclosed locations, from Chicago to Canada and Japan.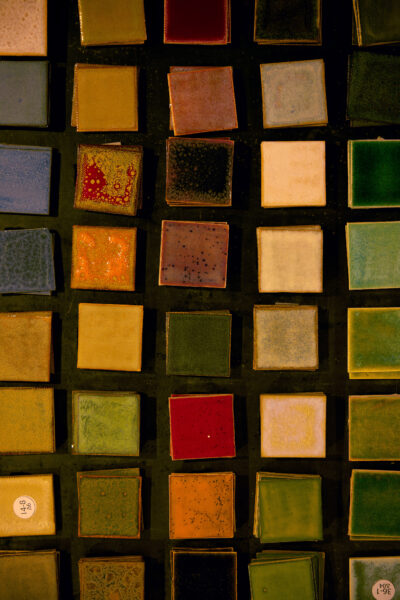 At times, Messinger and Ronning have been astonished to see their creations displayed in design magazines, like the Architectural Digest issue spotlighting Gwneyth Paltrow's Montecito home. Unknown to them, their serene, pale-green tiles were destined for her luxurious spa. 
Other projects include the four different mosaics inspired by Native American textiles for a 13-foot public fountain in New York City, and the Florida home requiring thousands of tiles—including 3,200 hand-painted with unique dragons and symbols—to recreate a Palais des Papes (France) floor.
Since establishing Bantam Tileworks, Messinger and Ronning have tried "to bring every client's vision to life." Their impressive collection of unique designs includes everything from Arabesque tiles featured in Moroccan-inspired showers, to Art Deco-inspired fireplaces and vibrant mandala kitchen backsplashes. Handcrafting each piece allows for limitless shapes, including wave patterns, penny or textured tiles, and metallic or iridescent glazes.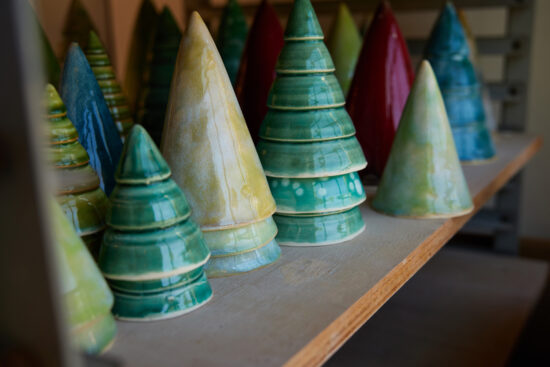 From swimming pool walls, to wall art and tableware readily available in their shop, the process stays true to the long history of tile making: wet clay mined in Sheffield, MA, is wedged, rolled, dried, cut, dried again, fired, glazed, and fired again.
"Whether timeless or trendy, tile offers extensive design opportunities and a glance at history testifies to it being long-lasting," Messinger reflects. "Tile anchors a space, providing weight and permanence." —www.bantamtileworks.com