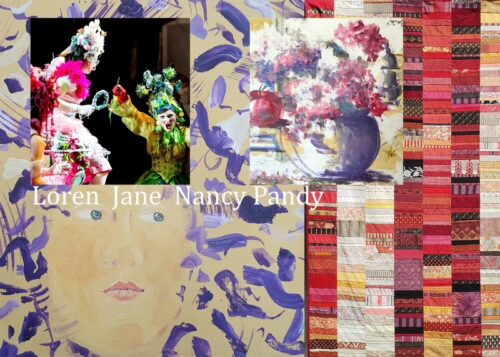 Sept 1 – 30, 2020
The Bevans Quartet – Two Generations of Bevans Women make Art
Two generations of Bevans women, one a daughter of Margaret and Tom Bevans,the other a granddaughter, have joined with two Bevans daughters-in-law to mount a glorious show of art and costumes at the Souterrain Gallery in West Cornwall, CT.The fact thatall three generations have shared a commonality of interest might be explained in part by heredity, in part by the notion that like attracts like, even after generations. Margaret Bevans, among other things, was the children's editor as Simon & Schuster, and she helped put together the great illustrated children's book Pat the Bunny. Her husband Tom designed books for Simon and Shuster. Together they also founded The Cornwall Chronicle, the monthly newspaper whose layout has hardly changed since its first issue in 1991.
The Bevans daughter, the late Ann Bevans, also known as Pandy, designed in fabrics. Pandy graduated from New York City's prestigious High School of Music and Art (today's La Guardia High School), and her design skills are evident. She created quilts whose abstract patterns create the illusion of three dimensionality, or she might use her artistic license to design a simple house in fabric that is strictly two-dimensional with a star looking down on the scene that seems about to leap into your arms.
The Bevans' granddaughter, Loren, or Lory, is a theatrical costumer. She cut her teeth in a costume shop that was tantamount to a garment-industry sweatshop, but she learned her trade, and before you knew it she was on the road with "The Lion King" before the show had opened on Broadway, and she was still working on the show at the New Amsterdam Theater on opening night and long after.(One of her great concerns was whether the giraffe might topple during the grand processional down the aisles of the orchestra.) Today she teaches costume design at St. Ann's School in Brooklyn, and some of her costumes for school plays are on display (the bows on two of the schoolgirls' dresses are hardly your usual wimpy, little-girl bows).Sitting on the floor and leaning against the wall are scenes she's costumed for various shows, including Nervous Splendor, Let's Play Too, and Ophelia, and scattered about are fabrics and patterns and the tools of her trade, including a sewing machine or two. On the table with one of the sewing machines is a collection of sewing machine feet, which in layman's terms are attachments "under which you put the fabric when you sew it," as Lory describes them, and they all have different functions. You will find hemming feet that create different sized hems, and a buttonhole foot, and an embroidery foot, and so on, along with pins and pin cushions and scissors that are so large that Charles Atlas would struggle with them.
Daughter-in-law Nan Bevans, who is married to the Bevans' youngest son, John, studied at the School of the Museum of Fine Arts at Tufts in Boston, and she doesn't like to relegate herself to the usual media such as canvas and paper.She uses them, but Nan enjoys playing with totally unexpected media as well, such as a piece of bowed wood that was originally a barrel stave, or a tin lid, or even house painters' paint brushes that have been cleaned of their original residual paint and are now adorned by painted faces. You'll also find portraits of a surprised deer, and crows cawing, and a dog panting from the heat, and a porcupine that is hardly pining away. You'll find a contemporary portrait called "Covid Expressions," and a timeless one called Roger, a gentle soul who was the mechanic who saved Nan and John's car from the junk heap on a trip to Maine, and all of these in all manner of shapes including the usual squares and rectangles as well as ovals and circles and soft-edged right angles, and on and fascinating on.
And Jane Bevans, widow of John's older brother Bradford and mother of Lory, is another graduate of New York City's High School of Music and Art, which is where she and Bradford, a fellow student there, met. After college but before law school, she studied at the Art Students League, with work in her early style that might be described as "post-Renaissance" or "neo-Impressionist," styles that she is still experimenting with. Her work is in oils and acrylics and even Sumi ink, an art form that requires brushwork that goes from the intensest black to grays that are so pale as to be barely perceptible. Her work can be many layered, such as her mixed media "Hydranga," or it can be just a few strokes of a brush. It can be molto serio or whimsical, even witty, such as a few of her chickens that are scratching around an imaginary barnyard.
Glorious, all.
The show will be on view until September 30. Open Thursday – Saturday 11-5 , Sunday 11-4 , and by appointment
Souterrain Gallery of The Wish House
413 Sharon Goshen Tnpk
West Cornwall CT 06796
www.souterraingallery.net