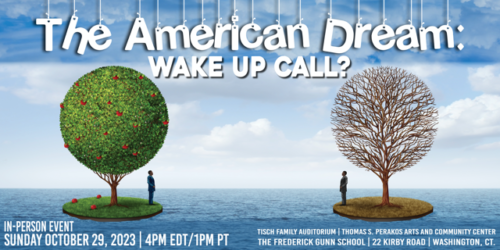 Nov 24 – 26, 2023
"The American Dream: Wake Up Call?"
"The American Dream: Wake Up Call?" is available virtually this weekend only!
To ensure that those who could not attend in person can still access the critical ideas exchanged during the program, Common Ground is making the episode available Friday, November 24th through Sunday, November 26th at 11:59 p.m.
Don't miss the chance to watch the episode before the PBS broadcast! Our all-star panel discusses wealth inequality and its impacts on our political and economic crises.
Purchase your $10 ticket!
If you are a Sponsor, Underwriter, Season Pass Holder, or purchased a ticket for the in-person event, you should have already received the link and you do not need to register for it here.
The Frederick Gunn School
22 Kirby Rd
The Tisch Family Auditorium | Thomas S. Perakos Arts and Community Center
Washington, CT 06793
https://www.cgjw.org/dream