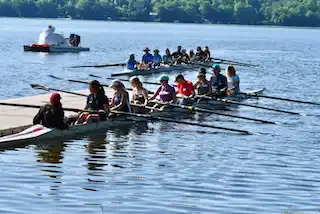 June 3, 2023
Learn to Row Day
Have you always wanted to give rowing a try? Would you like a weekend adventure with friends or family? Is your child looking for a fun new sport? We saved you a seat in the boat!
Litchfield Hills Rowing Club and Litchfield Department of Park and Recreation invite all curious people ages 12 to 112 to a free learn to row event and open house at the rowing club.
Learn how to use a rowing machine and then hop in a boat and get out on beautiful Bantam Lake all with the help of our expert coaching staff. You can also just come on down to look at the boats, learn some new crossword vocabulary, enjoy the music and have a delicious snack.
Litchfield Department of Park and Recreation will have summer program information and annual beach passes for Litchfield Residents.
The event runs from 8:30am to 1:00pm on June 3rd. Register on our website to have your spot in the boat reserved at your preferred time.
Walk ups are welcome between 9am and noon.
Rain date: June 4th
Litchfield Hills Rowing Club at Litchfield Town Beach
https://LitchfieldHillsRowing.org