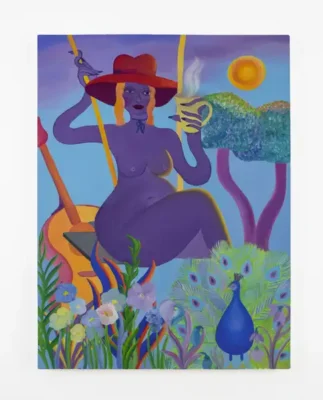 May 27, 2023
Jen Dywer "Pure Bliss"
Jennifer Terzian Gallery is pleased to announce Pure Bliss, a solo exhibition of new sculptures and paintings by Jen Dwyer.
The opening reception will take place on Saturday, May 27
from 2pm – 4pm.
Jen Dwyer invokes the female gaze in her practice, which is an alternative way of seeing that represents everyone as a subject. With this idea in mind, Dwyer constructs surreal and whimsical ceramic sculptures and oil paintings that merge iconography from a variety of moments in art history including Rococo Art, Surrealism, Fauvism, Greek Mythology and Popular Culture infused with self possessed feminism. Dwyer's work examines contemporary socially constructed notions of identity by conjuring the female gaze and shifting the narrative from the ways women's bodies are commodified in contemporary advertising and art history to the female point of view in her sculptures and paintings.
The female gaze, coined by Jill Soloway, was created in response to Laura Mulvey's theorization of "the Male Gaze," which describes the way women in cinema are depicted as objects of pleasure. The female gaze is an alternative way of seeing; a way of looking/representing that seeks to give everyone agency. Dwyer aims to create other worldly artworks to blur the barriers between the private and public, subject and object and self and others.
Jen Dwyer (b.1988) is a Ceramic Sculptor and Oil Painter. She was born and raised in the Bay Area, CA, and currently lives and works on the east coast, between Connecticut and New York. Dwyer earned her MFA in Ceramics from the University of Notre Dame and her BFA from the University of Washington. She has shown locally and internationally. Notable exhibitions include a solo booth at Spring/Break Art Fair in New York City, Maxon Mills Gallery in Wassaic, GAA Gallery in Provincetown and a Solo Exhibition at Dinner Gallery, and Jeff Marfa. In addition, Dwyer has completed artist residencies at Wassaic Projects (NY), The Pottery Workshop (China), Salem Art Works (NY) among others, and received numerous grants.
Jennifer Terzian Gallery
3BB South Street
Litchfield, CT 06759