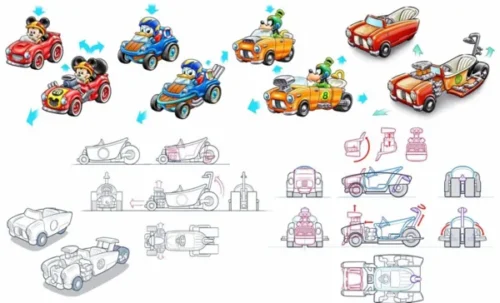 February 1, 2023
Introduction To Conceptual Illustration
This will be a first in a series of short courses designed by artist/designer Matang Gonzales that will take your drawing and inventing skill set to the next level no matter what your chosen subject interest. From drawing characters for film to designing complicated still life painting to creating dramatic depth-filled landscapes, the knowledge you will gain from this course will lead you to rapid growth in your journey as an artist.
Date: Wednesdays, February 1,8,15,22, 2023
Time: 10AM – 12:30PM
Member: $108.00
Non-Member: $120.00
Instructor: Matang Gonzales
Description
We all are unique artists and express ourselves as such. In many ways, we find ourselves as we let go and experiment. No matter where your imagined or imposed skill level resides, the important thing is to always move forward, learn and grow. This series of workshops is designed in a way to make it all possible. It's not magic, or God-given talent. It's about starting out where one is and ending up at a different place.
Drawing skills are useful and will be an asset in this series of workshops, but I also believe in the saying: "where there is a will, there is a way", so if you think that this is above your current level, you are mistaken. Over time, this course will change the way you perceive the world around you. It will facilitate your ability to render what you see through an understanding of perspective and underlying geometry.
The ability to communicate ideas through pictures is an important part of being an artist, and it is a skill that is relied upon in many industries. For some, the ability to sketch out an idea is natural and second nature. For others, it can take a more concentrated effort. One of the most important and marketable skills for an artist is the ability to conceptualize and draw out ideas for those who have trouble visualizing. This class focuses on key foundation principles used in conceptual illustration. Bio:
Mr. Gonzales is a fourth-generation artist and obtained a BA in Graphic Design at Western Connecticut State University. He has assisted several well-known artists in the area and was mentored by sculptor/printmaker James Grashow. Gonzales began his career illustrating for the New York Times and showing in fine art galleries. His work received favorable review in the Connecticut section of the NYT by renowned art critic Vivien Rainer. After several years creating large scale murals, installations, working with animatronics, sculpture and fabrication, Gonzales began working in toy and product design, doing conceptual illustration, models and technical drawings. He eventually became Design Director of ToyBiz/Marvel Toys at Marvel Entertainment. In 2009, he formed his own company, MG Creative Services, LLC., which he continues to operate to this day.
Topics and exercises will include:
Understanding 1, 2, 3, and 4 point perspective.
Light sources, light and shadow, consistency and rendering techniques.
Drawing objects accurately using their underlying geometry.
Horizon lines, planes, and creating a believable space.
Supply List:
Drawing pad, approx. 14 X 17 – *(Recommended translucent marker paper such as Graphics 360)
Pencils: B, HB, F – *(Recommended Pentel Twist Erase, 5mm, 7mm, 9mm mechanical pencils)
Pencil sharpener, X-acto knife or sandpaper (if mechanical pencils are not used)
Eraser: Magic Rub Erase and Kneaded eraser.
Ruler: 24"
*Suggested products that work well. Similar products can be used.
Weather Cancellation Policy
In the event Five Points Arts cancels a workshop due to an inclement weather forecast every effort will be made to re-schedule the workshop. If the workshop cannot be re-scheduled, or the new date does not accommodate the registrant's schedule, that person will be offered the opportunity to apply the cancelled workshop fee toward a future workshop. If preferred, Five Points will offer a full refund instead of a rescheduling option.Every effort will be made to announce weather related cancellations 24 hours in advance; however, registrants are advised to check their e-mail on the morning of the scheduled workshop for any cancellation message.