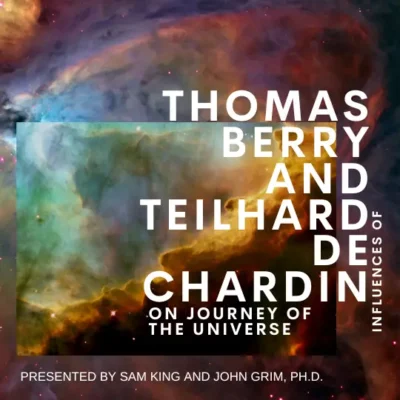 September 24, 2022
Influences of Thomas Berry and Teilhard de Chardin on Journey of the Universe
What does it mean to be related to matter and life at such fundamental levels of existence? What difference does it make to think of reality as being or as process or as energy?
In this program there will be segments on: 1) Life and thought of Pierre Teilhard de Chardin in relation to Journey – e.g. his biography, matter/spirit, Teilhard's anthropology-cosmology-theology, zest for life, noosphere, omega point, and cosmogenesis. Also a discussion of the life and thought of Thomas Berry in relation to Journey – e.g. his biography, cultural history of religions, 1978 essay "New Story," his cosmological principles of differentiation-subjectivity-communion, his observation that "The universe is a communion of subjects…," Earth jurisprudence/rights of Nature. How contributions of a Journey worldview shift as we navigate climate emergencies, environmental changes, and social-environmental-ecological issues of justice.
Presented by Sam King and John Grim, Ph.D.
Wisdom House Retreat & Conference Center
229 East Litchfield Road
Litchfield, CT, 06759
https://www.wisdomhouse.org/program-calendar/2021/8/27/teihard-and-berry-wcjoiceowic