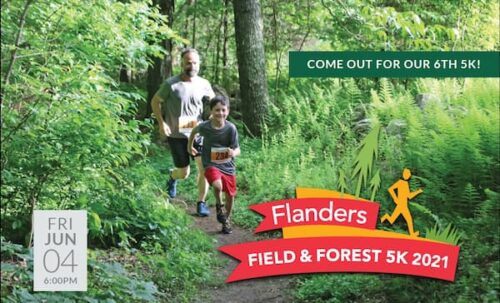 June 4, 2021
Flanders Field & Forest 5K
Don't miss this event!
This is more than your average Trail Run!
The Flanders Field & Forest 5K is an all-age walk/run through the woods and fields of Flanders, officially timed by Fast Track Timing. Enjoy the picturesque nature sanctuary and entertainment by the band Scratch. After the race replenish with craft beer from Woodbury Brewing Company and food from Kraftwich Foodtruck and Big Green Eggs and Hamburgers Catering Company, which will be available for purchase.
Register by MAY 1ST to guarantee a FREE race shirt.
Friday, June 4 | 6 PM | Van Vleck Farm & Nature Sanctuary |
$25 All Registrants (in person & virtual race)
Must register by June 3, same day registration will not be accepted
All proceeds from the Field & Forest 5K will benefit Flanders Nature Center & Land Trust
Flanders Nature Center & Land Trust
@ the Sugar House
5 Church Hill Road
Woodbury, CT 06762