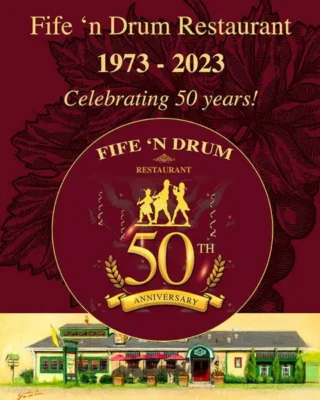 Jan 19 – 23, 2023
Fife and Drum 50th Anniversary Open House!
THURS, JANUARY 19th, 3 TO 7 PM
Please join us for complimentary hors d'oeuvres, wine and beer!
(Note: there will be no dinner service that day. If you would prefer other cocktails, a cash bar will be available.).
FRIDAY & SATURDAY JANUARY 20-21
Normal hours of service, but our menu will include a number of entrees from our original 1973 menu, priced at – you guessed it – $19.73 each!
FRIDAY JANUARY 20th
WANDA HOUSTON will be joining Larry Ham & George Potts for a special evening of music.
SUNDAY JANUARY 22nd
Our standard Brunch Menu will be served, but with BRUNCH-for-TWO priced at $50.00.