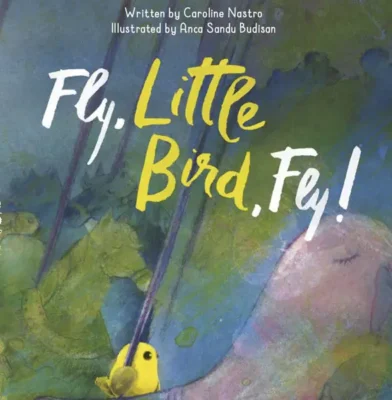 October 8, 2022
Children's Book Signing
The Wish House celebrates Caroline Nastro's recent publication "Fly,Little Bird, Fly !"
Saturday October 8. 2-4pm
meet and chat , enjoy !
Following a little glimpse behind the story :
A few years ago, I became very interested in birds. I started learning about how amazing these little creatures are. Here are a few fun facts:
 Birds can identify the constellations in the night sky and find the North Star.
 Birds see more colors of the light spectrum than we do.
 The flight feathers of birds have little hooks that hook and unhook during flight to be more aerodynamic.
 And some little birds take longer to learn how to fly than others. Their parents try different ways of encouraging these reluctant birds to fly, such as by tempting them with delicious caterpillar treats.
When I learned about these reluctant fledglings, it reminded me of when I was little and went to nursery school for the very first time. I hid in my cubby and wouldn't come out. One day my teacher brought me hot chocolate and it smelled so good that I crawled out of my cubby for a sip. And so a story was born about a little bird who refuses to learn how to fly, like a little child who is afraid to try something new. When Little Birdlands by accident in a big city, he discovers that the world is more amazing thanhe ever imagined, and he finds the courage to soar. I collaborated on this book with a wonderful illustrator from Romania named Anca Sandu and the amazing publishing team at Clavis Books, a Belgian children's book publisher.
Caroline Nastro is a children's book author. Her first book, "The Bear Who Couldn't Sleep" (North South Books) was translated into German, Chinese and Spanish and was chosen as a 2019 Bank Street Best Picture Book of the Year in Spanish. "Fly, Little Bird, Fly!" has been translated into Dutch and BahasaIndonesian. Caroline is currently collaborating with illustrator Anca Sandu on two upcoming picture books: Outside Amelia's Window (Two Lions, 2022) and The Peace Rose (Peachtree, 2022). She attended the Sorbonne University in Paris, France and has a master's degree in theater from Stanford University.
The Wish House
413 Sharon Goshen Tnpk
West Cornwall CT 06796
http://www.wishhouse.com