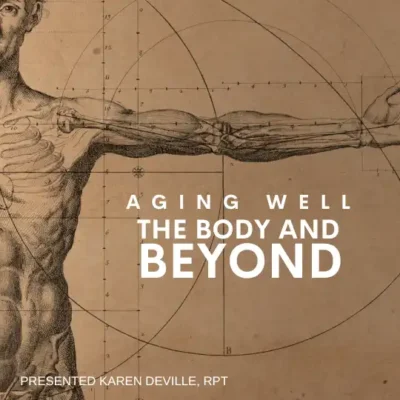 June 3, 2023
Aging Well: The Body and Beyond
Participants will be introduced to relevant anatomy and physiology that demonstrates the body's physical and energetic integration. Attendees will have an opportunity to participate in and become acquainted with energy propagation and resonance. Self-Management concepts and techniques will be shared. Treatment modalities will be introduced.
Participants interested in pre or post event treatment sessions will be asked to sign wellness waivers and provide a brief health history.
Karen will also be available from 2:00 – 5:00 on June 3rd for Individual Body Work. Due to the limited time for appointments, we are making appointment times available on May 15th and May 22nd from 9:30 AM to 1:30 PM. Sessions are 40 minutes and require an appointment.
Ahead of your session, you will be asked to provide a brief health history and a signed consent to treat. These forms will be sent to you via a HIPPA secure portal. Fee paid to provider. Please call Wisdom House to schedule individual appointments.
We're honored to offer scholarship opportunities to programs and retreats, creating opportunities for everyone. Please call (860) 567-3163 to find out more.
Presented by Karen DeVille, RPT
9:30 AM 1:30 PM
Wisdom House Retreat & Conference Center
229 East Litchfield Road
Litchfield, CT, 06759
https://www.wisdomhouse.org/program-calendar/agingwell-wfiwhfvijfifjjwfw