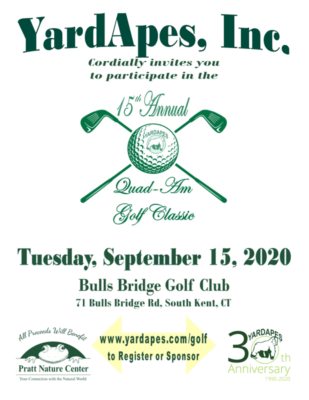 September 15, 2020
15th Annual Quad-Am Golf Classic
We are very excited to announce our 15th annual YardApes Quad-Am Golf Classic! Again this year, Pratt Nature Center will be the local non-profit we are honored to be raising much needed funds for.
The Pratt Nature Center's mission is, "To stimulate a lifelong responsibility for and joy in the natural world by encouraging people to experience themselves as part of nature, dependent on the Earth's resources".
That mission statement closely aligns with our company philosophy which reads, "We believe everyone, everywhere benefits from a connection with nature."
Founded in 1967, Pratt Nature Center has lovely trails, varied and interesting programs, summer camp, and a home school program. They can also boast about their extremely dedicated staff, volunteers and Board of Directors.
Registration is OPEN for players! Sponsorships, raffle items and silent auction items are needed to help make this event a continual success – especially this year when non-profit organizations are struggling!
Bulls Bridge Golf Club, South Kent CT
11AM – 7PM
http://www.yardapes.com/golf