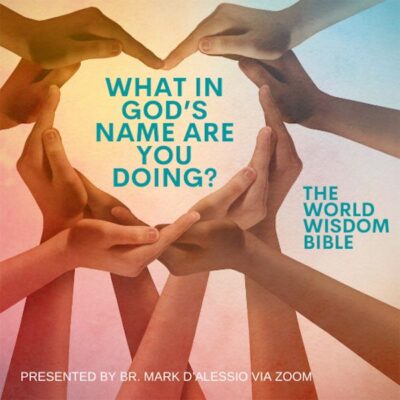 Thursdays, February 3, 10, 17, 24, & March 3
What In God's Name Are You Doing? Pt. 2: The World Wisdom Bible
Is the life you're living the same as the life that wants to live in you? Join us to explore what perennial wisdom teaches us about hearing and responding to God's call. In this online five-part series, you will explore sacred stories, art and story-telling. Discover the spiritual practices that can provide powerful opportunities for your personal (and, group) discernment. But what if you don't know your calling or feel that you're being called to rethink your life, vocation or ministry?
Come join us to learn from The World Wisdom Bible — a groundbreaking spiritual conversation that invites you to step beyond the limits of any one faith into a global spirituality. Drawing on ancient and timeless texts from Christianity, Judaism, Islam, Buddhism, Hinduism, Confucianism, Taoism, and organized by sacred themes. Our time together will assist us to listen for the voice of vocation in ways to be a blessing to all the diverse varieties of families on earth.
"What in God's Name Are You Doing?" will support how Divine Mystery invites us to participate. Join Br. Mark to explore and experience spiritual practices for encouraging humanity past the narrative of "us against them" toward a new vocational story of "all of us, together."
Participants do not have to take the first part in the series to take part in the second.
Presented by Br. Mark D'Alessio via ZOOM
Series: Thursdays, February 3, 10, 17, 24, & March 3
7:00 pm -8:30 pm
Call (860) 567-3163 to register
$75 for the series
Zoom information will be sent just prior to the class via email

Wisdom House Retreat & Conference Center
229 East Litchfield Road
Litchfield, CT, 06759
https://www.wisdomhouse.org/program-calendar/what-in-gods-name-u09f3jf92j2