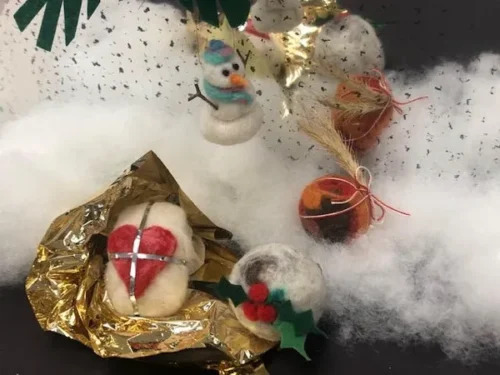 January 21, 2023
Wet Wool And Needle Felting
Back by popular request! A workshop for all ages (10 and up) to learn the art of traditional wool felting as taught by sculptor Christine Mitchell.
Dates: Saturday, January 21, 2023
Time: 10AM – 3PM
Members $ 67.50
Non Members $ 75.00
Instructor: Christine Mitchell
Learn both wet and needle felting techniques, creating several small works to integrate technique and then discover how to incorporate both felting techniques to create beautiful wool-based sculptures, felted soap bars, dryer balls and even holiday ornaments or toys. You are limited only by your imagination, and no prior experience in art is necessary!
Instructor Bio:
Christine enjoys nothing more than engaging others in the exploration and appreciation of art-making from materials not always considered media for creation. Thirty years as an art teacher and art therapist, she has taught in Montessori and public schools, psychiatric facilities, and museums, including the Museum of Fine Arts, Boston and The New Britain Museum of American Art. In her own work, she derives inspiration from the amazing shapes of cast off steel, very much like one creates creatures from little snips of the clouds. Items and objects normally disregarded as trash and add to our landfills.become animals, people and objects of nature for everyone to appreciate.
Materials:
Bring to class or purchase from instructor for $25.00 fee.
2 felting needles
Square of foam ….felting pad
A basin for water
small bar of soap
new bar of soap
A knee high stocking
Sheeps wool roving – approximately 1 pound varied colors
Weather Cancellation Policy
In the event Five Points Arts cancels a workshop due to an inclement weather forecast every effort will be made to re-schedule the workshop. If the workshop cannot be re-scheduled, or the new date does not accommodate the registrant's schedule, that person will be offered the opportunity to apply the cancelled workshop fee toward a future workshop. If preferred, Five Points will offer a full refund instead of a rescheduling option.Every effort will be made to announce weather related cancellations 24 hours in advance; however, registrants are advised to check their e-mail on the morning of the scheduled workshop for any cancellation message.