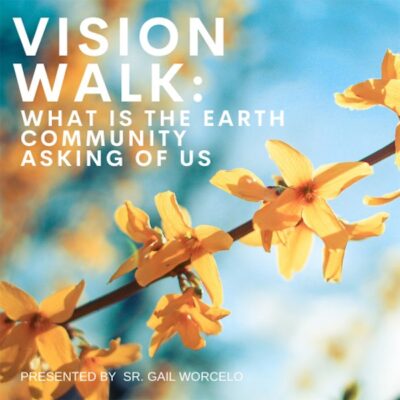 May 13, 2022
Vision Walk: What is the Earth Community Asking of Us
Presented by Sr. Gail Worcelo
In moments of confusion such as at present, we are not left simply with our own rational contrivances. We are supported by the ultimate powers of the Universe as they make themselves present to us through the spontaneities within our own beings…rising from the wild depths of the human soul. – Thomas Berry in Dream of the Earth.
In the beauty of late Spring, we welcome you to the land of Wisdom House and encounter the community of life in this sacred space. Together we will hold the question: What is the Earth Community asking of us? and listen to the wisdom of the natural world as it offers guidance for our individual and collective lives.
Through preparation and the creation of ritual space, you will be led across the sacred threshold to begin a journey of deep listening as the natural world mirrors to each of us specific guidance for our way into the future.
This two-day event of deep Earth Centric listening will be facilitated by Gail Worcelo, sgm, a co-founder with the late Passionist priest and cultural historian Thomas Berry of Sisters of the Earth Community located in Greensboro, Vermont.
PLEASE REGISTER BY MAY 1 TO BE INCLUDED IN THE INFORMATION PACKET THAT WILL BE MAILED OUT IN ADVANCE
Cost, with Meals Included:
Private Bedroom, Hall Bath – $260 | Shared Bedroom, Hall Bath – $230
Wisdom House Retreat & Conference Center
229 East Litchfield Road
Litchfield, CT, 06759
https://www.wisdomhouse.org/program-calendar/2021/7/10/vision-walk-ijcn48c392f