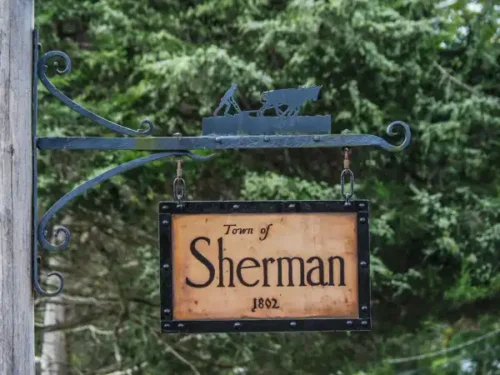 September 23, 2023
Sherman House and Garden Tour
The Sherman House and Garden Tour is back for its eleventh iteration on Saturday, September 23, 2023. This self-guided tour affords a one-day-only opportunity to explore four of Sherman's private residences and their gardens. Attendees can look forward to an exclusive garden party, complete with refreshments, hosted at a fifth residence following the main tour.
Those who have purchased tickets will first stop outside the front door of the Sherman School between 10 a.m. and noon to receive a program. The program provides a map with addresses and describes what to expect at each home. Program holders will go to each residence at their own pace. The tour starts at 10 am and ends at 1pm. Knowledgeable docents will be stationed at each residence to answer any queries and provide additional information.
To purchase tickets:
• Advance Tickets: $25 per person. Available for purchase at:
* Sherman Wine & Liquor Store
* Sherman IGA on September 9 or September 16 between 9 am and noon.
* Online tickets at http://www.bit.ly/shertour or scan
• Day-of-event tickets: $30 per person. Available at the Sherman School on September 23 between 10 am and noon.
The Sherman Democratic Town Committee sponsors the tour. For any inquiries or additional details, email: [email protected]. For more information: shermandems.org
September 23, 10 am – 1 pm
Tour Starts @ The Sherman School 10 am – 12 pm
2 CT-37
Sherman, Ct 06784