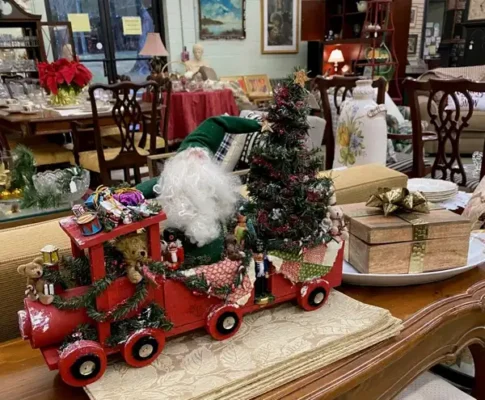 Nov 18 – Dec 10 and Dec 13 - 30, 2023
PRIME FINDS Pop-Up Store
PRIME FINDS Home for the Holidays, now in its eighth year, is a pop-up store located in the greater Litchfield area. 100% of the proceeds benefit the mental health programs at Prime Time House. Every purchase is tax-deductible and brings the gift of hope to those suffering from mental illness who come to us for help. The shop is widely known for its attractively displayed, high quality used furniture, home and holiday goods, sold at great prices. It is fully staffed by volunteers with all items donated by generous supporters. Not only has it created awareness about Prime Time House but it has attracted hundreds of new supporters who have donated goods, time, services, and funds.
"We are grateful for the generosity of Father Don LaSalle and the opportunity to partner with this well-known community destination for our upcoming pop-up store." said Christina Emery, Executive Director. "The location attracts hundreds and allows the full creative genius of our pop-up committee to create a warm and inviting shopping experience for our supporters."
Lourdes offers great accessibility, ample parking, and is minutes from the hub of Litchfield commerce. Listed on the Connecticut Tourism Office website, the site is a replica of the Grotto Lourdes in France, built with local fieldstone in a natural rock ledge by two Montfort Brothers, in 1958. Since then, it has welcomed individuals and groups for contemplative peace, prayer, and reflection. As a testament to their dedication to the community, Lourdes hosts the Blessings of the Bikes in May, the Blessings of the Animals in October, and its annual Living Nativity in December.
November 18 – December 10
Wed – Saturday: 10 am – 4 pm
Sunday: 10 am – 3 pm
Closed Thanksgiving Day
December 13 – 30
Mon – Saturday: 10am – 4 pm
Sunday: 10 am – 3 pm
Closed Christmas Eve & Chrsitmas Day
Lourdes of Litchfield, in Pilgrim Hall
83 Montfort Road
Litchfield, CT 06759