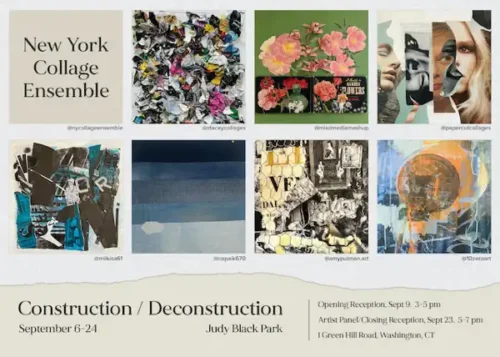 Sep 6 - 24, 2023
New York Collage Ensemble Group Show
We are pleased to welcome an exhibit featuring works by the New York Collage Ensemble (NYCE), a collective of seven artists. The exhibit, "Construction/Deconstruction," will be on view beginning Friday, September 8. The show explores the many ways in which collage art incorporates deconstructed elements and disparate images, and builds from them a new whole.
New York Collage Ensemble Group Show: 7 mixed media/ collage artists of varying styles and mediums to exhibit works.
Park Hours: Weekdays and Sundays 11am -3pm, Saturdays 9:30 am – 12:30 pm and by appointment Free Admission.
Opening Reception: Saturday, September 9 from 3pm – 6pm
Artist Panel Led by Maria Mostajo: Saturday, September 23 from 5pm – 7pm
An opening reception will be held on Saturday, September 9 from 3 to 5 pm.
The exhibit will be on view through Sunday, September 24.
The Judy Black Memorial Park & Gardens
One Green Hill Road
Washington Depot, CT 06794
https://judyblackpark.org/ny-collage-ensemble