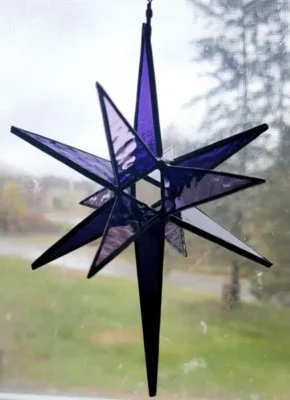 January 21, 2023
Moravian Star Stained-Glass Workshop
Whether you are brand new to the stained-glass medium or looking for a way to work three- dimensionally in stained-glass, join Sarah Segovia in the Moravian Star construction class.
Dates: Saturday, January 21, 2023
Times: 10AM-2PM
Members $ 72.00
Non – Members $ 80.00
Instructor: Sarah Segovia
Moravian Star
In this beginner stained-glass workshop artists will explore the three-dimensional possibilities of working with stained-glass. No experience is necessary! Sarah will discuss the basic techniques of the copper foil method of stained-glass. Participants will learn cutting, grinding, foiling, and soldering and finishing their very own stained-glass Moravian Star. All tools and materials will be provided by the instructor.
Instructor Bio:
Sarah Segovia began exploring the stained-glass medium in 1994 and developed a fascination with this ancient art that has remained with her to this day.
Sarah's formal art training began a year later when she went on to study abstract painting. She experimented with colors and textures of paint on canvas. Not satisfied with this medium, she spent a year abroad in London, England, concentrating further in stained glass, mosaics, kiln work, and leading. After graduating with a BFA in Painting, she devoted her time completely to stained-glass.
Sarah has always been intrigued by the colors and textures of glass. the incandescent glow and glamorous light it casts. In the past few years, she mainly has created specialty stained-glass giftware and custom design work. She especially enjoys custom work because it gives her the opportunity to work with various individuals to help bring their vision to reality, and at the same time to create a one-of-a-kind work of art.
Sarah's work reflects her passion to create fragile beauty, intricate patterns, and unique designs.
Weather Cancellation Policy
In the event Five Points Arts cancels a workshop due to an inclement weather forecast every effort will be made to re-schedule the workshop. If the workshop cannot be re-scheduled, or the new date does not accommodate the registrant's schedule, that person will be offered the opportunity to apply the cancelled workshop fee toward a future workshop. If preferred, Five Points will offer a full refund instead of a rescheduling option.Every effort will be made to announce weather related cancellations 24 hours in advance; however, registrants are advised to check their e-mail on the morning of the scheduled workshop for any cancellation message.