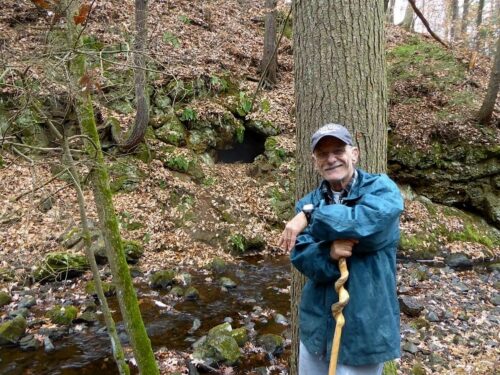 August 27, 2020
Mines and Mysteries: Woodbury's Coppermine
On Connecticut Trails Day in 2017, self-proclaimed rock-hound Jeff Sherman made a fortuitous find when he joined an organized walk along Woodbury's Trolley Bed Trail. After veering off to a different part of the trail, he noticed a large hole in the side of a nearby hill. Fascinated, he returned later with Naturalist Pete Rzasa to talk a closer look. What they discovered were holes drilled inside of the cave, leading them to realize what they had stumbled upon could quite possibly be an early copper mine.
The discovery soon led to the involvement of filmmaker Mike Sandone, the creator of a web series about exploring abandoned mines in CT and NY. As the authentication of the mine continued, copper ore was found in the cave which was verified by John Pawloski of the Connecticut Museum of Mining & Mineral Science. Further research on mining in the area by documentary filmmaker Mike Sandone, Peter Rzasa, and Susan Shepard turned up old documentation that appears to confirm the original miners were in fact exploring for copper at this site nearly 300 years ago. Old Woodbury families (including Leavenworth, Minor, Wheeler and others who are still well-recognized local names) were involved in the land transactions surrounding the long ago mining venture. At that time, copper and iron were the two highly sought-after minerals. Reports were sent from The Colony of Connecticut to the British Board of Trade that, by 1748-49, indicated mining copper was considered unprofitable and the colonists were going to put their efforts into mining iron.
The site in Woodbury was probably never a working copper mine (unlike the one in East Granby which became Old Newgate Prison), but is what's known as an "adit." Local lore thought the 'adits' found scattered around Connecticut were bear caves or places where the Leatherman stayed (they were not). The Woodbury site excavation is finished and there are no further plans for more digging.The fascinating documentary "Mines and Mysteries: The Woodbury Copper Mine", shares a variety of information and interviews from experts in the field, including Woodbury's award-winning Historian Susan Shepard, as well as giving the viewer a superb look inside of the mine itself.
Prior to the zoom discussion, the film "Mines and Mysteries: The Woodbury Copper Mine", will be available to view on demand on the Woodbury Public Library's website www.woodburylibraryct.org from August 10 – September 14. A special Woodbury Copper Mine Q & A Virtual Event with Jeff Sherman, Filmmaker Mike Sandone and Historian Susan Shepard will be offered on Thursday, August 27 at 7:00 PM. Find the Zoom link and additional information regarding the mine and its history on the Woodbury Public Library website www.woodburylibraryct.org . For more information, please contact the library at 203-263-3502.