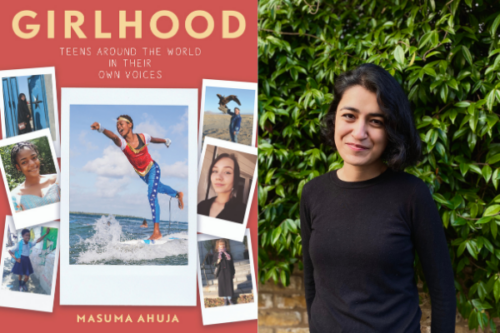 February 19, 2021
Masuma Ahuja, Girlhood
In conversation with Amy Smith, Red Hook Library
What does a teenage girl dream about in Nigeria or New York? How does she spend her days in Mongolia, the Midwest, and the Middle East? All around the world, girls are going to school, working, dreaming up big futures—they are soccer players and surfers, ballerinas and chess champions. Yet we know so little about their daily lives. We often hear about challenges and catastrophes in the news, and about exceptional girls who make headlines. In Girlhood, thirty teens from twenty-seven countries share their own stories of growing up through diary entries and photographs, put in context with reporting and research that helps us understand the circumstances and communities they live in.
Masuma Ahuja is a freelance journalist reporting on gender, migration and human rights. She was previously a producer at CNN and national digital editor at the Washington Post. She uses words, photos and emerging media to report and tell stories about gender, migration and the impact of politics of people. Her projects have ranged from long-form stories to sending disposable cameras to women around the world to document their days to crowdsourcing voice mails from Americans about the impact of the 2016 election on their lives. She was part of a team that won the Pulitzer Prize in 2014.
Friday, February 19, 2021
5:00 p.m. Eastern Daylight Time (EDT)
Presented in collaboration with Red Hook Public Library
FREE. RSVP Required
Ages 12 and up.
Please note the earlier start time. The author will be joining us from London.
https://bit.ly/2MDX5yZ