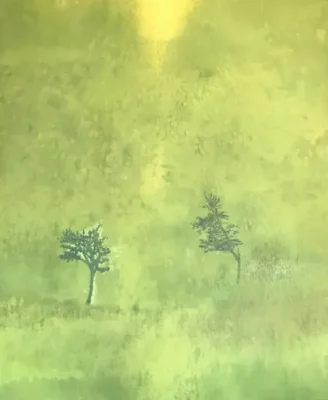 September 17, 2022
Lucas Reiner:15 Stations
The Fall – the season, as well as the biblical story- is where Lucas Reiner's trees belong. Lucas Reiner was originally commissioned to realize the stations of the Cross for Saint Augustine Episcopal Church in Washington DC. Artists throughout history have contemplated and depicted the miracle of the dead tree of the cross becoming the tree of life, the life-giving tree. The stations paintings illuminate the human paradox that Reiner had been exploring for many years.
"These paintings connect with the withering of fall and the ascent of summer, the death of winter and the rebirth of spring, the hidden roots deep in the soil and the branches soaring high in the sky and, above all, the longing and the struggle for life in a hostile and often brutal environment." – Rev. Paul Anel
"Painting is a covering and uncovering of a surface. If there is an ethic in my work, it is one that has occupied the thoughts of painters from the caves until the present. Namely, what is the relationship between the figure and the ground? For me, each painting is an exploration of a new way to address this paradox."
– Lucas Reiner
Lucas Reiner has exhibited internationally and his work is in the following public collections: Los Angeles County Museum of Art (LACMA), Santa Barbara Museum of Art, Staatlichen Graphischen Sammlung (Munich, Germany), Diözesan Museum (Freising, Germany), Colecciòn Jumex (Mexico City, Mexico), among others.
Judy Black Memorial Park and Gardens
1 Green Hill Rd, Washington Depot, CT 06794
https://www.kmrarts.com/#/lucas-reiner-figure/ground-september-17-october-29-2022/