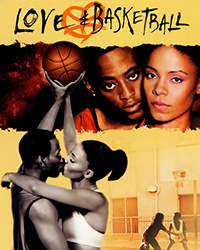 February 16, 2023
"Love and Basketball" : Movies @ the Warner
Love and Basketball
Presented by: Movies @ the Warner
Occurs on Thursday February 16 2023
Approximate running time: 2 hours
Nancy Marine Studio Theatre
84 Main Street
Torrington CT 06790
Event Notes
LOVE AND BASKETBALL dir. Gina Prince-Bythewood, 2000. Cast: Omar Epps, Sanaa Lathan, Alfre Woodard, Dennis Haysbert.
Format: Digital Projection. 127 min. PG-13
From the playground to the pro leagues, Monica (Sanaa Lathan) and Quincy (Omar Epps) taught each other how to play the game. Now, their commitment to the sport will force them to make a choice between each other and the game… between family and team… between Love and Basketball. Produced by Spike Lee and Sam Kitt, Love and Basketball is a critically acclaimed movie about discovering your dreams, taking your best shot, and making them come true.