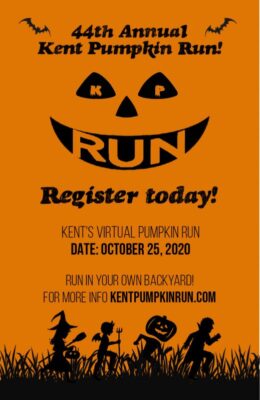 Oct. 22, 23, 24, 25, 2020
Kent Pumpkin Run A Virtual Go!!!
Hey, it can be scary out there but we're not letting COVID-19 take us down! Take part in the 44th edition of the Kent Pumpkin Run this October no matter where you are in the world. How cool is that!
This is how the race works. Run and time yourself for 5 miles either on Oct. 22, 23, 24 or 25 and send us your results to an email address we will provide when you register.  For more information, please visit kentpumpkinrun.com.
We will tabulate the results and overall winners, along with division winners, will be mailed cool commemorative Pumpkin Run medals. A prize will also be given to the registered runner who is located the furthest from Kent. Results will be posted on the Kent Pumpkin Run website.
Registered runners will also be mailed a packet of swag, including Halloween goodies and a specially-designed "Run" mask. Unfortunately this year we will not have T-shirts, however, if you would like a top-grade athletic shirt from last year, we are more than happy to have you pick it up at the Heron American Craft Gallery located at 16 North Main Street, Kent CT
The Heron Gallery will also be accepting canned and dry good donations for the Kent Food Bank. Make it a family afternoon and visit Kent's many quality shops and restaurants.  You can also make a monetary donation when you register for the run via Eventbrite.
The Kent Pumpkin Run is hosted by the Kent Chamber of Commerce.  For a full list of our sponsors, please click here
To register and for more info visit www.kentpumpkinrun.com
Kent Chamber of Commerce
PO Box 124
Kent CT 06757
kentct.com
info@kentct.com
860.592.0061