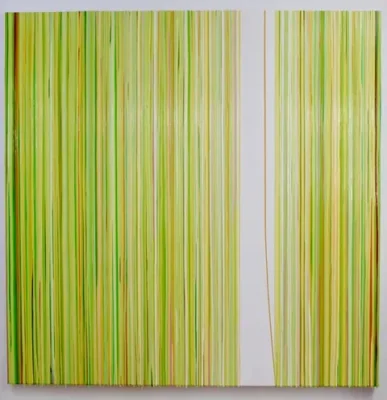 May 5-Aug 6, 2022
Jennifer Sabella: Recent Paintings
Byrde + the b is pleased to announce the exhibit of recent paintings of Jennifer Sabella.
Jennifer has honed her artistic style across years of experimentation with color, pigment, materials and structure. She is an abstract artist and colorist, most focused on color and texture, and the story they reveal.
Among Jennifer's signature works are her vibrant "drips" or color streams, which in a gravity-driven process integrate line after line, layer after layer of different hues into evocative striped canvases that are rich, vibrant and undeniably textural. This same commanding play of color and texture evolves dramatically in her abstract landscapes and mosaic creations as well. Always drawing the viewer into a world of surprising world of light, color, texture and unexpected elements.
Please join us Saturday May 7 from 5-6:30pm for an artist's reception.
For additional information please contact The Byrde + the b 10 Titus Rd Washington CT or by email at steven.miller286@gmail.com.
The Byrde + the b
10 Titus Rd Washington, CT
860-619-0422
Jennifer Sabella "Recent Paintings" May 5-August 6, 2022
Hours Tues-Sat 10:00am-5:00pm
www.byrdeandtheb.com
Opening reception Saturday May 7 from 5:00-6:30pm

Byrde + the b 10 Titus Rd Washington CT
https://www.byrdeandtheb.com